A tiring quest to achieve an overall positive impression on the recruiter has finished at last. You've gained an eagerly anticipated prize, a job offer. Now your task is to understand how to answer a job offer to retain an image of a prospective employee.
Each phase of communications needs special smarts on how to respond to an offer letter via email and over the phone. This guide is designed to enable you to sound like a pro and covers all ins and outs with examples for various cases of possible variants of responding to a job offer.
What Is a Job Offer
A job offer is a formal or informal personal invitation in terms of recruitment to start working in a role a candidate has applied for. The usual notification timeframe for it includes three business days after your last being interviewed. Typically, a job offer covers the most meaningful particulars, details, and arrangements. It highlights such important aspects as:
compensation package;

the date to be admitted to work;

work hours & breaks;

supervisor for reporting;

contractual rights &

responsibilities;

training information

.
A Job Offer Typical Framework
Employment invitations can differ either in communication type or style. As a rule, they are delivered by phone in verbal form, by email, or by letter in writing. You may regard a written offer as an official formal document, entailed your candidacy is selected for employment.
Some conservative employers prefer a letter format. It is a classic technique to provide written confirmation that the parties are both cognizant of all the terms and conditions of the employment process.
How A Job Offer Letter Looks Like (Template)
In common, a classical example of an official job offer looks like the following one: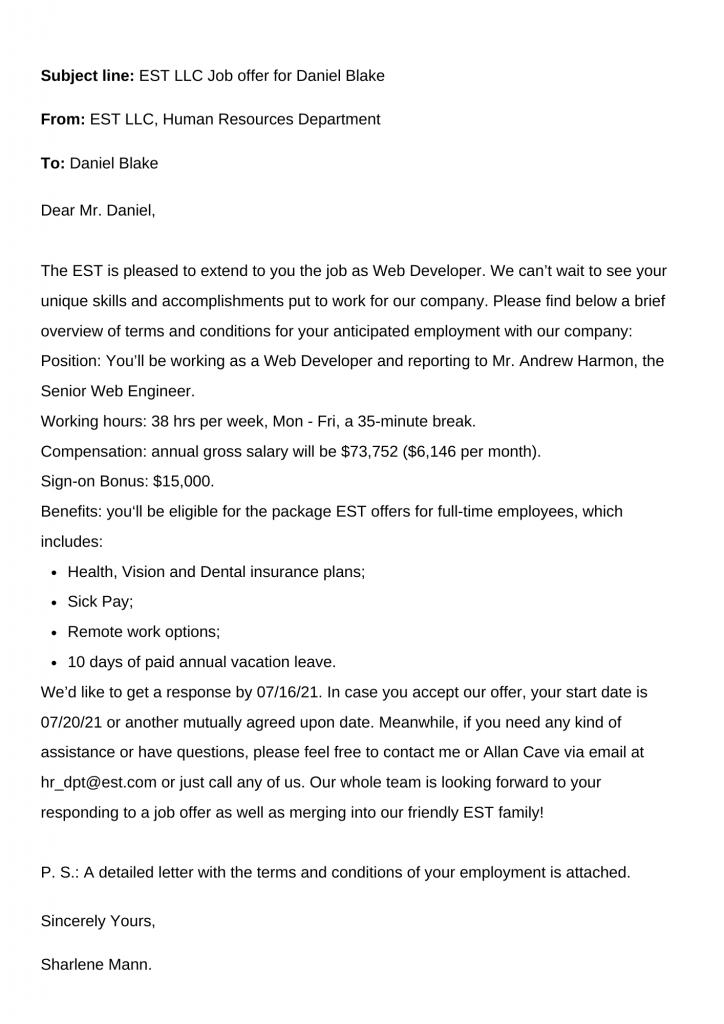 How to Respond to a Job Offer Email Properly
Responding to an offer letter is a compulsory matter of courtesy. Emailing a note of acknowledgment showcases a personal appreciation of this opportunity, although you are a far cry from accepting it, or considering various employment options and need some time to think it over.
Nothing you say in your notification email before acceptance binds you. This is the right moment to discuss things to get changed in the offer. In case you've informally accepted this job via the phone or in conversation, you can back out any time at this stage.
Carefully look into every detail of the offer and follow the employer's instructions to respond to an offer letter appropriately. If you understand all terms, bring that out in your response. In case you don't, outline the disputable points and ask to clarify them. By doing this you prevent any future misunderstandings.
Criteria on How Long to Respond to a Job Offer
No one is enthusiastic about waiting. The candidate's email response to a job offer is a top priority for the company to swiftly close the employment deal. The initial notification should get emailed within 24 hours after receiving a job offer. You must include a date you plan to deliver a final answer. If the company insists on immediate response, you can kindly ask for 24 hours for a deliberative decision, being respectful of the recruiter's time.
Generally, you can take 1-2 business days for a response to become clear of all terms and conditions and compare them to pending offers if any. It is hardly a problem to be unable to confirm the start date. The way out is to inform the employer that you'll let them know as soon as you can. If you wonder how to reply to an offer letter, the criteria are the same as for emails.
How to Respond to a Job Offer Email via an Email Sample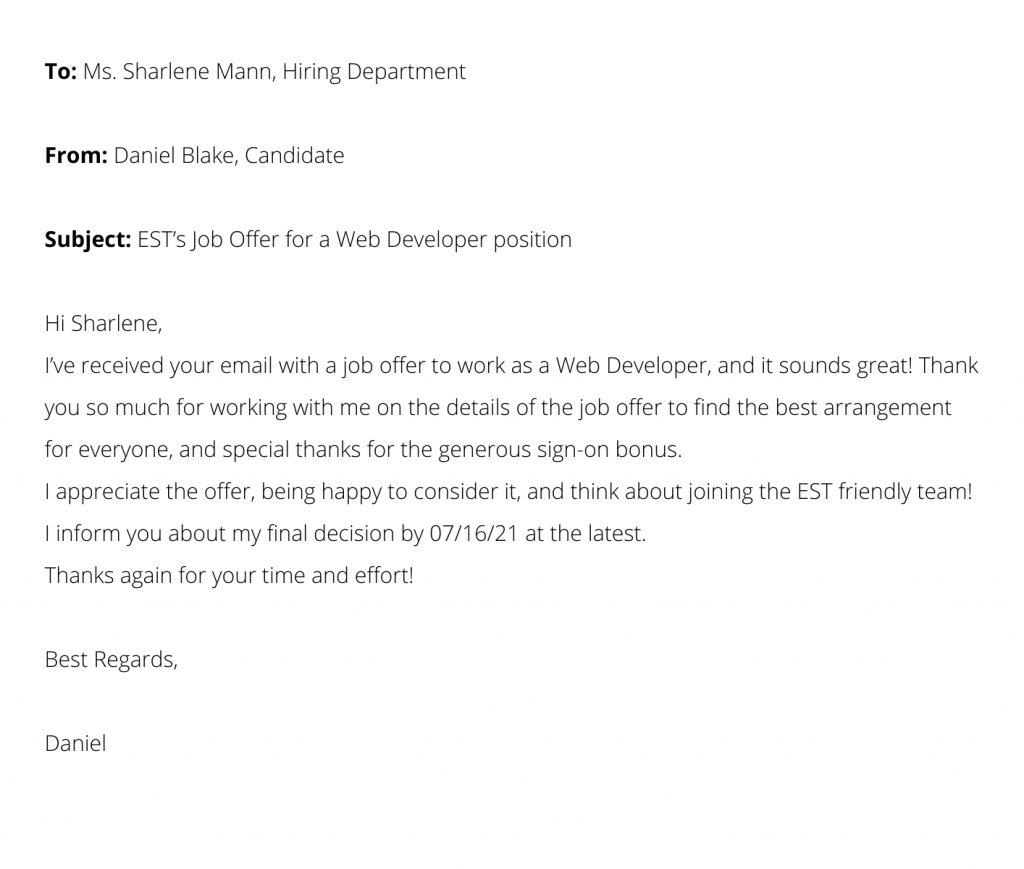 How to Respond to a Job Offer Over the Phone, Sounding Great
After a recruiter has called to offer you a job, your first step is to show how you appreciate their job offer. Do it positively and don't forget to thank them for this opportunity. While accepting the offer verbally, try to sound upbeat and friendly. Your voice should make them feel that your candidacy is the best choice.
With the speech patterns below you will sound appreciative and enthusiastic:
"Thank you so much for your kind attention."
"I am grateful for this excellent opportunity."
"Thank you very much for selecting me for this position."
"I acknowledge your kindness in selecting my candidacy."
Ask a recruiter for some time for consideration. Take a day or two to take a close look at the arrangements before you accept them, but keep strict deadlines.
Use several phrases below to ask the hiring manager for additional time:
"I do appreciate your offer, but would you be so kind to let me take a day or two to think it over?"
"Thanks for choosing me for the role. May I discuss this with my spouse over the next day or two? Then I call you back to respond."
"Thank you for your attractive offer. I would like to have a day or two to think it over."
"As I have some factors to consider, let me ensure I contemplate your offer to get on this Wednesday?"
Why Requesting a Written Job Offer Is a Must
Although job hunting can be an ongoing and bone-tiring process, try not to hold your breath while a recruiter is calling. Whatever encouraging a verbal offer seems, still it is an informal one. Try to get more additional information in an email to review it and discuss your needs before officially replying to a job offer.
After everything has been settled, ask for a formal job offer, emailed or written. Its request has to become a final point of the phone conversation. Aсtually, a recruiter sends it within two days after the verbal job offer. Follow it up with a thorough review after sending back a confirmation letter.
How to Ask for a Formal Job Offer (Example)
This is one of the variants of asking a recruiter for a written formal offer by email: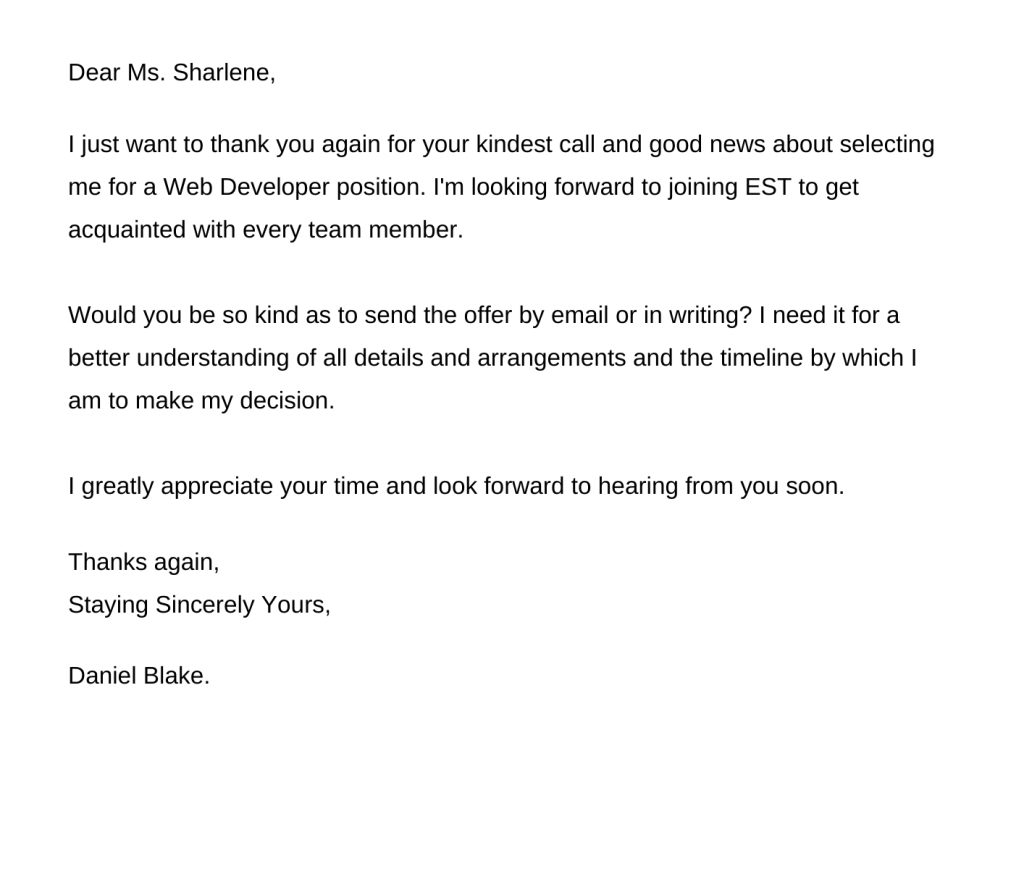 Tips on How to Ask for More Time to Consider a Job
Though amounts of time to accept a job offer may vary, 2-3 days are typically stated in the offer email. Uncertainty about the position, considering other offers, a need to relocate, or research about your market value are the main reasons why you should ask for time to consider a job offer.
By instant acknowledging a job offer, you leave no space for negotiating maneuvers. While asking for more time, you should be deliberate in articulating not to insult the hiring manager or you will risk losing the offer altogether.
The following tips on how to reply to a job offer email to get more time are helpful:
If the deadline doesn't seem like enough time, ask the hiring manager if it's possible for the company to give you an extension.

You can request for no more than a week to consider the job offer.

While planning to negotiate any part of benefits or compensation, you should consider a more conservative timeframe.

Keep the conversation or a letter tone positive to maintain a good relationship with the hiring manager.

Avoid expressions of uncertainty and disappointment,

they will negatively impact your relationship with the hiring manager.

Make a well-informed decision after weighing both the pros and cons before making your final decision.

A job offer letter is a critical document and may be legally binding.
How to Ask for More Time to Consider a Job Offer (Sample Letter)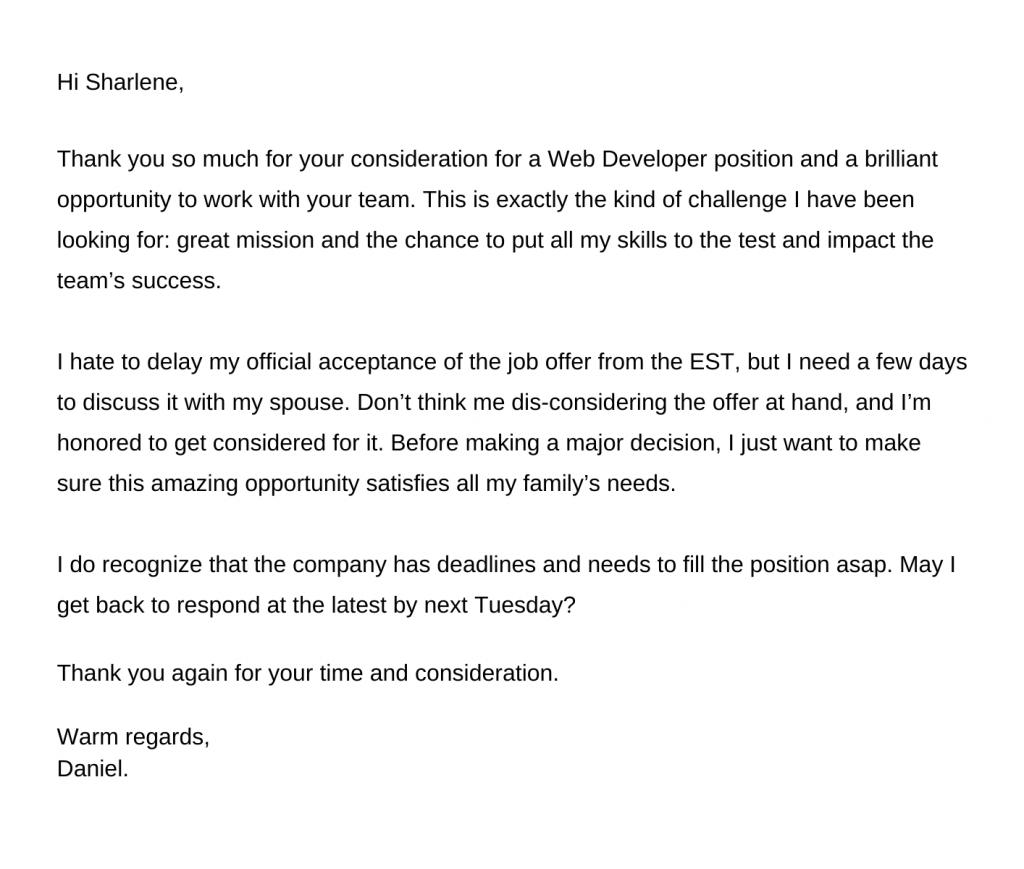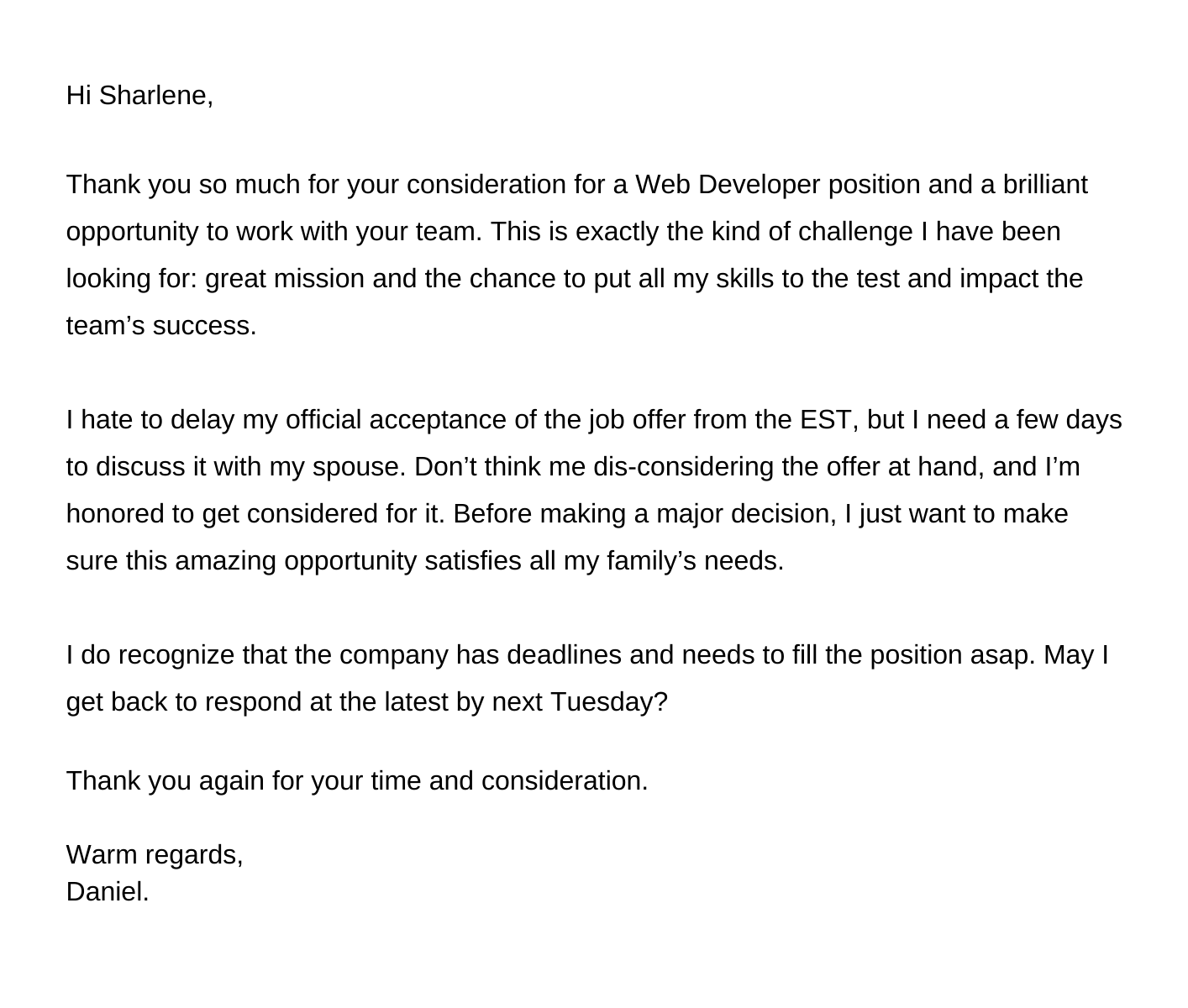 Tips on How to Decline a Job Offer Politely
Turning down a job offer never feels great. But it is an inevitable part of starting your dream job if you face opting for the best one from various positions. In fact, the job search world is small, especially for certain roles. You might need that job later, so there are several steps to turn a job offer down without burning the bridges:
The best way to decline a job offer is doing it by phone, saving the hiring manager's time.

Send them an email, if you cannot call a hiring manager.

Show your appreciation and thank them for the time and efforts spent on the interviewing and offers.

Give a brief, honest reason for declining.

Make a simple mention that you wish this person all the best in the future and ask to stay in touch after you decline the job.
How to Decline a Job Offer Example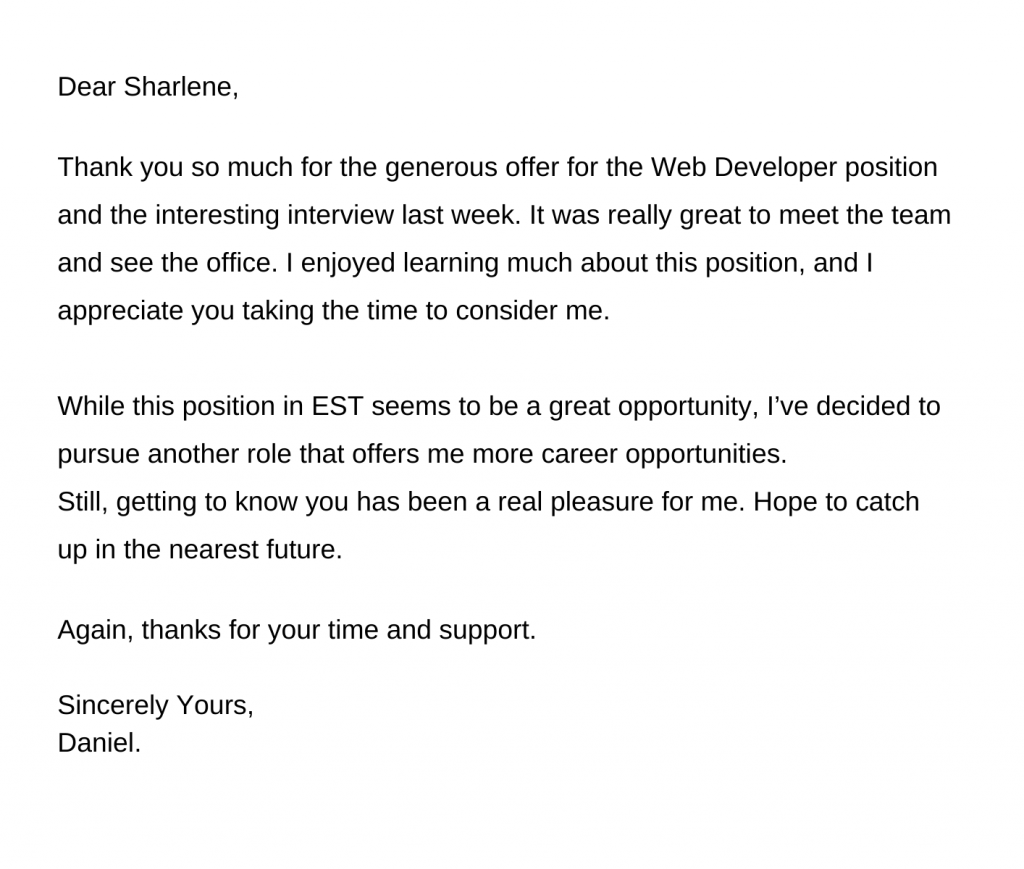 Tips on How‌ ‌to‌ ‌Ask‌ ‌for‌ ‌More‌ ‌Information‌ ‌about‌ ‌a‌ ‌Job‌ ‌Offer‌
Accepting a job offer on the spot is difficult and often results in you not getting exactly what you want. Employers expect that you have questions regarding the role, the company and negotiate the terms of the job offer. It's an important conversation, and you should do everything in your power to have it go smoothly.
The most common questions before accepting the job offer should be the following:
Can the stated salary be negotiable?
How many days of annual leave does your company provide?
Will annual leave carry over if not used?
By what date do you need a decision?
What benefits do the package include?
If there are any opportunities for career growth and development?
What are the working hours?
Will you require working outside of these hours?
Do I need to bring any paperwork on my first day?
And here are the tips to help you at this stage of considering the offer:
Questions and negotiations make HR receptive to your suggestions.

Ask as many questions verbally as you want before accepting.

All details you are interested in are appropriate to request in the email.

Phone conversation is better for negotiations, so try to discuss the offered pay verbally.

Get in touch with the recruiter to set up a convenient time to talk.

Though pay can be lower than you expect, such benefits as paid time off, insurance plan, or sick pay may hook in the proposed salary.

You may take additional time to consider all aspects.
Salary Negotiation Email After Job Offer Sample
Look at the polite examples of how you might initiate the conversation with pay as the subject:
"Are you the one I could speak with regarding the compensation package of the job offer?"
"May my payment details be open for discussion?"
"Thanks for allowing me to consider the offer conditions. Would your company consider increasing my salary by a certain amount?"
Tips on How to Reply to a Job Offer via Email to Accept It
Some invitations are eligible only after the invited one completes special steps, putting through some formalities before employment. A candidate is supposed to bring some papers or pass through background, medical, reference checks. This is the reason not to miss a key point while reading.
Your job offer acceptance email is to be well-constructed, brief, and concise, but it is important to include the following:
Your expression of gratitude for the offer and this opportunity;

Formal acceptance of the job offer;

Deep understanding of its terms and conditions;

Clarification on the date of your start;

One-to-one replies and referencing;

No ambiguities or slang;

Proper language, spelling, and grammar.
How to Accept a Job Offer (Example)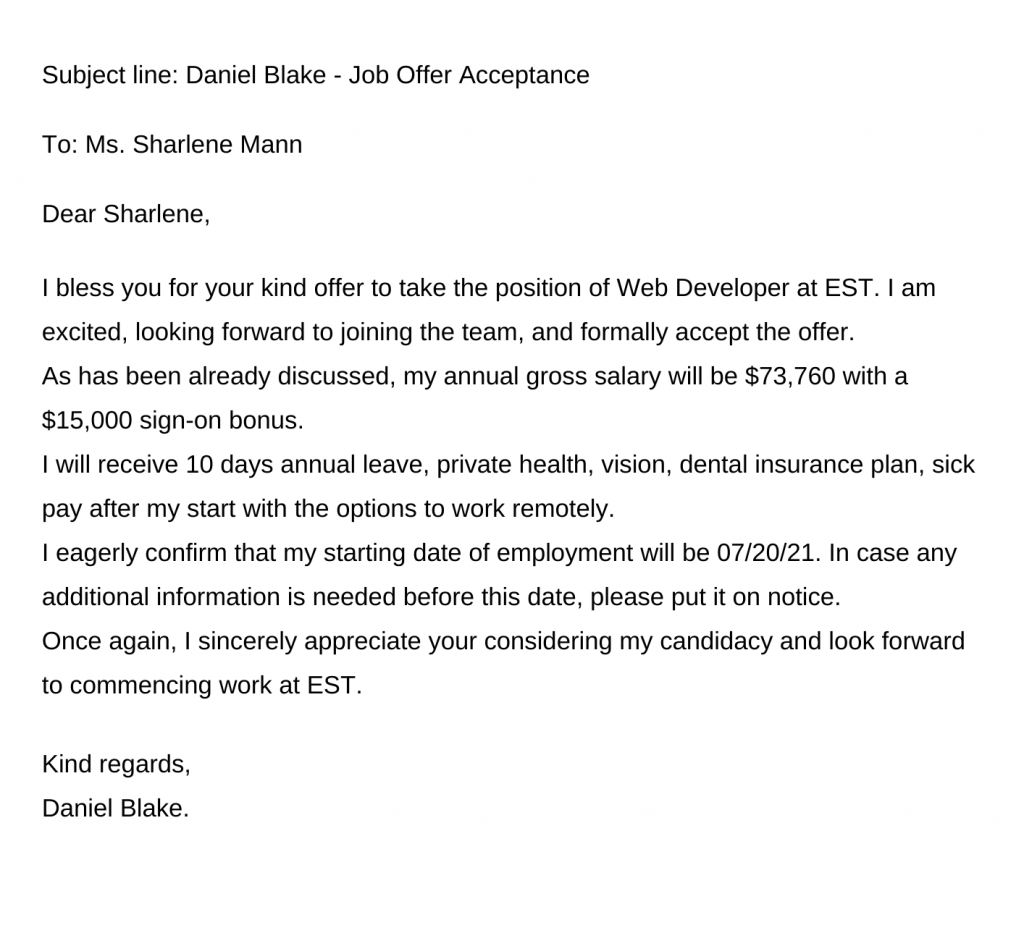 How useful was this post?
Click on a star to rate it!
Average rating / 5. Vote count:
Other Samples from this Industry: