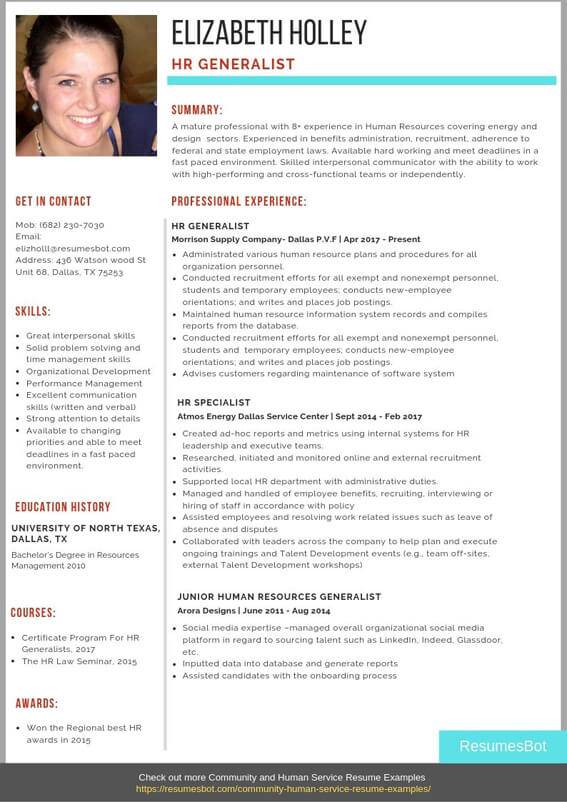 HR GENERALIST RESUME TEMPLATE (TEXT FORMAT)
SUMMARY

A mature professional with 8+ experience in Human Resources covering energy and design sectors. Experienced in benefits administration, recruitment, adherence to federal and state employment laws. Available hardworking and meet deadlines in a fast-paced environment. Skilled interpersonal communicator with the ability to work with high-performing and cross-functional teams or independently.
EDUCATION
Bachelor's Degree in Resources Management 2010
University of North Texas, Dallas, TX
SKILLS
Great interpersonal skills
Solid problem solving and time management skills
Organizational Development
Performance Management
Excellent communication skills (written and verbal)
Strong attention to details
Available to changing priorities and able to meet deadlines in a fast-paced environment.
PROFESSIONAL EXPERIENCE
HR GENERALIST
Morrison Supply Company- Dallas P.V.F.
Apr 2017 – Present
Administrated various human resource plans and procedures for all organization personnel.
Conducted recruitment efforts for all exempt and nonexempt personnel, students and temporary employees; conducts new-employee orientations; and writes and places job postings.
Maintained human resource information system records and compiles reports from the database.
Conducted recruitment efforts for all exempt and nonexempt personnel, students and temporary employees; conducts new-employee orientations; and writes and places job postings.
HR SPECIALIST
Atmos Energy Dallas Service Center
Sept 2014 – Feb 2017
Created ad-hoc reports and metrics using internal systems for HR leadership and executive teams.
Researched, initiated and monitored online and external recruitment activities.
Supported the local HR department with administrative duties.
Managed and handled employee benefits, recruiting, interviewing or hiring of staff in accordance with policy
Assisted employees and resolving work-related issues such as leave of absence and disputes
Collaborated with leaders across the company to help plan and execute ongoing training and Talent Development events (e.g., team off-sites, external Talent Development workshops)
JUNIOR HUMAN RESOURCES GENERALIST
Arora Designs
June 2011 – Aug 2014
Social media expertise –managed overall organizational social media platform in regard to sourcing talent such as LinkedIn, Indeed, Glassdoor, etc.
Inputted data into database and generate reports
Assisted candidates with the onboarding process
AWARDS
Won the Regional best HR awards in 2015
COURSES
Certificate Program For HR Generalists, 2017
The HR Law Seminar, 2015
Average Salary for HR Generalist Job
HR Generalist
Salaries
National Average
| | | |
| --- | --- | --- |
| Base Salary | $43k – $73k | |
| Bonus | $510 – $7k | |
| Profit Sharing | $487 – $5k | |
| Commission | $724 – $10k | |
| Total Pay | $40k – $73k | |
***Data are taken from payscale.com
A Human Resources generalist career path has already shown you the ropes of recruiting and employment. You' ve managed to balance the well-being of a company with that of its workers and reviewed about a hundred or a thousand resumes.
Now is the time to brand yourself for new professional opportunities, consider the tricks of your profession, and make sure to use every technique to match the job description and get distinguished from other applicants.
This is the guide and a good HR generalist resume sample to get inspired for a challenge of building a powerful Human Resource generalist resume.
How to Make an HR Generalist Resume
Applying for a Human Resources generalist position looks like cooking for a head chef. And neither numerous Human Resources generalist resume samples nor guideshold a formula of success. Focus on the skills and accomplishments the particular HR job needs most. You will make them believe you can do this job if you show it has been already done, picking up the achievements that fit the role description the best.
You know that the most effective resumes are those including concise and relevant information expressed by exact numbers, highlighted keywords, and right action words for the job a candidate is applying for. Now you are the candidate that aims to win an interview and land a dream job.
Match your professional achievements to the current HR generalist position and follow the best possible structure:
Your Contact Information;
Academic Background/ Education & Professional Credentials;
Profile Summary / Objective Statement;
Skills and Capabilities;
Experience & Accomplishments;
Courses/ Training;
Certifications.
There is no strict requirement to put all listed sections. It depends on your background in the field. With plenty of professional experience, education credentials, affiliations, accomplishments, and credible certifications you may omit the skills section.
9 Tips on Resume Format for HR Generalist
A well-formatted keywords-driven resume easily passes ATS, leaving no chances for the hiring manager to dismiss it. Here are the recommendations on how to create to an inviting resume format for the HR generalist role:
Stick to two pages of clear writing if your experience is overwhelming or one page if your contribution in the field is not so exceptional.
The right choice and most effective tactic is the reverse-chronological format, and there is no need to mess with perfection.
The right font size for plain text is 10–12pt font.
Use a well-branded resume header with larger font for your name and smaller font for the job title and other contact info listing.
Choose Cambria or Arial and bullets for the statements summarizing key areas of expertise not to crowd things.
Put bold keywords at the start of each bullet point to increase the keyword density and make the resume skimmable.
Spell acronyms out fully in the appropriate section of the resume in order to get a better chance of being found in a computerized keyword scan.
Dense paragraphs impair skimmability, so avoid writing anything longer than three or four lines.
A PDF file is a perfectly machine-readable format for saving your resume in 2021.
Resume Objective for Human Resources Generalist
To make a resume stand out, build the professional resume profile in such a way so it catches the recruiter's eye fast and grabs their attention. Your attainments stated along with achievements emphasized should speak volumes for your perfect fitting of an existing vacancy, delivering quality over quantity when it comes to information in your resume.
A career summary is perfect for those who are in the HR industry for more than two years. It should include your full job title, two or three key skills, and the way you've used them.Try to begin the HR generalist resume summary section with a headline statement. It communicates much more information than the outdated chartjunk headings, such as "Career Summary" or "Professional Profile".
Consider adding 1-2 subheadings defining your expertise. It may be industry specialization or distinguishing credentials. Such personal details that make you special such as board of director appointments, presentations, public speaking engagements, or publications that contain the right keywords are welcomed.
For an entry-level HR generalist resume, the objective section will work better. This is the area to go deeper into your skills and capabilities. It's good to mention some achievements in behavioral sciences, social sciences, economics, statistics and business administration, tailoring them to the position.
Don't forget to mention in HR generalist resume objective statements how many people you trained and to what effect. Though some achievements are difficult to measure, numbers do matter, and winners are aware of that.
HR Generalist Duties
HR generalists' duties are wide. But when it comes to maintaining and optimizing the talent pool, the resume should fit the only one job it's intended for, falling under any of the following core functions:
staffing;
development & training;
compensation;
safety & health;
employee & labor relations.
Good Skills to Include on HR Generalist Resume
Hard Skills:
HRM knowledge & expertise
Human Resources Information Software
MS Office Suite & Excel
Performance management
Onboarding
Payroll Support
Coaching & Training
Applicant tracking
HR Reporting
Experience in government reports
Employee relations
Project management
Worker's compensation
Soft Skills:
Interpersonal skills
Communication
Proactivity
Collaboration
Problem-solving
Time management
Attention to detail
Judgment
Listening
Leadership
Intercultural sensitivity
Adaptability
Ability to multitask
Analytical skills
Resume Action Words for HR Generalist
Improved
Spearheaded
Analyzed
Assembled
Improved
Collaborated
Optimized
Trained
Arranged
Configured
Prepared
Advanced
Converted
Interviewed
Systematized
Human Resources Generalist Certification
You can add relevant HR generalist training and development courses and awards if the job description requires some.
To be 100% prepared for getting a new job check our Human Resources Generalist Cover Letter Example
How useful was this post?
Click on a star to rate it!
Average rating / 5. Vote count:
Other Samples from this Industry: