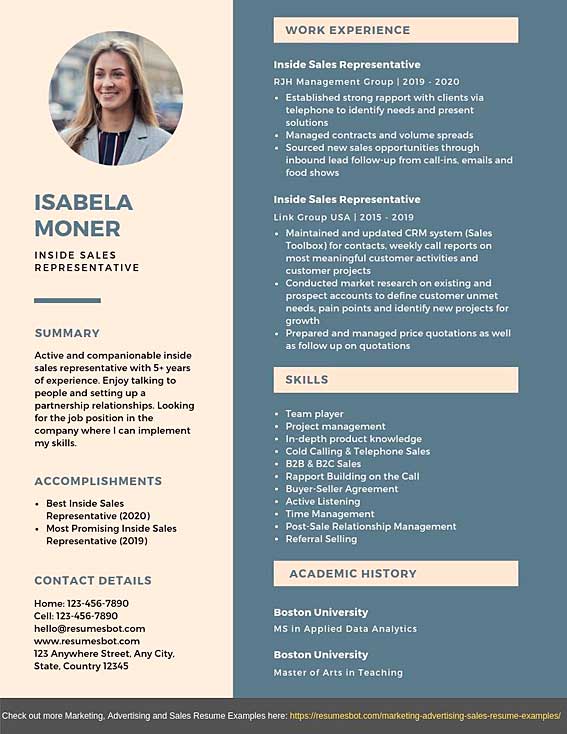 INSIDE SALES REPRESENTATIVE RESUME TEMPLATE (TEXT FORMAT)
SUMMARY
Active and companionable inside sales representative with 5+ years of experience. Enjoy talking to people and setting up a partnership relationships. Looking for the job position in the company where I can implement my skills.
EDUCATION
Boston University
MS in Applied Data Analytics
Boston University
Master of Arts in Teaching
SKILLS
Team player
Project management
In-depth product knowledge
Cold Calling & Telephone Sales
B2B & B2C Sales
Rapport Building on the Call
Buyer-Seller Agreement
Active Listening
Time Management
Post-Sale Relationship Management
Referral Selling
WORK EXPERIENCE
Inside Sales Representative
RJH Management Group | 2019 – 2020
Established strong rapport with clients via telephone to identify needs and present solutions
Managed contracts and volume spreads
Sourced new sales opportunities through inbound lead follow-up from call-ins, emails and food shows
Inside Sales Representative
Link Group USA | 2015 – 2019
Maintained and updated CRM system (Sales Toolbox) for contacts, weekly call reports on most meaningful customer activities and customer projects
Conducted market research on existing and prospect accounts to define customer unmet needs, pain points and identify new projects for growth
Prepared and managed price quotations as well as follow up on quotations
Average Salary for Inside Sales Representative Job
Inside Sales Representative
Salaries
National Average
| | | |
| --- | --- | --- |
| Base Salary | $33k – $64k | |
| Bonus | $512 – $15k | |
| Profit Sharing | $506 – $13k | |
| Commission | $2k – $29k | |
| Total Pay | $31k – $67k | |
***Data are taken from payscale.com
Good Skills to Include on Inside Sales Representative Resume
Professional Inside Sales Representative knows how important to sell value, not price. What matters most for your customers isn't what they pay for your product, but what they get for their money. Smart buyers appreciate a reasonable price, but if your product has the lowest price, they may suspect that it's not the highest quality. Point out to cost-conscious buyers that bargain hunting may help save money initially, but sacrifices in quality will cost more in the long run.
Objections are inevitable but should never be seen as a door slamming closed in your face. The key is to understand why the customer is objecting – you must take the time to uncover this if you hope to move forward in a mutually beneficial way.
Resume Action Words for Inside Sales Representative
Communicated
Contacted
Maintained
Supervised
Prioritized
Emphasized
Exceeded
Approved
Set up
Answered
Wrote
Prepared
Managed
Completed
Utilized
Common Certificates for Inside Sales Representative Resume
CISP: Certified Inside Sales Professional
Certified Professional Sales Person (CPSP)
SPIN Selling
How useful was this post?
Click on a star to rate it!
Average rating / 5. Vote count:
Other Samples from this Industry: