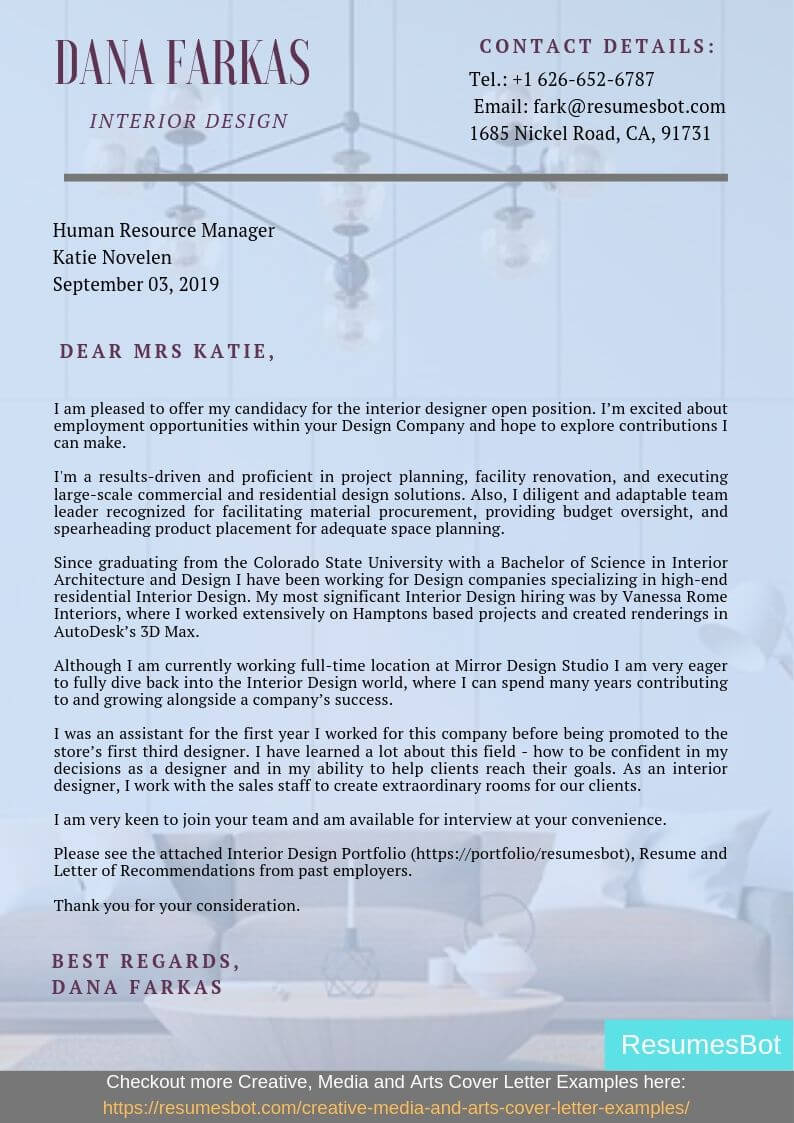 Design similar cover letter template in minutes
It's Okay to be different
INTERIOR DESIGN COVER LETTER TEMPLATE (TEXT FORMAT)
Dana Farkas
Tel.: +1 626-652-6787
fark@resumesbot.com
1685 Nickel Road, CA 91731
---
Human Resource Manager
Katie Novelen
September 03, 2019
Dear Mrs. Katie,
I am pleased to offer my candidacy for the interior designer open position. I'm excited about employment opportunities within your Design Company and hope to explore contributions I can make.
I'm a results-driven and proficient in project planning, facility renovation, and executing large-scale commercial and residential design solutions. Also, I diligent and adaptable team leader recognized for facilitating material procurement, providing budget oversight, and spearheading product placement for adequate space planning.
Since graduating from the Colorado State University with a Bachelor of Science in Interior Architecture and Design I have been working for Design companies specializing in high-end residential Interior Design. My most significant Interior Design hiring was by Vanessa Rome Interiors, where I worked extensively on Hamptons based projects and created renderings in AutoDesk's 3D Max.
Although I am currently working full-time location at Mirror Design Studio I am very eager to fully dive back into the Interior Design world, where I can spend many years contributing to and growing alongside a company's success.
I was an assistant for the first year I worked for this company before being promoted to the store's first third designer. I have learned a lot about this field – how to be confident in my decisions as a designer and in my ability to help clients reach their goals. As an interior designer, I work with the sales staff to create extraordinary rooms for our clients.
I am very keen to join your team and am available for interview at your convenience.
Please see the attached Interior Design Portfolio (https://portfolio/resumesbot), Resume and Letter of Recommendations from past employers.
Thank you for your consideration.
Best Regards,
Dana Farkas
To be 100% prepared for getting new job check our Interior Designer Resume Example
How useful was this post?
Click on a star to rate it!
Average rating / 5. Vote count:
Other Samples from this Industry: