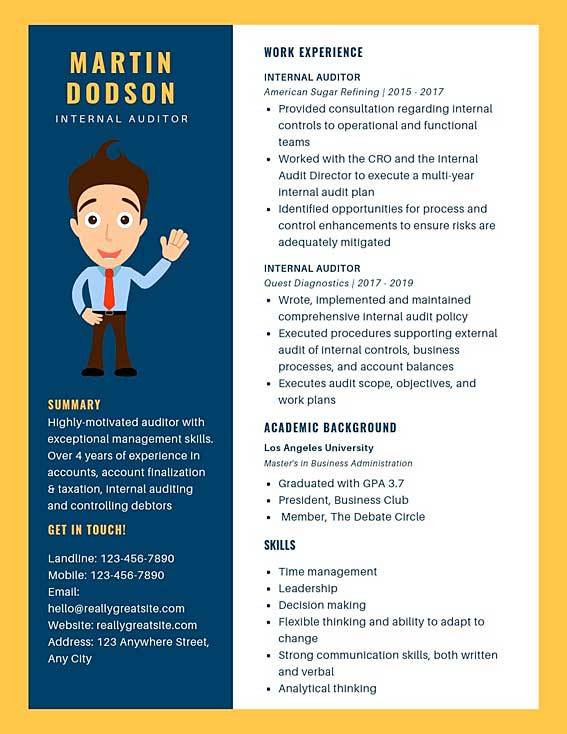 Internal Auditor Resume Template (Text Format)
SUMMARY
Highly-motivated auditor with exceptional management skills. Over 4 years of experience in accounts, account finalization & taxation, internal auditing and controlling debtors.
ACADEMIC BACKGROUND
Los Angeles University
Master's in Business Administration
Graduated with a GPA of 3.7
President, Business Club
Member, The Debate Circle
SKILLS
Time management
Leadership
Decision making
Flexible thinking and ability to adapt to change
Strong communication skills, both written and verbal
Analytical thinking
WORK EXPERIENCE
INTERNAL AUDITOR
American Sugar Refining | 2015 – 2017
Provided consultation regarding internal controls to operational and functional teams
Worked with the CRO and the Internal
Audit Director to execute a multi-year internal audit plan
Identified opportunities for process and control enhancements to ensure risks are adequately mitigated
INTERNAL AUDITOR
Quest Diagnostics | 2017 – 2019
Wrote, implemented and maintained comprehensive internal audit policy
Executed procedures supporting an external audit of internal controls, business processes, and account balances
Executes audit scope, objectives, and work plans
Average Salary for Internal Auditor Job
Internal Auditor
Salaries
National Average
| | | |
| --- | --- | --- |
| Base Salary | $46k – $80k | |
| Bonus | $969 – $8k | |
| Profit Sharing | $805 – $6k | |
| Total Pay | $40k – $82k | |
***Data are taken from payscale.com
Good Skills to Include on Internal Auditor Resume
Verbal and written communication skills
Skills in applying internal auditing and accounting principles and practices
Knowledge of information systems and technology terminology, concepts and practices
SAP, Word, Excel, PowerPoint and Visio
Knowledge of providing services related to controls around the financial reporting, compliance and operational processes, including business process and IT management controls, which includes a proven record of success with facilitating and completing deliverables
Resume Action Words for Internal Auditor
Allocated
Inventoried
Verified
Migrated
Certified
Organized
Setup
Collected
Controlled
Projected
Received
Entered
Examined
Reported
Planned
Common Certificates for Internal Auditor Resume
Certified Internal Auditor (CIA) Certification
Certified Professional Accountants (AICPA)
CGAP – Certified Government Auditing Professional
How useful was this post?
Click on a star to rate it!
Average rating / 5. Vote count:
Other Samples from this Industry: