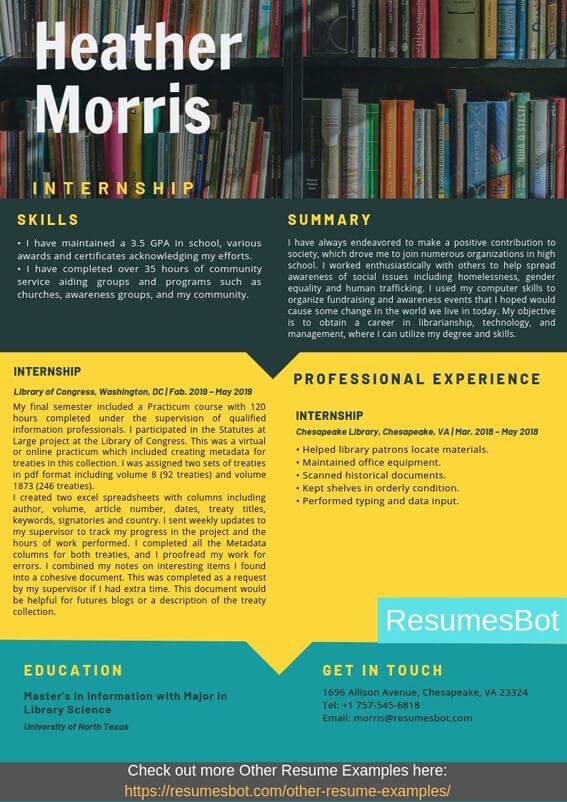 INTERNSHIP RESUME TEMPLATE (TEXT FORMAT)
SUMMARY
I have always endeavored to make a positive contribution to society, which drove me to join numerous organizations in high school. I worked enthusiastically with others to help spread awareness of social issues including homelessness, gender equality and human trafficking. I used my computer skills to organize fundraising and awareness events that I hoped would cause some change in the world we live in today. My objective is to obtain a career in librarianship, technology, and management, where I can utilize my degree and skills.
EDUCATION
Master's in Information with Major in Library Science
University of North Texas
SKILLS
I have maintained a 3.5 GPA in school, various awards and certificates acknowledging my efforts.
I have completed over 35 hours of community service aiding groups and programs such as churches, awareness groups, and my community.
PROFESSIONAL EXPERIENCE
INTERNSHIP
Library of Congress, Washington, DC
Fab. 2019 – May 2019
My final semester included a Practicum course with 120 hours completed under the supervision of qualified information professionals. I participated in the Statutes at Large project at the Library of Congress. This was a virtual or online practicum which included creating metadata for treaties in this collection. I was assigned two sets of treaties in PDF format including volume 8 (92 treaties) and volume 1873 (246 treaties).
I created two excel spreadsheets with columns including author, volume, article number, dates, treaty titles, keywords, signatories and country. I sent weekly updates to my supervisor to track my progress in the project and the hours of work performed. I completed all the Metadata columns for both treaties, and I proofread my work for errors. I combined my notes on interesting items I found into a cohesive document. This was completed as a request by my supervisor if I had extra time. This document would be helpful for futures blogs or a description of the treaty collection.
INTERNSHIP
Chesapeake Library, Chesapeake, VA

Mar. 2018 – May 2018
Helped library patrons locate materials.
Maintained office equipment.
Scanned historical documents.
Kept shelves in orderly condition.
Performed typing and data input.
Average Salary for Internship Job
Internship
Salaries
National Average
| | | |
| --- | --- | --- |
| Base Salary | $35k – $62k | |
| Bonus | $0 – $3k | |
| Total Pay | $32k – $61k | |
***Data are taken from payscale.com
Good Skills to Include on Internship Resume
Knowledge of utilizing modern teaching aids appropriately and effectively.
Proficiency in handling computer aided tools and the web platform.
Follows high standard personal and work ethics.
Resume Action Words for Internship Resume
Adapted
Helped
Inspected
Demonstrated
Managed
Selected
Listened
Provided
Mediated
Assisted
Classified
Expanded
Initiated
Analyzed
Reported
Common Certificates for Internship Resume
Associate in Project Management.
Certified Associate in Project Management.
Certified Project Director.
Certified Project Management Practitioner.
Certified ScrumMaster.
CompTIA Project.
PRINCE2 Foundation/PRINCE2 Practitioner.
Project Management in IT Security.
Project Management Professional.
Resume for Internship With no Experience Template
Internship Resume Sample for College Students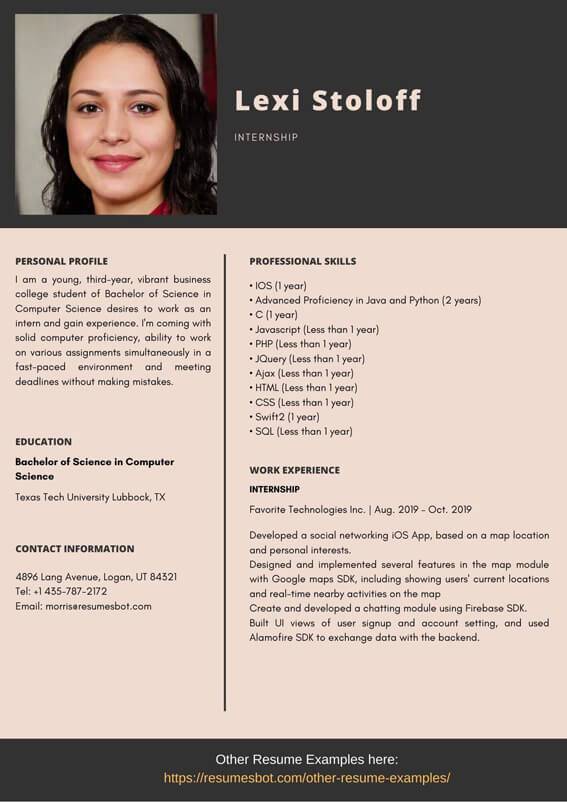 Engineering Student Resume for Internship Example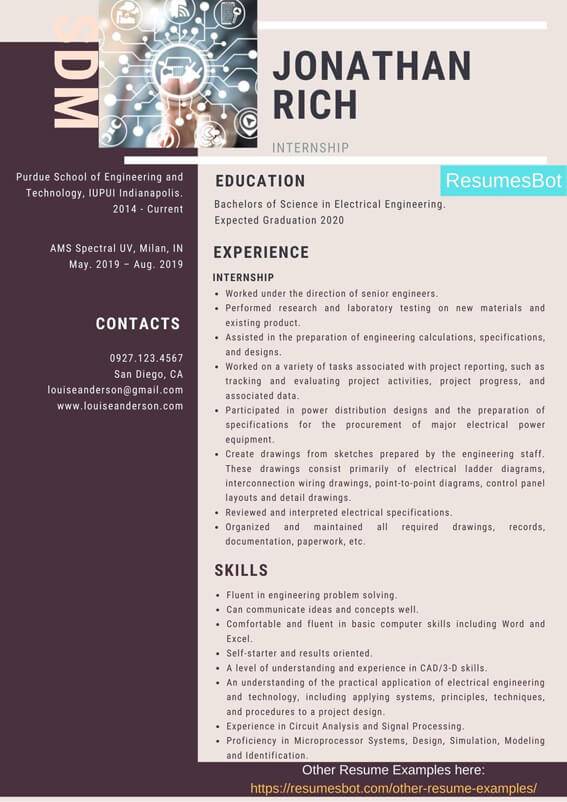 Resume Template for Google Internship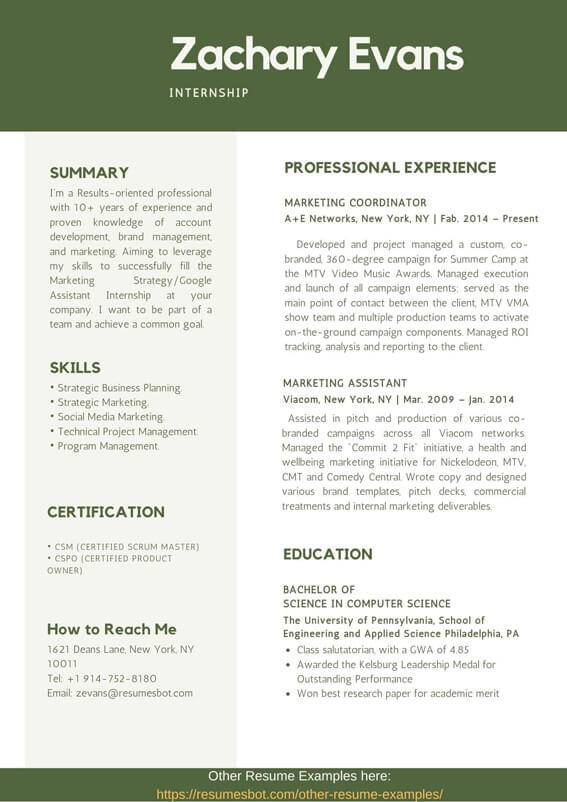 How useful was this post?
Click on a star to rate it!
Average rating / 5. Vote count:
Other Samples from this Industry: