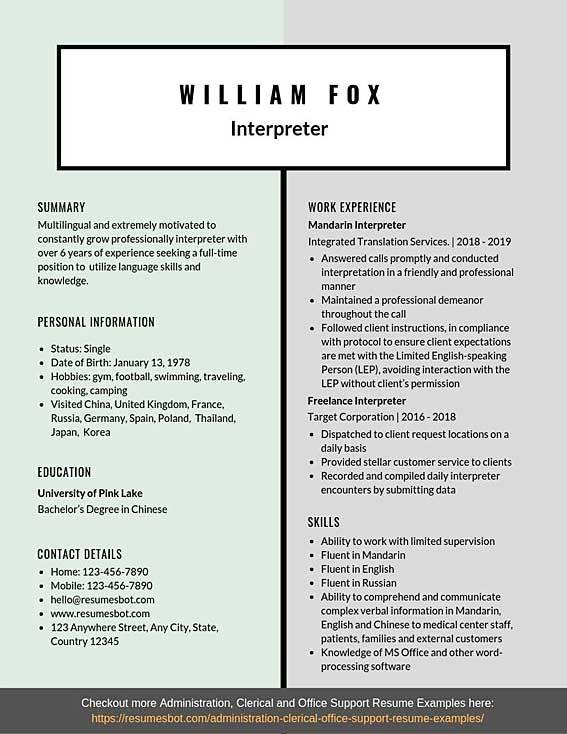 INTERPRETER RESUME TEMPLATE (TEXT FORMAT)
SUMMARY
Multilingual and extremely motivated to constantly grow professionally interpreter with over 6 years of experience seeking a full-time position to utilize language skills and knowledge.
EDUCATION
University of Pink Lake
Bachelor's Degree in Chinese
SKILLS
Ability to work with limited supervision
Fluent in Mandarin
Fluent in English
Fluent in Russian
Ability to comprehend and communicate complex verbal information in Mandarin,
English and Chinese to medical center staff, patients, families and external customers
Knowledge of MS Office and other word processing software
PERSONAL INFORMATION
Status: Single
Date of Birth: January 13, 1978
Hobbies: gym, football, swimming, traveling, cooking, camping
Visited China, United Kingdom, France, Russia, Germany, Spain, Poland, Thailand, Japan, Korea
EXPERIENCE
Mandarin Interpreter
Integrated Translation Services. | 2018 – 2019
Answered calls promptly and conducted interpretation in a friendly and professional manner
Maintained a professional demeanor throughout the call
Followed client instructions, in compliance with protocol to ensure client expectations are met with the Limited English-speaking Person (LEP), avoiding interaction with the LEP without client's permission
Freelance Interpreter
Target Corporation | 2016 – 2018
Dispatched to client request locations on a daily basis
Provided stellar customer service to clients
Recorded and compiled daily interpreter encounters by submitting data
Average Salary for Interpreter Job
Interpreter
Salaries
National Average
| | | |
| --- | --- | --- |
| Base Salary | $28k – $81k | |
| Bonus | $40 – $4k | |
| Total Pay | $28k – $82k | |
***Data are taken from payscale.com
Good Skills to Include on Interpreter Resume
Extremely good listener
Interpersonal skills
Cultural competence
Communicating effectively in writing as appropriate for the needs of the audience
Time management
Resume Action Words for Interpreter
Coordinated
Collaborated
Interviewed
Integrated
Trained
Organized
Planned
Succeeded
Improved
Interpreted
Pioneered
Enlisted
Founded
Educated
Awarded
Common Certificates for Interpreter Resume
CCHI Certified Interpreters
ATA certification
How useful was this post?
Click on a star to rate it!
Average rating / 5. Vote count:
Other Samples from this Industry: