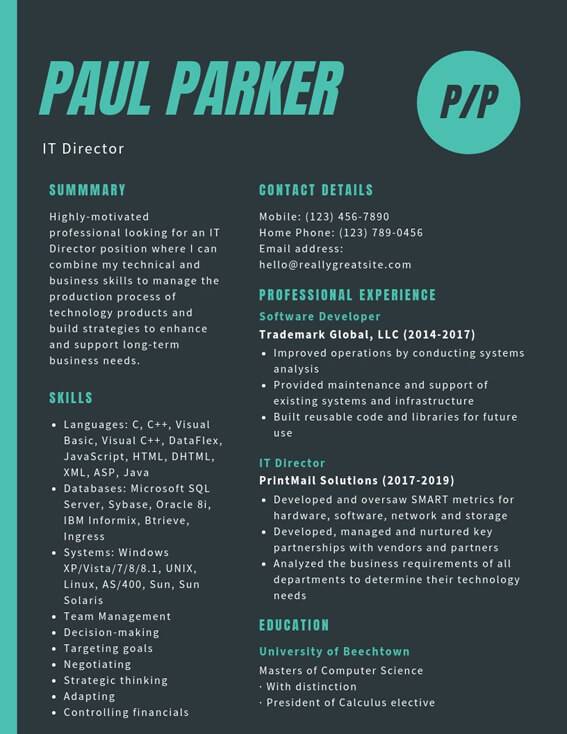 IT Director Resume Template (Text Format)
SUMMARY
Highly-motivated professional looking for an IT Director position where I can combine my technical and business skills to manage the production process of technology products and build strategies to enhance and support long-term business needs.
EDUCATION
University of Beechtown
Masters of Computer Science
With distinction
President of Calculus elective
SKILLS
Languages: C, C++, Visual Basic, Visual C++, DataFlex, JavaScript, HTML, DHTML, XML, ASP, Java
Databases: Microsoft SQL Server, Sybase, Oracle 8i, IBM Informix, Btrieve, Ingress
Systems: Windows XP/Vista/7/8/8.1, UNIX, Linux, AS/400, Sun, Sun Solaris
Team Management
Decision-making
Targeting goals
Negotiating
Strategic thinking
Adapting
Controlling financials
PROFESSIONAL EXPERIENCE
Software Developer
Trademark Global, LLC (2014-2017)
Improved operations by conducting systems analysis
Provided maintenance and support of existing systems and infrastructure
Built reusable code and libraries for future use
IT Director
PrintMail Solutions (2017-2019)
Developed and oversaw SMART metrics for hardware, software, network and storage
Developed, managed and nurtured key partnerships with vendors and partners
Analyzed the business requirements of all departments to determine their technology needs
Use Our Professional IT Resume Writing Service to Get Hired!
Average Salary for IT Director Job
IT Director
Salaries
National Average
| | | |
| --- | --- | --- |
| Base Salary | $71k – $176k | |
| Bonus | $2k – $36k | |
| Profit Sharing | $2k – $24k | |
| Commission | $3k – $74k | |
| Total Pay | $69k – $199k | |
***Data are taken from payscale.com
Good Skills to Include on IT Director Resume
Knowledge of computer hardware and software applications
Organizational, communication and interpersonal skills
SAP Business One, BEAS Manufacturing, Lisa Warehouse Management, or similar technologies
Time Management
Teamwork Collaboration
Analytical and problem-solving skills
ERP and API knowledge
Microsoft Office including Excel skills
Superior project management skills
Resume Action Words for IT Director
Developed
Administered
Reported
Polished
Analyzed
Spoke
Motivated
Relieved
Improved
Computed
Allocated
Contributed
Provided
Analyzed
Solved
Common Certificates for IT Director Resume
Certified Associate in Project Management (CAPM)
COBIT 5 Foundation Certification
Six Sigma Certification
How useful was this post?
Click on a star to rate it!
Average rating / 5. Vote count:
Other Samples from this Industry: