How Resume Scanning Software Actually Works?
An ATS is a software that employers use to scan the online job applications they receive for their open positions. Nowadays 95% of Fortune 500 companies use an ATS to manage their applicant tracking process.
Whereas previously this software was used only by large companies, currently, due to a large number of free versions even medium-sized firms are using ATS testing. Some ATS software firms offer free systems capable of basic data processing, applicant communication, and simple recruitment analytics.
The value of resume scanning software is a possibility to extract the information held in documents that a candidate submits.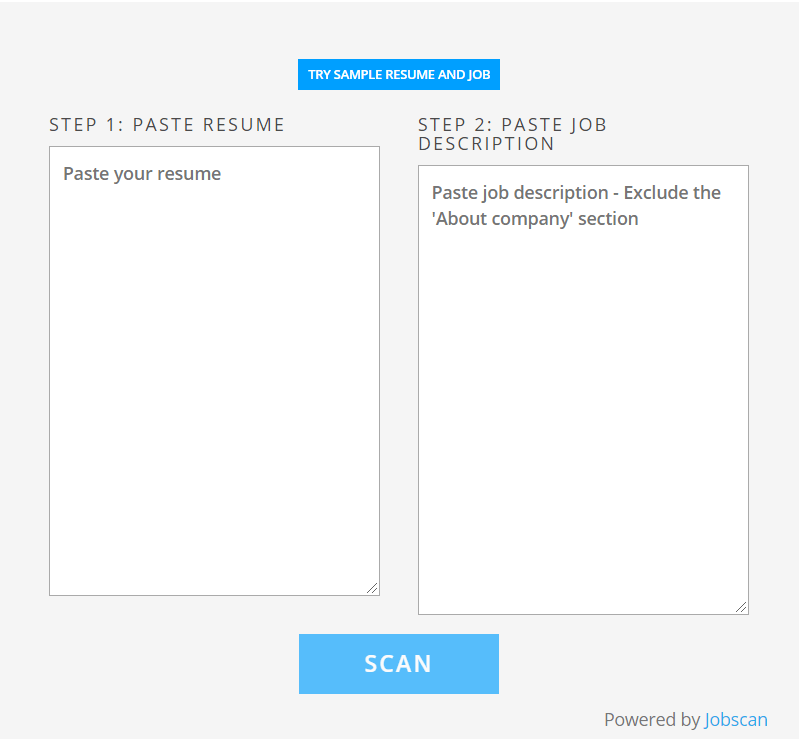 How Does Our Resume Checker Work?
Resume Checker That Will Give a Review in 30 Seconds
This software ranks your resume based on its relevancy to the job description. So, you can compare resume to a job posting and receive an online resume review in less than 40 seconds.
The verification includes the following aspects:
Job title match.
Checking relevant education.
Finding your missing skills.
Checking relevant and specific keywords.
Analyze of section heading.
Analyze of data formatting.
Why Jobscan is The Most Effective and Simple Free Test to Use?
What is Jobscan Service?
The Jobscan is a specially developed software that has an online analysis tool to tell a job seeker how to optimize his or her resume for specific job postings. The free plan gives you five check resumes a month.
Jobscan is extremely simple to use
It's extremely user-friendly:
Copy the text from your resume and paste it into the first left field.
Copy the text from the job description of the job posting you are interested in or are applying for and paste it into the second right field.
Click the big blue Scan button.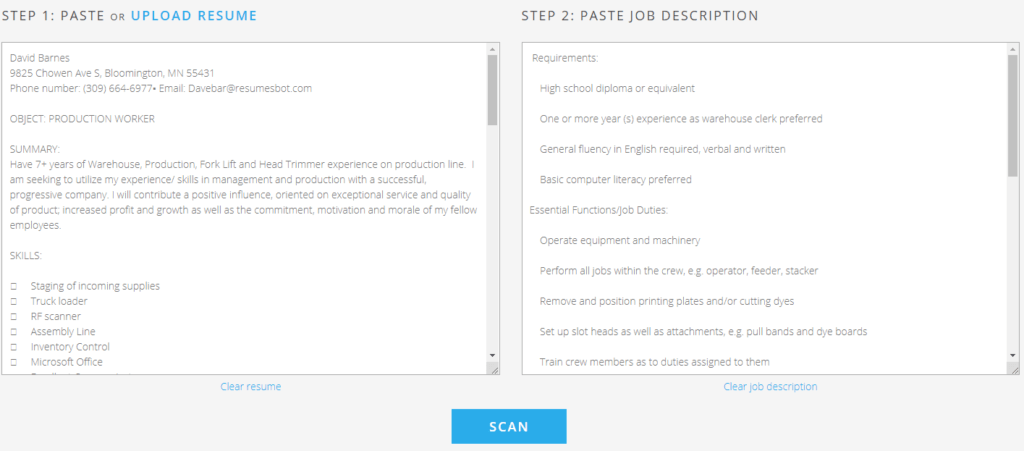 Important Details Will Help You to Beat the Resume Scanner System
Resume scanning is a process where employers convert hardcopy resumes into electronic resumes. Basically, instead of a human reading the resume, the resume is first input into the company's computer database via a scanner. Then, if a resume corresponds to a job position, it's getting to an HR specialist.
What Should You Pay Attention to Outsmart Resume Scanner?
If you want your resume to be scanned normally, you need to note to the next details:
Keywords. Applicant tracking systems use keywords to sort and organize resumes. Your resume keywords should include specific job, requirements, skills, duties, previous positions and employers. Use keywords as many as possible.
Document format – Word and PDF. Nearly 90 percent of employers prefer .doc or .docx format. The software may not track or scan keywords on PDFs as well as it does on Word documents.
Remove abbreviations. We don't recommend to abbreviate on resumes. Exceptions are well-known, universal business world abbreviations.
Structure your resume by job description sample.
Examples of ATS Resume Test Free Results
Resumes uploaded to an ATS are only viewed by a human if the system matches the resume to the job ad.
We have chosen a resume and a job description for the production worker position and try to use ATS resume test results to improve our resume. Here are compare resume to job description results.

Results of our ATS Resume Test Free
As you can see, we received 42 % much rare only. It means, that our resume doesn't quite fit the selected open position.
Below you can see our Jobscan reviews, which also identifies our word count, measurable results, and words to avoid as well as evaluate our section headings, date formatting, and paragraph length.

Well, obviously, we need to focus our efforts on hard skills and titles in our resume. If we add the Company's name and address, we can receive ATS Tips on how to conquer the specific Applicant Tracking software used by that company.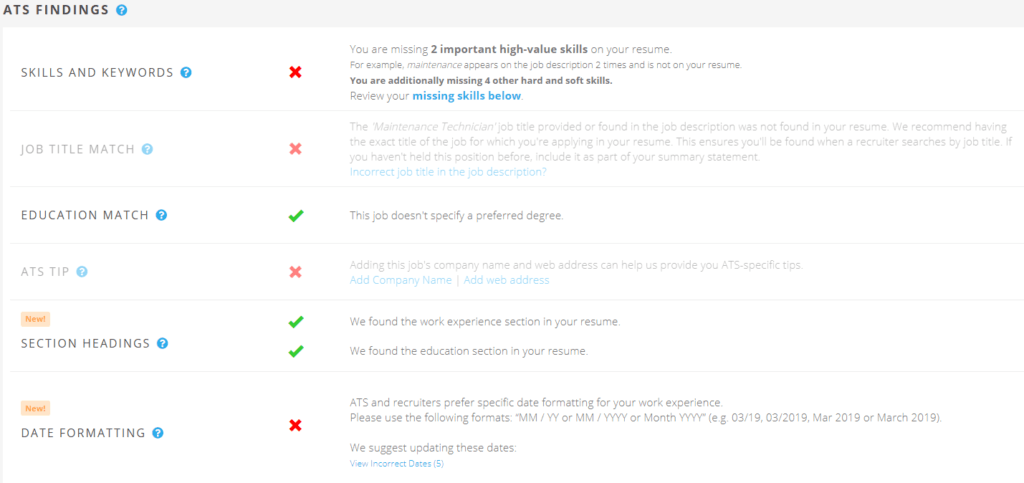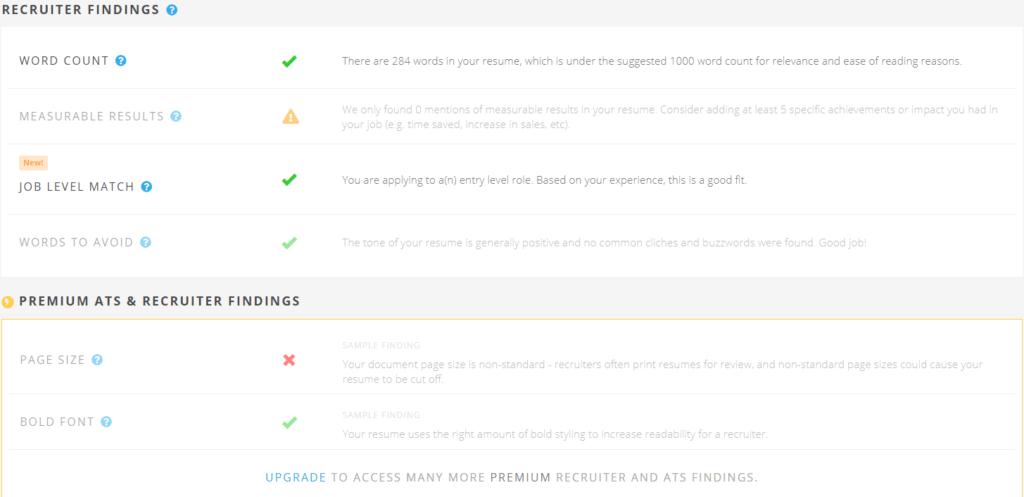 Also, there are some tips about word count and page size and a lot of Job Recommendations. In our resume we didn't include important Hard and Soft Skills, so we need to take the time and rewrite our resume to have a chance to be invited to an interview.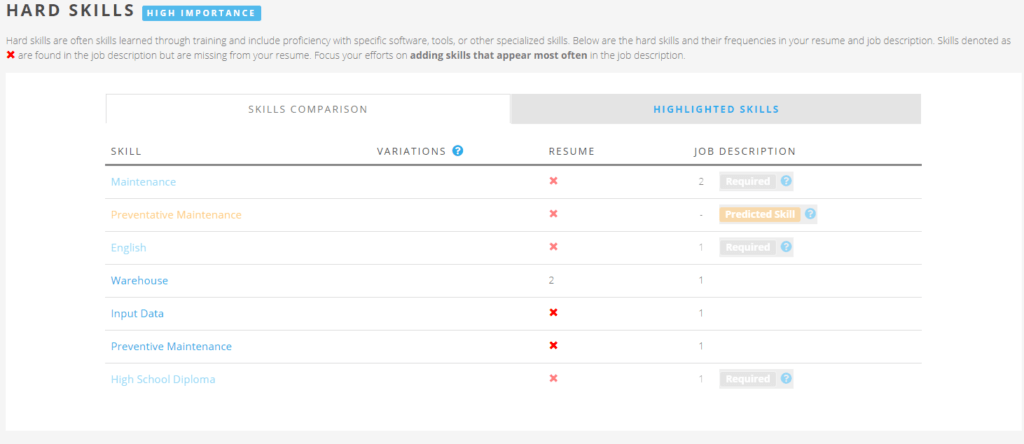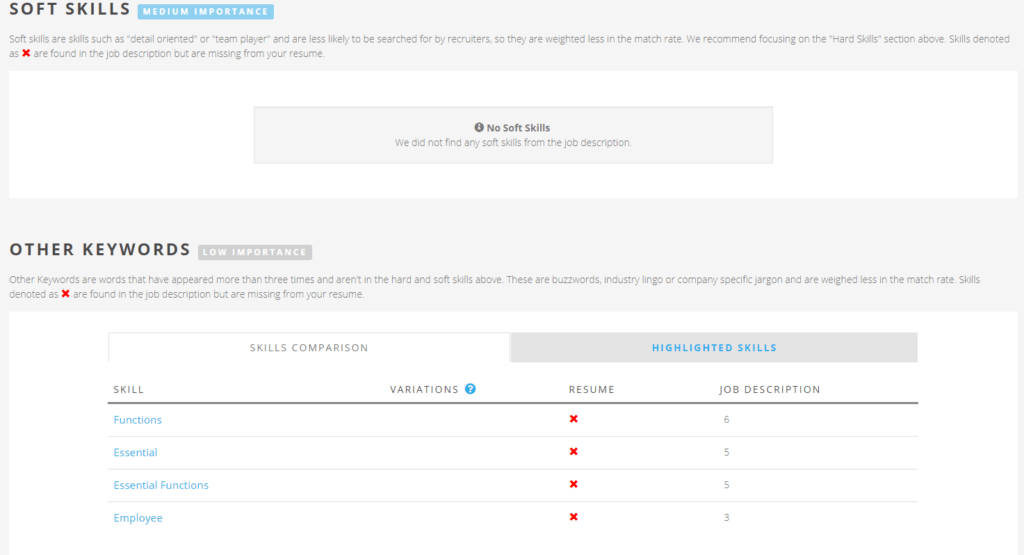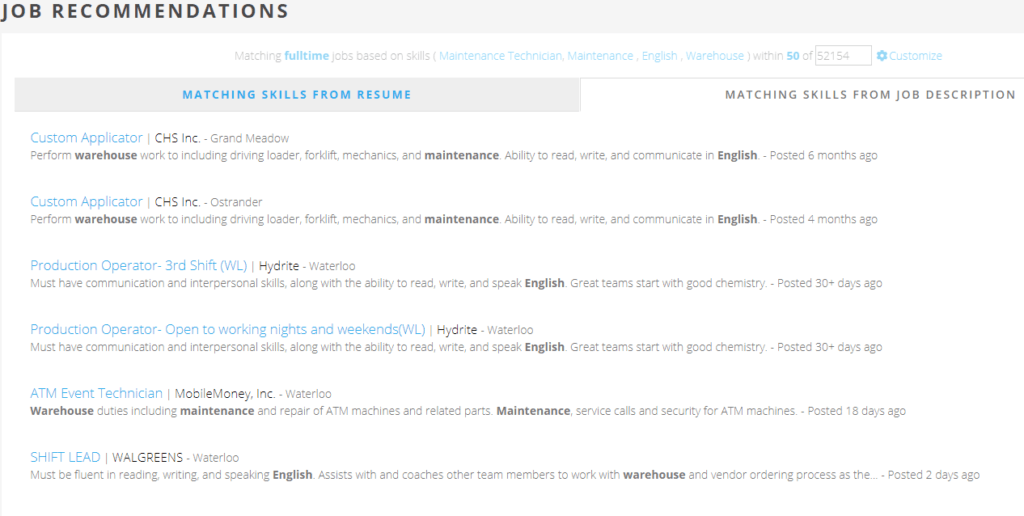 HR Manager Resume Analysis: How to Avoid Mistakes
Resume Analysis: How Recruters Can Read Between the Lines?
When your resume falls into the hands of the HR Manager be prepared for the full examination.
We have collected techniques that are used to vet potential employees—and it's not all as compliant as you'd expect.
HR feels that if you are not working for a certain period then you will definitely feel out-of-work or not in working condition. Studies show employers prefer to hire people who are currently working. An unexplained gap in the chronology of jobs is a major indicator of a problem. Recruiters prefer exact dates (by month and year) in the employee's work history. They think that it makes more difficult trying to hide gaps in your job history.
Try to indicate continuing advancements in responsibility and job title. Because if there is no trend line of continuing career advancement, there is probably a good reason for it.
Resume with numbers of typographical errors leaves the impression of unprofessionalism. There are a lot of grammar checkers, resume analyzers that may be used online. Try to check and exclude mistakes from your resume.
If a candidate has changed his job position very often, he may be suspected by a bad temper. It's possible he couldn't get along in a team.
Final Tips: Make Your Resume Impeccable
If you have anything in your past that can make you a risky hire, HR will find it online.
HR prefers people with zero nuisances in the past. So take down anything that proves to be a threat in your way especially on LinkedIn.
HR officers prefer younger people that can save them the training money. If you are in your 50's then avoid mentioning the years of your college years. Stick with the experience and qualifications.
Each organization has its own terminology. Try to familiarize yourself with the language the company uses in all its publications and communications with the outside world.
You can sprinkle keywords from the exact advertisement throughout your resume. Or you can use a resume ATS checker recommendations to find more action verbs for your resume.