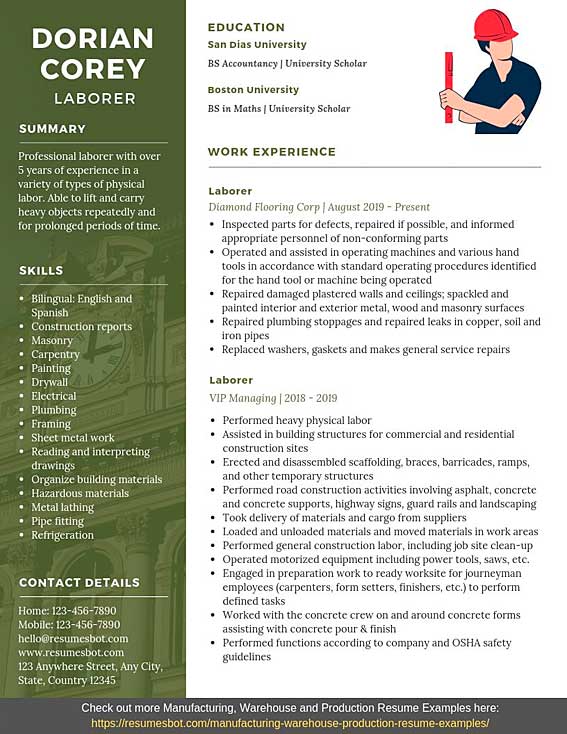 LABORER RESUME TEMPLATE (TEXT FORMAT)
SUMMARY
Professional laborer with over 5 years of experience in a variety of types of physical labor. Able to lift and carry heavy objects repeatedly and for prolonged periods of time.
EDUCATION
San Dias University
BS Accountancy | University Scholar
Boston University
BS in Maths | University Scholar
SKILLS
Bilingual: English and Spanish
Construction reports
Masonry
Carpentry
Painting
Drywall
Electrical
Plumbing
Framing
Sheet metal work
Reading and interpreting drawings
Organize building materials
Hazardous materials
Metal lathing
Pipe fitting
Refrigeration
EXPERIENCE
Laborer
Diamond Flooring Corp | August 2019 – Present
Inspected parts for defects, repaired if possible, and informed appropriate personnel of non-conforming parts
Operated and assisted in operating machines and various hand tools in accordance with standard operating procedures identified for the hand tool or the machine being operated
Repaired damaged plastered walls and ceilings; spackled and painted interior and exterior metal, wood and masonry surfaces
Repaired plumbing stoppages and repaired leaks in copper, soil and iron pipes
Replaced washers, gaskets and makes general service repairs
Laborer
VIP Managing | 2018 – 2019
Performed heavy physical labor
Assisted in building structures for commercial and residential construction sites
Erected and disassembled scaffolding, braces, barricades, ramps, and other temporary structures
Performed road construction activities involving asphalt, concrete and concrete supports, highway signs, guard rails and landscaping
Took delivery of materials and cargo from suppliers
Loaded and unloaded materials and move materials in work areas
Performed general construction labor, including job site clean-up
Operated motorized equipment including power tools, saws, etc.
Engaged in preparation work to the ready worksite for journeyman employees (carpenters, form setters, finishers, etc.) to perform defined tasks
Worked with the concrete crew on and around concrete forms assisting with concrete pour & finish
Performed functions according to company and OSHA safety guidelines
Average Salary for Laborer Job
Laborer
Salaries
National Average
| | | |
| --- | --- | --- |
| Base Salary | $22k – $71k | |
| Bonus | $79 – $5k | |
| Profit Sharing | $193 – $16k | |
| Commission | $1k – $10k | |
| Total Pay | $23k – $57k | |
***Data are taken from payscale.com
Good Laborer Resume Skills
Skilled laborer resume typically includes technical and soft skills.
Use hands and fingers fully; reach for, manipulate and feel objects; stoop, kneel, crouch, and/or crawl; potentially for long periods.
Climb and maintain body balance on ladders, scaffolding, or high structures.
Lift and carry objects weighing up to 50 pounds.
Work successfully as a team.
Ability to understand and follow directions with moderate supervision.
Ability to communicate effectively.
Experienced in installing and repairing utility pipelines.
Capable of working in any weather and willing to take on any task.
Proven history of being able to follow instructions.
Familiar with safety regulations and occupational hazards.
Providing in-depth knowledge of concrete types and gravel, sand, water and concrete mixing techniques.
Capable safely of operating forklifts, trowels and paving machines.
Laborer Resume Objective Examples
To obtain a Laborer position you should create a short resume objective for laborer. Try to highlight your strengths and then indicate your expectations for your future position.
I'm motivated professional with 15 years of experience in building and land development. I reliable and detail-oriented contributor with specialist knowledge, a strong and goal-oriented team player. I'm seeking to diversify my skills in Laborer position and as part of a larger organization.
I am a consistent, highly motivated individual. I have proven myself to be reliable and my employer can count on me to give 100% on any task I undertake. I'd like to further my professional career with an executive level management position in a world class company.
Proactive and personable individual seeking full-time employment. I believe my enthusiasm and specialized experience would make me an asset to your team.
I'd like to obtain a Laborer position with Ideal Construction Works utilizing manual dexterity, knowledge of architecture and principles of physics to provide excellent construction services.
I'm seeking an entry level position where I can build upon my current skill set to contribute to the company.
Resume Action Words for Laborer Resume Sample
Lifted
Moved
Pulled
Assembled
Operated
Tended
Bent
Solved
Helped
Improved
Controlled
Shipped
Participated
Diagnosed
Demonstrated
Common Certificates for Laborer Resumes
Certified Graduate Associate
Certification in Construction Materials Testing – Asphalt Level III
Certification in Construction Materials Testing – Asphalt Level IV
How useful was this post?
Click on a star to rate it!
Average rating / 5. Vote count:
Other Samples from this Industry: