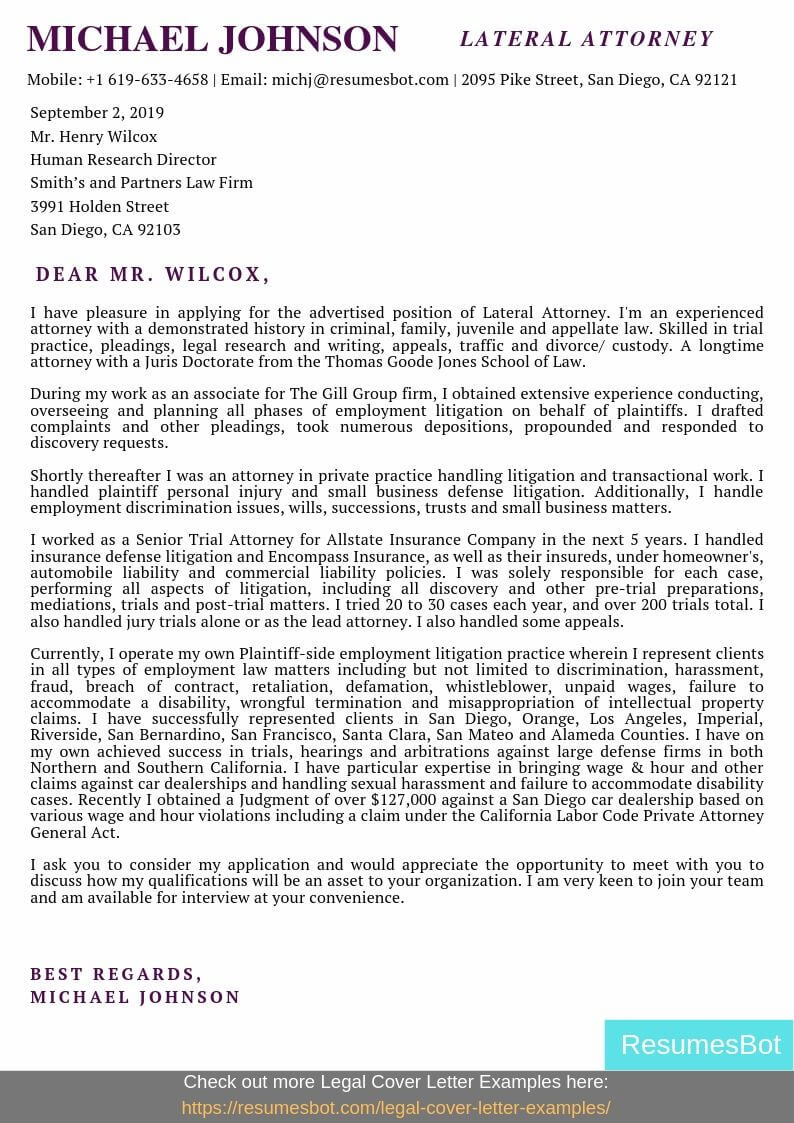 LATERAL ATTORNEY COVER LETTER TEMPLATE (TEXT FORMAT)
Michael Johnson
Mobile: +1 619-633-4658
michj@resumesbot.com
2095 Pike Street, San Diego, CA 92121
---
September 2, 2019
Mr. Henry Wilcox
Human Research Director
Smith's and Partners Law Firm
3991 Holden Street
San Diego, CA 92103
Dear Mr. Wilcox,
I have pleasure in applying for the advertised position of Lateral Attorney. I'm an experienced attorney with a demonstrated history in criminal, family, juvenile and appellate law. Skilled in trial practice, pleadings, legal research and writing, appeals, traffic and divorce/ custody. A longtime attorney with a Juris Doctorate from the Thomas Goode Jones School of Law.
During my work as an associate for The Gill Group firm, I obtained extensive experience conducting, overseeing and planning all phases of employment litigation on behalf of plaintiffs. I drafted complaints and other pleadings, took numerous depositions, propounded and responded to discovery requests.
Shortly thereafter I was an attorney in private practice handling litigation and transactional work. I handled plaintiff personal injury and small business defense litigation. Additionally, I handle employment discrimination issues, wills, successions, trusts and small business matters.
I worked as a Senior Trial Attorney for Allstate Insurance Company in the next 5 years. I handled insurance defense litigation and Encompass Insurance, as well as their insureds, under homeowner's, automobile liability and commercial liability policies. I was solely responsible for each case, performing all aspects of litigation, including all discovery and other pre-trial preparations, mediations, trials and post-trial matters. I tried 20 to 30 cases each year, and over 200 trials total. I also handled jury trials alone or as the lead attorney. I also handled some appeals.
Currently, I operate my own Plaintiff-side employment litigation practice wherein I represent clients in all types of employment law matters including but not limited to discrimination, harassment, fraud, breach of contract, retaliation, defamation, whistleblower, unpaid wages, failure to accommodate a disability, wrongful termination and misappropriation of intellectual property claims. I have successfully represented clients in San Diego, Orange, Los Angeles, Imperial, Riverside, San Bernardino, San Francisco, Santa Clara, San Mateo and Alameda Counties. I have on my own achieved success in trials, hearings and arbitrations against large defense firms in both Northern and Southern California. I have particular expertise in bringing wage & hour and other claims against car dealerships and handling sexual harassment and failure to accommodate disability cases. Recently I obtained a Judgment of over $127,000 against a San Diego car dealership based on various wage and hour violations including a claim under the California Labor Code Private Attorney General Act.
I ask you to consider my application and would appreciate the opportunity to meet with you to discuss how my qualifications will be an asset to your organization. I am very keen to join your team and am available for interview at your convenience.
Sincerely,
Margaret Dou
How useful was this post?
Click on a star to rate it!
Average rating / 5. Vote count:
Other Samples from this Industry: