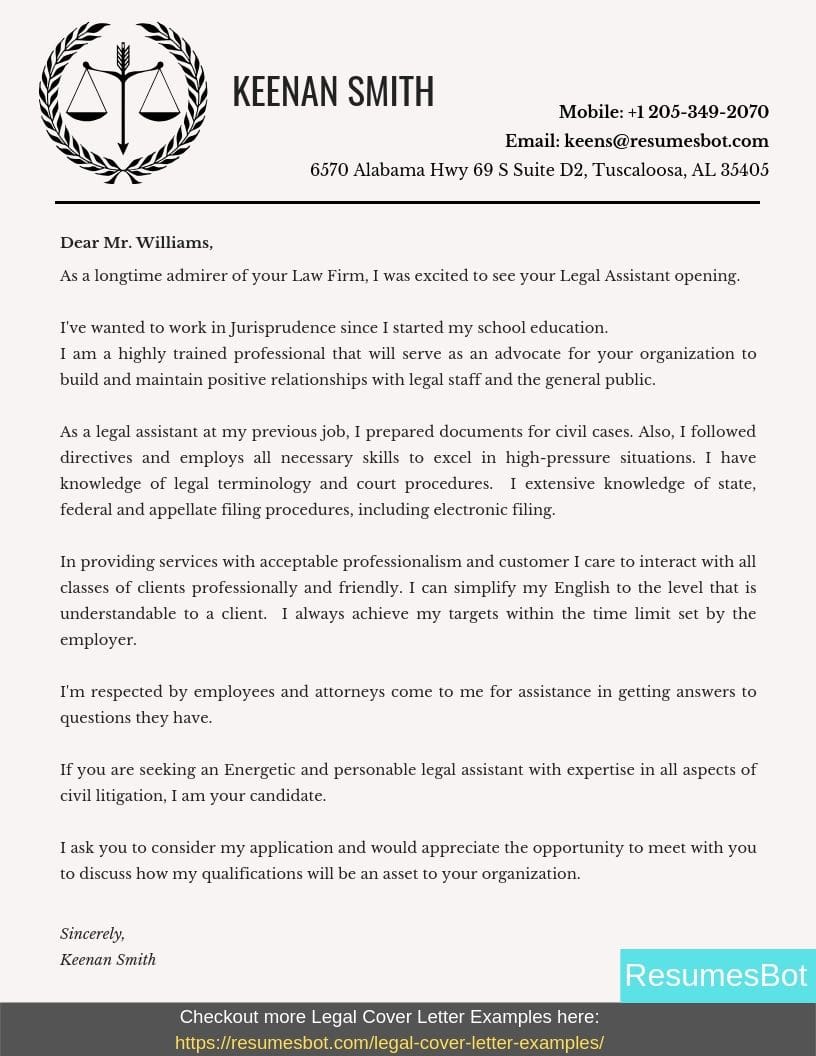 Design similar cover letter template in minutes
It's Okay to be different
LEGAL ASSISTANT COVER LETTER TEMPLATE (TEXT FORMAT)
Keenan Smith
Mobile: +1 205-349-2070
keens@resumesbot.com
6570 Alabama Hwy 69 S Suite D2, Tuscaloosa, AL 35405
---
Dear Mr. Williams,
As a longtime admirer of your Law Firm, I was excited to see your Legal Assistant opening.
I've wanted to work in Jurisprudence since I started my school education. I am a highly trained professional that will serve as an advocate for your organization to build and maintain positive relationships with legal staff and the general public.
As a legal assistant at my previous job, I prepared documents for civil cases. Also, I followed directives and employs all necessary skills to excel in high-pressure situations. I have knowledge of legal terminology and court procedures. I extensive knowledge of state, federal and appellate filing procedures, including electronic filing.
In providing services with acceptable professionalism and customer I care to interact with all classes of clients professionally and friendly. I can simplify my English to the level that is understandable to a client. I always achieve my targets within the time limit set by the employer.
I'm respected by employees and attorneys come to me for assistance in getting answers to questions they have.
If you are seeking an Energetic and personable legal assistant with expertise in all aspects of civil litigation, I am your candidate.
I ask you to consider my application and would appreciate the opportunity to meet with you to discuss how my qualifications will be an asset to your organization.
Best Regards,
Tracey Gold
How useful was this post?
Click on a star to rate it!
Average rating / 5. Vote count:
Other Samples from this Industry: