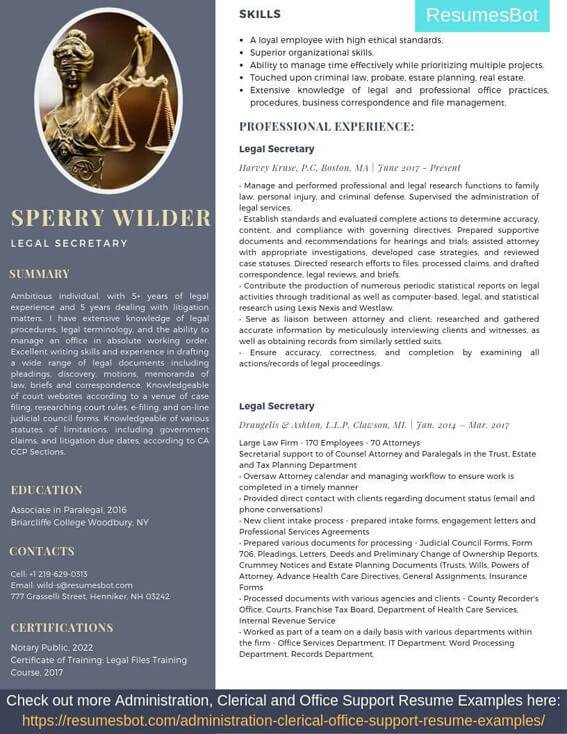 LEGAL SECRETARY RESUME TEMPLATE (TEXT FORMAT)
SUMMARY
Ambitious individual, with 5+ years of legal experience and 5 years dealing with litigation matters. I have extensive knowledge of legal procedures, legal terminology, and the ability to manage an office in absolute working order. Excellent writing skills and experience in drafting a wide range of legal documents including pleadings, discovery, motions, memoranda of law, briefs and correspondence. Knowledgeable of court websites according to a venue of case filing, researching court rules, e-filing, and on-line judicial council forms. Knowledgeable of various statutes of limitations, including government claims, and litigation due dates, according to CA CCP Sections.
EDUCATION
Associate in Paralegal, 2016
Briarcliffe College Woodbury, NY
SKILLS
A loyal employee with high ethical standards.
Superior organizational skills.
Ability to manage time effectively while prioritizing multiple projects.
Touched upon criminal law, probate, estate planning, real estate.
Excellent proofreader.
Extensive knowledge of legal and professional office practices, procedures, business correspondence and file management.
PROFESSIONAL EXPERIENCE
LEGAL SECRETARY
Harvey Kruse, P.C, Boston, MA
June 2017 – Present
Manage and performed professional and legal research functions to family law, personal injury, and criminal defense. Supervised the administration of legal services.
Establish standards and evaluated complete actions to determine accuracy, content, and compliance with governing directives. Prepared supportive documents and recommendations for hearings and trials; assisted attorney with appropriate investigations, developed case strategies, and reviewed case statuses. Directed research efforts to files, processed claims, and drafted correspondence, legal reviews, and briefs.
Contribute the production of numerous periodic statistical reports on legal activities through traditional as well as computer-based, legal, and statistical research using Lexis Nexis and Westlaw.
Serve as liaison between attorney and client; researched and gathered accurate information by meticulously interviewing clients and witnesses, as well as obtaining records from similarly settled suits.
Ensure accuracy, correctness, and completion by examining all actions/records of legal proceedings.
LEGAL SECRETARY
Draugelis & Ashton, L.L.P, Clawson, MI
Jan. 2014 – Mar. 2017
Large Law Firm – 170 Employees – 70 Attorneys. Secretarial support to of Counsel Attorney and Paralegals in the Trust, Estate and Tax Planning Department
Oversaw Attorney calendar and managing workflow to ensure work is completed in a timely manner.
Provided direct contact with clients regarding document status (email and phone conversations).
New client intake process – prepared intake forms, engagement letters and Professional Services Agreements.
Prepared various documents for processing – Judicial Council Forms, Form 706, Pleadings, Letters, Deeds and Preliminary Change of Ownership Reports, Crummey Notices and Estate Planning Documents (Trusts, Wills, Powers of Attorney, Advance Health Care Directives, General Assignments, Insurance Forms.
Processed documents with various agencies and clients – County Recorder's Office, Courts, Franchise Tax Board, Department of Health Care Services, Internal Revenue Service.
Worked as part of a team on a daily basis with various departments within the firm – Office Services Department, IT Department, Word Processing Department, Records Department.
Average Salary for Legal Secretary Job
Legal Secretary
Salaries
National Average
| | | |
| --- | --- | --- |
| Base Salary | $35k – $82k | |
| Bonus | $487 – $5k | |
| Profit Sharing | $775 – $7k | |
| Commission | $0 – $5k | |
| Total Pay | $30k – $80k | |
***Data are taken from payscale.com
Good Skills to Include on Legal Secretary Resume
Expert in legal transcription, dictation and documentation, legal terminology and syntax, and of the content, organization, format and delivery of legal documents and correspondence.
Ability to communicate efficiently and effectively in written and verbal form.
Extensive knowledge of legal and professional office practices, procedures, business correspondence and file management.
Resume Action Words for Legal Secretary Resume
Advised
Represented
Served
Drafted
Prepared
Helped
Managed
Argued
Assisted
Interviewed
Conducted
Negotiated
Litigated
Reviewed
Created
Common Certificates for Legal Secretary Resume
Notary Public.
Paralegal.
Real Estate License.
CPR
AED
First Aid
Driver's License
Certified Nursing Assistant (CNA)
Food Handler
How useful was this post?
Click on a star to rate it!
Average rating / 5. Vote count:
Other Samples from this Industry: