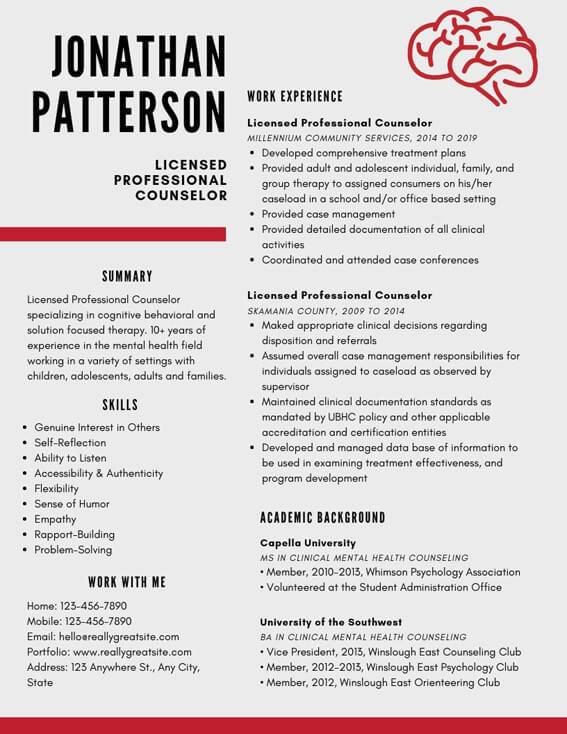 Licensed Professional Counselor Template Resume (Text Format)
SUMMARY
Licensed Professional Counselor specializing in cognitive-behavioral and solution-focused therapy. 10+ years of experience in the mental health field working in a variety of settings with children, adolescents, adults and families.
ACADEMIC BACKGROUND
Capella University
MS IN CLINICAL MENTAL HEALTH COUNSELING
Member, 2010-2013, Whimson Psychology Association
Volunteered at the Student Administration Office
University of the Southwest
BA IN CLINICAL MENTAL HEALTH COUNSELING
Vice President, 2013, Winslough East Counseling Club
Member, 2012-2013, Winslough East Psychology Club
Member, 2012, Winslough East Orienteering Club
SKILLS
Genuine Interest in Others
Self-Reflection
Ability to Listen
Accessibility & Authenticity
Flexibility
Sense of Humor
Empathy
Rapport-Building
Problem-Solving
WORK EXPERIENCE
Licensed Professional Counselor
MILLENNIUM COMMUNITY SERVICES, 2014 TO 2019
Developed comprehensive treatment plans
Provided adult and adolescent individual, family, and group therapy to assigned consumers on his/her caseload in a school and/or office-based setting
Provided case management
Provided detailed documentation of all clinical activities
Coordinated and attended case conferences
Licensed Professional Counselor
SKAMANIA COUNTY, 2009 TO 2014
Made appropriate clinical decisions regarding disposition and referrals
Assumed overall case management responsibilities for individuals assigned to caseload as observed by supervisor
Maintained clinical documentation standards as mandated by UBHC policy and other applicable accreditation and certification entities
Developed and managed database of information to be used in examining treatment effectiveness, and program development
Average Salary for Licensed Professional Counselor Job
Licensed Professional Counselor
Salaries
National Average
| | | |
| --- | --- | --- |
| Base Salary | $38k – $67k | |
| Bonus | $125 – $9k | |
| Profit Sharing | $825 – $6k | |
| Commission | $0 – $3k | |
| Total Pay | $39k – $84k | |
***Data are taken from payscale.com
Good Skills to Include on Licensed Professional Counselor Resume
Written and verbal communications skills
Strong leadership qualities
Ability to build rapport with clients
Word and Excel programs
Resume Action Words for Licensed Professional Counselor
Established
Designed
Interfaced
Managed
Treated
Served
Conducted
Planned
Coordinated
Supervised
Recognized
Tended
Pioneered
Collaborated
Evaluated
Common Certificates for Licensed Professional Counselor Resume
Certified Clinical Mental Health Counselor
National Certified School Counselor
NBCC Counseling Certification
How useful was this post?
Click on a star to rate it!
Average rating / 5. Vote count:
Other Samples from this Industry: