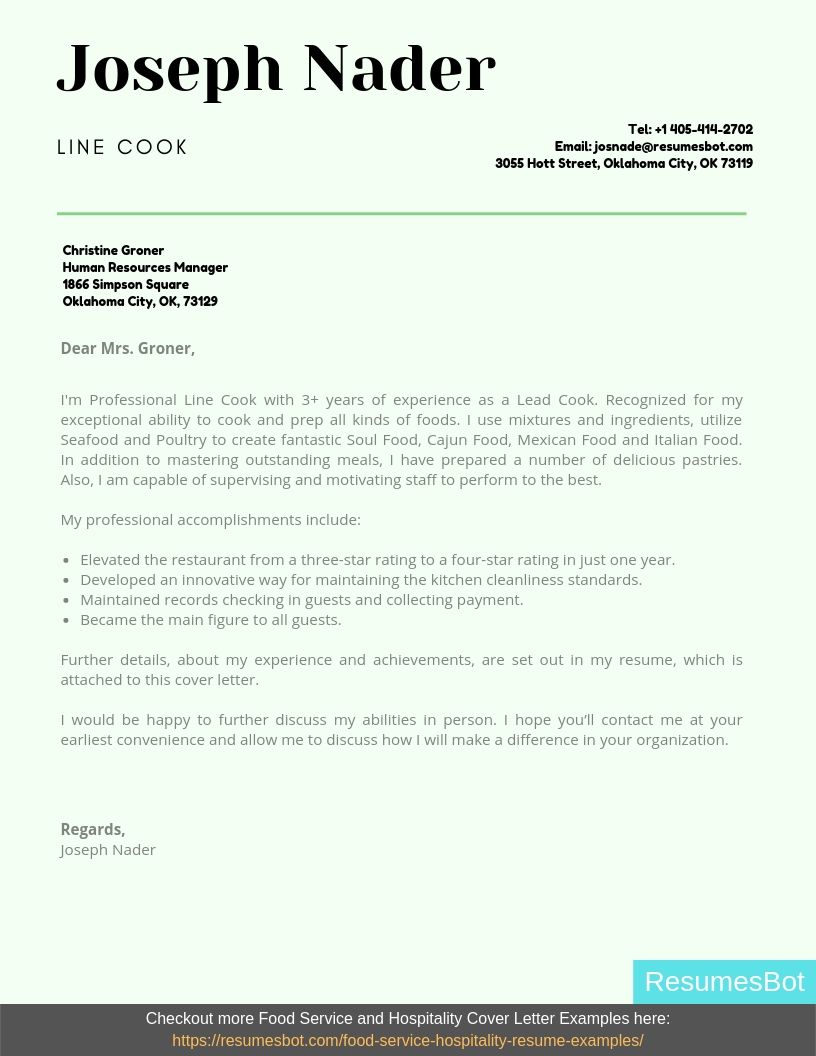 Design similar cover letter template in minutes
It's Okay to be different
LINE COOK COVER LETTER TEMPLATE (TEXT FORMAT)
Joseph Nader

Tel: +1 405-414-2702
Email: josnade@resumesbot.com
13055 Hott Street, Oklahoma City, OK 73119
---
Christine Groner
Human Resources Manager
1866 Simpson Square
Oklahoma City, OK, 73129
Dear Mrs. Groner,
I'm Professional Line Cook with 3+ years of experience as a Lead Cook. Recognized for my exceptional ability to cook and prep all kinds of foods. I use mixtures and ingredients, utilize Seafood and Poultry to create fantastic Soul Food, Cajun Food, Mexican Food and Italian Food. In addition to mastering outstanding meals, I have prepared a number of delicious pastries. Also, I am capable of supervising and motivating staff to perform to the best.
My professional accomplishments include:
Elevated the restaurant from a three-star rating to a four-star rating in just one year.
Developed an innovative way for maintaining the kitchen cleanliness standards.
Maintained records checking in guests and collecting payment.
Became the main figure to all guests.
Further details, about my experience and achievements, are set out in my resume, which is attached to this cover letter.
I would be happy to further discuss my abilities in person. I hope you'll contact me at your earliest convenience and allow me to discuss how I will make a difference in your organization.
Regards,
Joseph Nader
How useful was this post?
Click on a star to rate it!
Average rating / 5. Vote count:
Other Samples from this Industry: