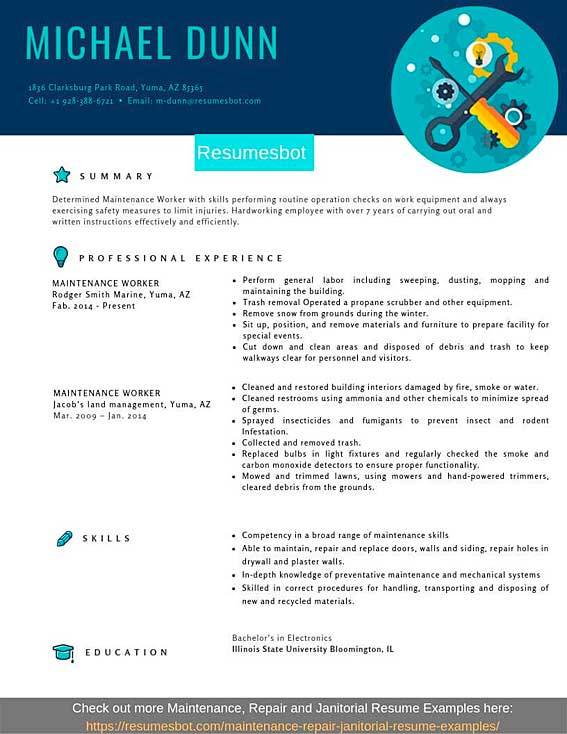 MAINTENANCE WORKER RESUME TEMPLATE (TEXT FORMAT)
SUMMARY
Determined Maintenance Worker with skills performing routine operation checks on work equipment and always exercising safety measures to limit injuries. Hardworking employee with over 7 years of carrying out oral and written instructions effectively and efficiently.
EDUCATION
Bachelor's in Electronics
Illinois State University Bloomington, IL
SKILLS
Competency in a broad range of maintenance skills.
Able to maintain, repair and replace doors, walls and siding, repair holes in drywall and plaster walls.
In-depth knowledge of preventative maintenance and mechanical systems.
Skilled in correct procedures for handling, transporting and disposing of new and recycled materials.
PROFESSIONAL EXPERIENCE
MAINTENANCE WORKER

Rodger Smith Marine, Yuma, AZ
Fab. 2014 – Present
Perform general labor including sweeping, dusting, mopping and maintaining the building.
Trash removal Operated a propane scrubber and other equipment.
Remove snow from grounds during the winter.
Sit up, position, and remove materials and furniture to prepare facility for special events.
Cut down and clean areas and disposed of debris and trash to keep walkways clear for personnel and visitors.
MAINTENANCE WORKER
Jacob's land management, Yuma, AZ
Mar. 2009 – Jan. 2014
Cleaned and restored building interiors damaged by fire, smoke or water.
Cleaned restrooms using ammonia and other chemicals to minimize spread of germs.
Sprayed insecticides and fumigants to prevent insect and rodent Infestation.
Collected and removed trash.
Replaced bulbs in light fixtures and regularly checked the smoke and carbon monoxide detectors to ensure proper functionality.
Mowed and trimmed lawns, using mowers and hand-powered trimmers, cleared debris from the grounds.
Average Salary for Maintenance Worker
Maintenance Worker
Salaries
National Average
| | | |
| --- | --- | --- |
| Base Salary | $25k – $60k | |
| Bonus | $101 – $4k | |
| Profit Sharing | $590 – $3k | |
| Total Pay | $23k – $53k | |
***Data are taken from payscale.com
Good Skills to Include on Maintenance Worker
Knowledge of tools related to repair, masonry, carpentry, mechanical repair, and tree trimming.
Able to clean, adjust and monitor heating systems.
I have the competence to manage emergency situations, with authority to identify and implement solutions based upon perceived risk to resident's safety or property's financial loss.
Resume Action Words for Maintenance Worker
Cleaned
Helped
Inspected
Administered
Managed
Selected
Manteined
Replaced
Handled
Assisted
Instructed
Kept
Initiated
Constructed
Reported
Common Certificates for Maintenance Worker Resume
Coaching.
Developing Budgets.
Management Proficiency.
Performance Management.
Process Improvement.
Project Management.
Staffing, Supervision.
Tracking Budget Expenses.
How useful was this post?
Click on a star to rate it!
Average rating / 5. Vote count:
Other Samples from this Industry: