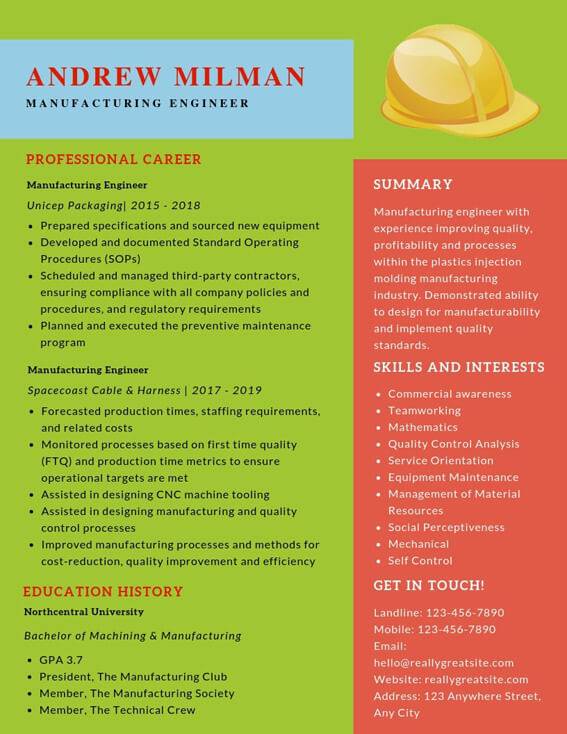 Manufacturing Engineer Resume Template (Text Format)
SUMMARY
Manufacturing Engineer with experience improving quality, profitability and processes within the plastics injection molding manufacturing industry. Demonstrated ability to design for manufacturability and implement quality standards.
EDUCATION HISTORY
Northcentral University
Bachelor of Machining & Manufacturing
GPA 3.7
President, The Manufacturing Club
Member, The Manufacturing Society
Member, The Technical Crew
SKILLS
Commercial awareness
Teamworking
Mathematics
Quality Control Analysis
Service Orientation
Equipment Maintenance
Management of Material
Resources
Social Perceptiveness
Mechanical
Self Control
PROFESSIONAL CAREER
Manufacturing Engineer
Unicep Packaging| 2015 – 2018
Prepared specifications and sourced new equipment
Developed and documented Standard Operating Procedures (SOPs)
Scheduled and managed third-party contractors, ensuring compliance with all company policies and procedures, and regulatory requirements
Planned and executed the preventive maintenance program
Manufacturing Engineer
Spacecoast Cable & Harness | 2017 – 2019
Forecasted production times, staffing requirements, and related costs
Monitored processes based on first-time quality (FTQ) and production time metrics to ensure operational targets are met
Assisted in designing CNC machine tooling
Assisted in designing manufacturing and quality control processes
Improved manufacturing processes and methods for cost-reduction, quality improvement and efficiency
Average Salary for Manufacturing Engineer Job
Manufacturing Engineer
Salaries
National Average
| | | |
| --- | --- | --- |
| Base Salary | $56k – $94k | |
| Bonus | $972 – $9k | |
| Profit Sharing | $518 – $9k | |
| Commission | $0 – $18k | |
| Total Pay | $54k – $97k | |
***Data are taken from payscale.com
Good Skills to Include on Manufacturing Engineer Resume
Understanding of Continuous Improvement and Lean methodologies in a manufacturing environment, with a particular focus on setup reduction techniques
Knowledge of Manufacturing Execution Systems (MES), Computer Aided Production Planning (CAPP), Shop Floor Manager (SFM) and Quality Assurance Document System (QADS)
Reading engineering blueprints, requirements and designs
Coordinating manufacturing projects
Resume Action Words for Manufacturing Engineer
Managed
Implemented
Generated
Launched
Developed
Partnered
Reduced
Resolved
Led
Completed
Measured
Oversaw
Increased
Collaborated
Evaluated
Common Certificates for Manufacturing Engineer Resume
Certified Manufacturing Engineer (CMfgE) Certification
Certified Production Technician
Certified Automation Professional®
How useful was this post?
Click on a star to rate it!
Average rating / 5. Vote count:
Other Samples from this Industry: