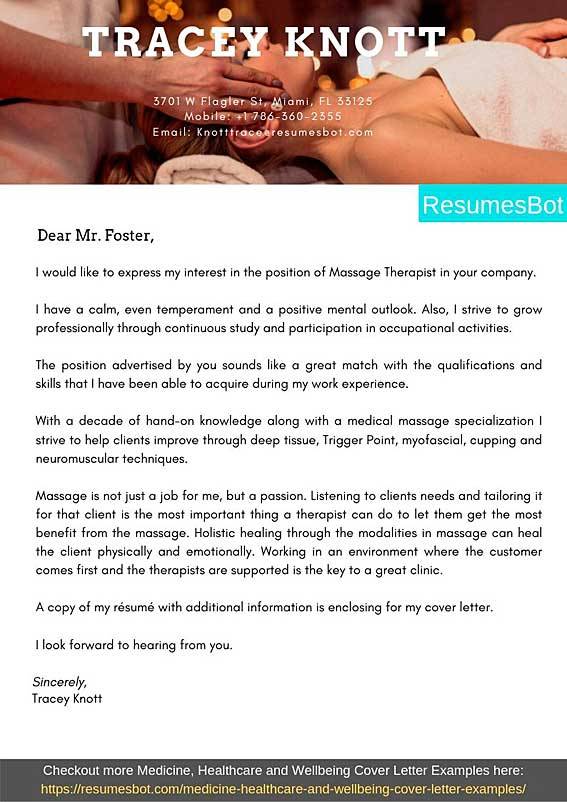 Design similar cover letter template in minutes
It's Okay to be different
MASSAGE THERAPIST COVER LETTER TEMPLATE (TEXT FORMAT)
Tracey Knott
Mobile: +1 786-360-2355
Knotttrace@resumesbot.com
www.resumesbot.com
3701 W Flagler St, Miami, FL 33125
---
Dear Mr. Foster,
I would like to express my interest in the position of Massage Therapist in your company.
I have a calm, even temperament and a positive mental outlook. Also, I strive to grow professionally through continuous study and participation in occupational activities.
The position advertised by you sounds like a great match with the qualifications and skills that I have been able to acquire during my work experience.
With a decade of hand-on knowledge along with a medical massage specialization I strive to help clients improve through deep tissue, Trigger Point, myofascial, cupping and neuromuscular techniques.
Massage is not just a job for me, but a passion. Listening to clients needs and tailoring it for that client is the most important thing a therapist can do to let them get the most benefit from the massage. Holistic healing through the modalities in massage can heal the client physically and emotionally. Working in an environment where the customer comes first and the therapists are supported is the key to a great clinic.
A copy of my résumé with additional information is enclosing for my cover letter
I look forward to hearing from you.
Sincerely,
Tracey Knott
To be 100% prepared for getting a new job check our Massage Therapist Resume Example
How useful was this post?
Click on a star to rate it!
Average rating / 5. Vote count:
Other Samples from this Industry: