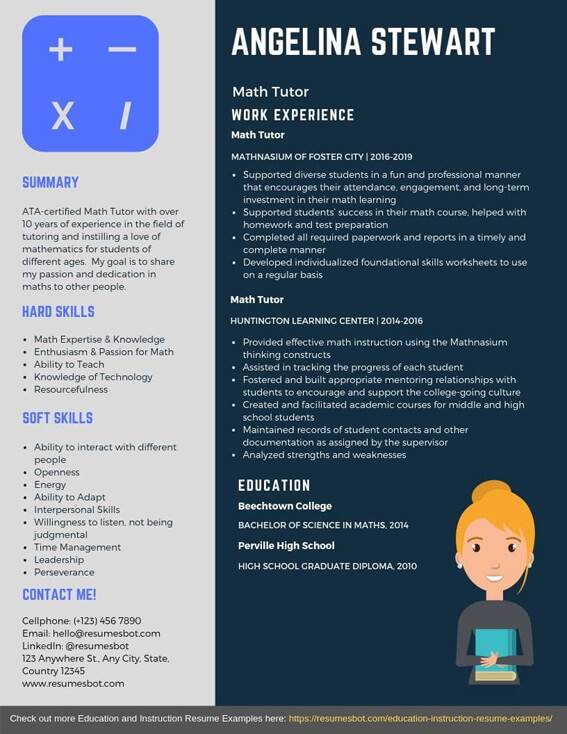 MATH TUTOR RESUME TEMPLATE (TEXT FORMAT)
SUMMARY
ATA-certified Math Tutor with over 10 years of experience in the field of tutoring and instilling a love of mathematics for students of different ages. My goal is to share my passion and dedication in math to other people.
EDUCATION
Beechtown College
BACHELOR OF SCIENCE IN MATHS, 2014
Perville High School
HIGH SCHOOL GRADUATE DIPLOMA, 2010
SOFT SKILLS
Ability to interact with different people
Openness
Energy
Ability to Adapt
Interpersonal Skills
Willingness to listen, not being judgmental
Time Management
Leadership
Perseverance
HARD SKILLS
Math Expertise & Knowledge
Enthusiasm & Passion for Math
Ability to Teach
Knowledge of Technology
Resourcefulness
WORK EXPERIENCE
Math Tutor
MATHNASIUM OF FOSTER CITY | 2016-2019
Supported diverse students in a fun and professional manner that encourages their attendance, engagement, and long-term investment in their math learning
Supported students' success in their math course, helped with homework and test preparation
Completed all required paperwork and reports in a timely and complete manner
Developed individualized foundational skills worksheets to use on a regular basis
Math Tutor
HUNTINGTON LEARNING CENTER | 2014-2016
Provided effective math instruction using the Mathnasium thinking constructs
Assisted in tracking the progress of each student
Fostered and built appropriate mentoring relationships with students to encourage and support the college-going culture
Created and facilitated academic courses for middle and high school students
Maintained records of student contacts and other documentation as assigned by the supervisor
Analyzed strengths and weaknesses
Average Salary for Math Tutor Job
Math Tutor
Salaries
National Average
| | | |
| --- | --- | --- |
| Salary | $29k – $53k | |
| Total Pay | $20k – $82k | |
***Data are taken from payscale.com
Good Skills to Include on a Math Tutor Resume
Knowledge of current technologies and word processing, database, presentation, and spreadsheet software,
specifically Microsoft Office applications, Banner and DegreeWorks
Knowledge of tutoring processes and methods
Knowledge of tutorial/learning materials and instructional aides
Knowledge of math instruction, curriculum and program development
Skill in preparing instructional aids and plans
Skill in supervisory practices and techniques
Skill in listening to issues, synthesizing information and reaching sound conclusions
Skill in dealing effectively with upset or anxious students
Skill in presenting ideas and concepts orally and in writing
Ability to assess and understand learning styles
Ability to relate to a diverse population and to maintain composure when faced with difficult situations
Ability to multi-task and organize, prioritize, and follow multiple projects and tasks through to completion
with an attention to detail
Ability to work independently while contributing to team environment
Ability to analyze problems, identify solutions and take appropriate action, resolve problems using
independent judgment and decision-making processes
Ability to establish and maintain effective working relationships with supervisors, other department staff,
students and the public
Resume Action Words for Math Tutor
Conducted
Facilitated
Coordinated
Assisted
Identified
Specialized
Prepared
Created
Helped
Cultivated
Ensured
Maintained
Reviewed
Provided
Communicated
Common Certificates for Math Tutor Resume
General learning disability certification
Autism certification
Dyslexia certification
How useful was this post?
Click on a star to rate it!
Average rating / 5. Vote count:
Other Samples from this Industry: