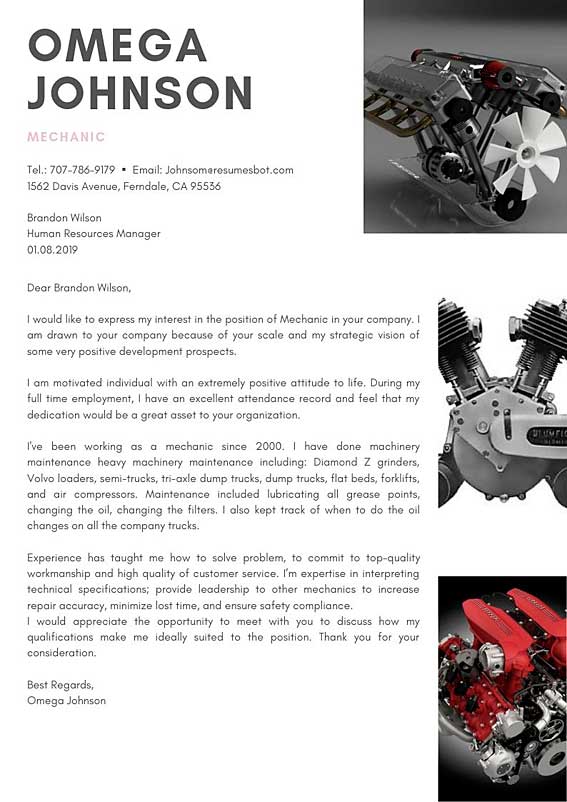 Design similar cover letter template in minutes
It's Okay to be different
MECHANIC COVER LETTER TEMPLATE (TEXT FORMAT)
Omega Johnson
Tel.: 707-786-9179
1562 Davis Avenue, Ferndale, CA 95536
---
Brandon Wilson
Human Resources Manager
01.08.2019
Dear Brandon Wilson,
I would like to express my interest in the position of Mechanic in your company. I am drawn to your company because of your scale and my strategic vision of some very positive development prospects.
I am motivated individual with an extremely positive attitude to life. During my full time employment, I have an excellent attendance record and feel that my dedication would be a great asset to your organization.
I've been working as a mechanic since 2000. I have done machinery maintenance heavy machinery maintenance including: Diamond Z grinders, Volvo loaders, semi-trucks, tri-axle dump trucks, dump trucks, flat beds, forklifts, and air compressors. Maintenance included lubricating all grease points, changing the oil, changing the filters. I also kept track of when to do the oil changes on all the company trucks.
Experience has taught me how to solve problem, to commit to top-quality workmanship and high quality of customer service. I'm expertise in interpreting technical specifications; provide leadership to other mechanics to increase repair accuracy, minimize lost time, and ensure safety compliance.
I would appreciate the opportunity to meet with you to discuss how my qualifications make me ideally suited to the position. Thank you for your consideration.
Best Regards,
Omega Johnson
How useful was this post?
Click on a star to rate it!
Average rating / 5. Vote count:
Other Samples from this Industry: