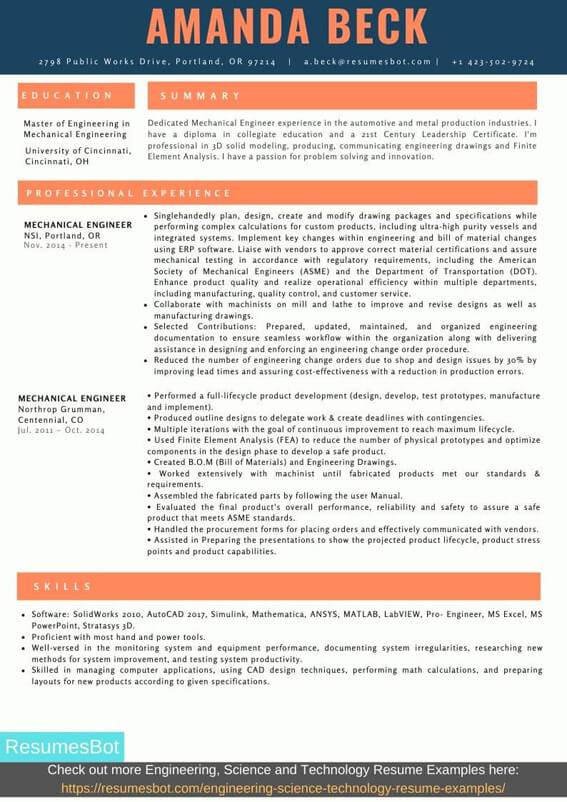 MECHANICAL ENGINEER RESUME TEMPLATE (TEXT FORMAT)
SUMMARY
Dedicated Mechanical Engineer experience in the automotive and metal production industries. I have a diploma in collegiate education and a 21st Century Leadership Certificate. I'm professional in 3D solid modeling, producing, communicating engineering drawings and Finite Element Analysis. I have a passion for problem solving and innovation.
EDUCATION
Master of Engineering in Mechanical Engineering
University of Cincinnati, Cincinnati, OH
SKILLS
Software: SolidWorks 2010, AutoCAD 2017, Simulink, Mathematica, ANSYS, MATLAB, LabVIEW, Pro- Engineer, MS Excel, MS PowerPoint, Stratasys 3D.
Proficient with most hand and power tools.
Well-versed in the monitoring system and equipment performance, documenting system irregularities, researching new methods for system improvement, and testing system productivity.
Skilled in managing computer applications, using CAD design techniques, performing math calculations, and preparing layouts for new products according to given specifications.
PROFESSIONAL EXPERIENCE
MECHANICAL ENGINEER
NSI, Portland, OR
Nov. 2014 – Present
Singlehandedly plan, design, create and modify drawing packages and specifications while performing complex calculations for custom products, including ultra-high purity vessels and integrated systems. Implement key changes within engineering and bill of material changes using ERP software. Liaise with vendors to approve correct material certifications and assure mechanical testing in accordance with regulatory requirements, including the American Society of Mechanical Engineers (ASME) and the Department of Transportation (DOT). Enhance product quality and realize operational efficiency within multiple departments, including manufacturing, quality control, and customer service.
Collaborate with machinists on mill and lathe to improve and revise designs as well as manufacturing drawings.
Selected Contributions: Prepared, updated, maintained, and organized engineering documentation to ensure seamless workflow within the organization along with delivering assistance in designing and enforcing an engineering change order procedure.
Reduced the number of engineering change orders due to shop and design issues by 30% by improving lead times and assuring cost-effectiveness with a reduction in production errors.
MECHANICAL ENGINEER
Northrop Grumman, Centennial, CO
Jul. 2011 – Oct. 2014
Performed a full-lifecycle product development (design, develop, test prototypes, manufacture and implement).
Produced outline designs to delegate work & create deadlines with contingencies.
Multiple iterations with the goal of continuous improvement to reach maximum lifecycle.
Used Finite Element Analysis (FEA) to reduce the number of physical prototypes and optimize components in the design phase to develop a safe product.
Created B.O.M (Bill of Materials) and Engineering Drawings.
Worked extensively with machinist until fabricated products met our standards & requirements.
Assembled the fabricated parts by following the user Manual.
Evaluated the final product's overall performance, reliability and safety to assure a safe product that meets ASME standards.
Handled the procurement forms for placing orders and effectively communicated with vendors.
Assisted in Preparing the presentations to show the projected product lifecycle, product stress points and product capabilities.
Average Salary for Mechanical Engineer Job
Mechanical Engineer
Salaries
National Average
| | | |
| --- | --- | --- |
| Base Salary | $56k – $101k | |
| Bonus | $984 – $10k | |
| Profit Sharing | $518 – $10k | |
| Commission | $3k – $45k | |
| Total Pay | $54k – $104k | |
***Data are taken from payscale.com
10 Best Mechanical Engineering Degrees
Massachusetts Institute of Technology, Cambridge, MA
Stanford University, Stanford, CA
California Institute of Technology, Pasadena, CA
University of California – Berkeley, Berkeley, CA
Georgia Institute of Technology, Atlanta, GA
University of Michigan – Ann Arbor,Ann Arbor, MI
University of Illinois – Urbana-Champaign, Champaign, IL
Carnegie Mellon University, Pittsburgh, PA
Cornell University, Ithaca, NY
Purdue University – West Lafayette, West Lafayette, IN
Technical Skills to Include on Mechanical Engineer Resume
Rack level and sever level systems
Arduino and PIC microcontrollers
NI DAQ
Stratasys 3D Printers
Financial Reporting
QuickBooks
Soft Skills to Include on Mechanical Engineer Resume
Demonstrated expertise at all levels of technical and mechanical engineering in addition to the ability to translate complex ideas into layman's terms in order to provide superior training and support to subordinates.
Proficient in communicating in a clear and concise manner to achieve intended objectives along with proven interpersonal skills and an ability to establish strong relations with colleagues and subordinates.
Resume Action Words for Mechanical Engineer Resume
Amplified
Assembled
Calculated
Computed
Designed
Devised
Developed
Fabricated
Installed
Assisted
Instructed
Plotted
Initiated
Produced
Reported
Common Certificates for Mechanical Engineer Resume
CFA Charterholder
CFA Level II Candidate
Chartered Financial Analyst (CFA)
CPA
Real Estate License
SAS Certified Base Programmer for SAS 9
Series 6
Series 66
Six Sigma Green Belt
To be 100% prepared for getting a new job check our Mechanical Engineer Cover Letter Example
How useful was this post?
Click on a star to rate it!
Average rating / 5. Vote count:
Other Samples from this Industry: