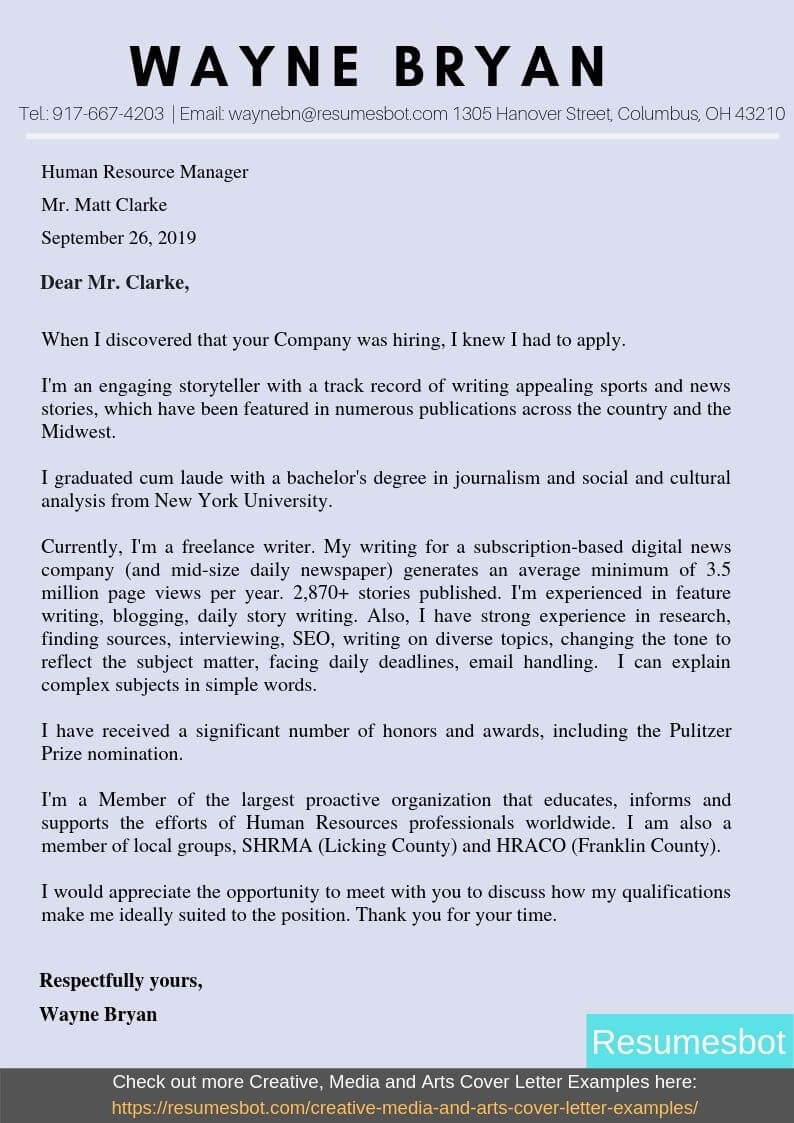 Design similar cover letter template in minutes
It's Okay to be different
NEWS REPORTER COVER LETTER TEMPLATE (TEXT FORMAT)
Wayne Bryan
Tel.: 917-667-4203
Email: waynebn@resumesbot.com
1305 Hanover Street, Columbus, OH 43210
---
Dear Mr. Clarke,
When I discovered that your Company was hiring, I knew I had to apply.
I'm an engaging storyteller with a track record of writing appealing sports and news stories, which have been featured in numerous publications across the country and the Midwest.
I graduated cum laude with a bachelor's degree in journalism and social and cultural analysis from New York University.
Currently, I'm a freelance writer. My writing for a subscription-based digital news company (and mid-size daily newspaper) generates an average minimum of 3.5 million page views per year. 2,870+ stories published. I'm experienced in feature writing, blogging, daily story writing. Also, I have strong experience in research, finding sources, interviewing, SEO, writing on diverse topics, changing the tone to reflect the subject matter, facing daily deadlines, email handling. I can explain complex subjects in simple words.
I have received a significant number of honors and awards, including the Pulitzer Prize nomination.

I'm a Member of the largest proactive organization that educates, informs and supports the efforts of Human Resources professionals worldwide. I am also a member of local groups, SHRMA (Licking County) and HRACO (Franklin County).
I would appreciate the opportunity to meet with you to discuss how my qualifications make me ideally suited to the position. Thank you for your time.
Respectfully yours,
Wayne Bryan

How useful was this post?
Click on a star to rate it!
Average rating / 5. Vote count:
Other Samples from this Industry: