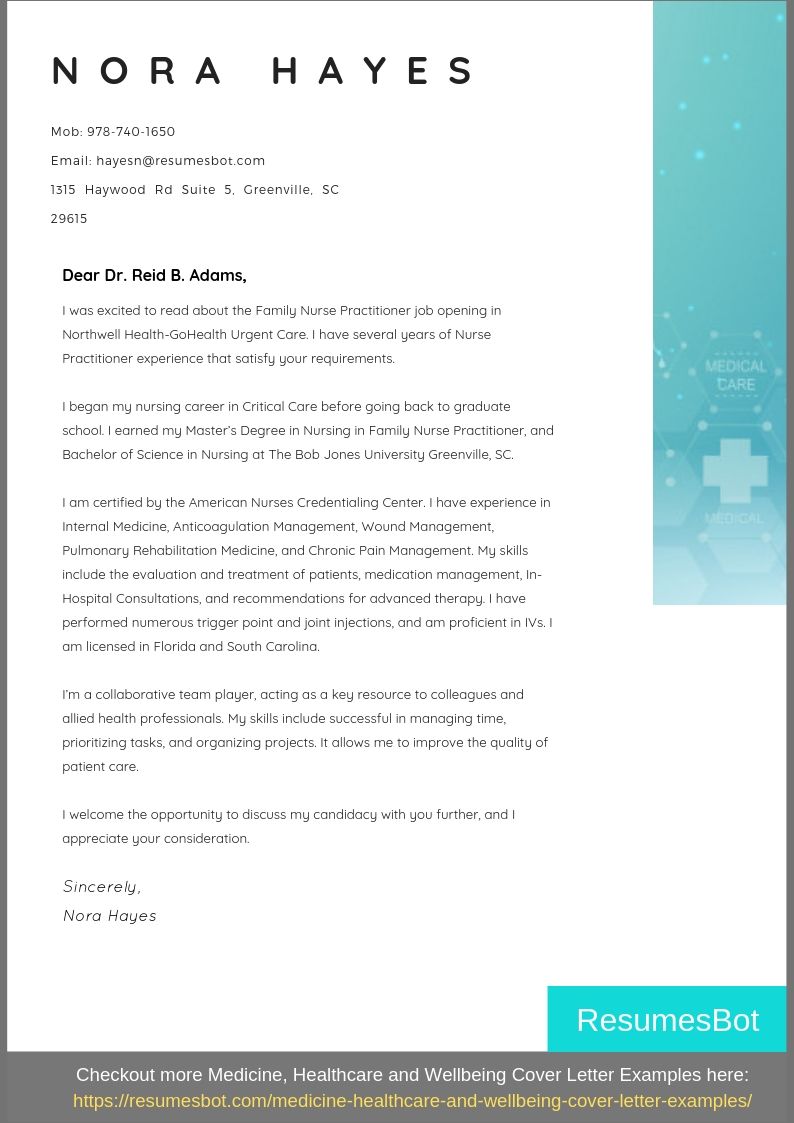 Design similar cover letter template in minutes
It's Okay to be different
NURSE PRACTITIONER COVER LETTER TEMPLATE (TEXT FORMAT)
Nora Hayes
Mobile: 978-740-1650
hayesn@resumesbot.com
1315 Haywood Rd Suite 5, Greenville, SC 29615
---
Dear Dr. Reid B. Adams,
I was excited to read about the Family Nurse Practitioner job opening in Northwell Health-GoHealth Urgent Care. I have several years of Nurse Practitioner experience that satisfy your requirements.
I began my nursing career in Critical Care before going back to graduate school. I earned my Master's Degree in Nursing in Family Nurse Practitioner, and Bachelor of Science in Nursing at The Bob Jones University Greenville, SC.
I am certified by the American Nurses Credentialing Center. I have experience in Internal Medicine, Anticoagulation Management, Wound Management, Pulmonary Rehabilitation Medicine, and Chronic Pain Management. My skills include the evaluation and treatment of patients, medication management, In-Hospital Consultations, and recommendations for advanced therapy. I have performed numerous trigger point and joint injections, and am proficient in IVs. I am licensed in Florida and South Carolina.
I'm a collaborative team player, acting as a key resource to colleagues and allied health professionals. My skills include successful in managing time, prioritizing tasks, and organizing projects. It allows me to improve the quality of patient care.
I welcome the opportunity to discuss my candidacy with you further, and I appreciate your consideration.
Sincerely,
Nora Hayes
To be 100% prepared for getting a new job check our Nurse Practitioner Resume Example
How useful was this post?
Click on a star to rate it!
Average rating / 5. Vote count:
Other Samples from this Industry: