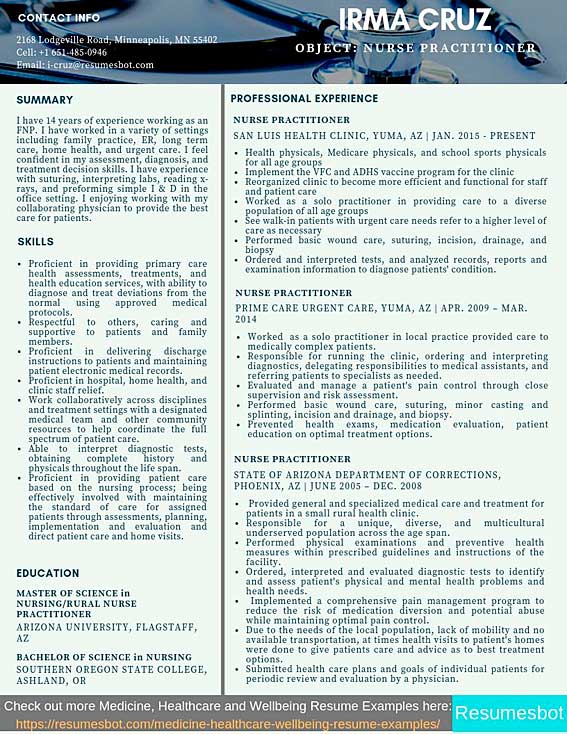 Nurse Practitioner Resume Template (Text Format)
Summary
I have 14 years of experience working as an FNP. I have worked in a variety of settings including family practice, ER, long term care, home health, and urgent care. I feel confident in my assessment, diagnosis, and treatment decision skills. I have experience with suturing, interpreting labs, reading x-rays, and preforming simple I & D in the office setting. I enjoying working with my collaborating physician to provide the best care for patients.
Education
Master Of Science In Nursing/Rural Nurse Practitioner
Arizona University, Flagstaff, AZ
Bachelor Of Science In Nursing
Southern Oregon State College, Ashland, OR
Skills
Proficient in providing primary care health assessments, treatments, and health education services, with ability to diagnose and treat deviations from the normal using approved medical protocols.
Respectful to others, caring and supportive to patients and family members.
Proficient in delivering discharge instructions to patients and maintaining patient electronic medical records.
Proficient in hospital, home health, and clinic staff relief.
Work collaboratively across disciplines and treatment settings with a
designated medical team and other community resources to help coordinate the full spectrum of patient care.
Able to interpret diagnostic tests, obtaining complete history and physicals throughout the life span.
Proficient in providing patient care based on the nursing process; being effectively involved with maintaining the standard of care for assigned patients through assessments, planning, implementation and evaluation and direct patient care and home visits.
License/Certificates
AANP, 1998 – 2024
Advanced Practice Registered Nurse (APRN)
RN, 2020, AZ
CNP, 2020, AZ
Professional Experience
Nurse Practitioner
San Luis Health Clinic, Yuma, AZ | Jan. 2015 – Present
Health physicals, Medicare physicals, and school sports physicals for all age groups
Implement the VFC and ADHS vaccine program for the clinic
Reorganized clinic to become more efficient and functional for staff and patient care
Worked as a solo practitioner in providing care to a diverse population of all age groups
See walk-in patients with urgent care needs refer to a higher level of care as necessary
Performed basic wound care, suturing, incision, drainage, and biopsy
Ordered and interpreted tests, and analyzed records, reports and examination information to diagnose patients' condition.
Nurse Practitioner
Prime Care Urgent Care, Yuma, AZ | Apr. 2009 – Mar. 2014
Worked as a solo practitioner in local practice provided care to medically complex patients.
Responsible for running the clinic, ordering and interpreting diagnostics, delegating responsibilities to medical assistants, and referring patients to specialists as needed.
Evaluated and manage a patient's pain control through close supervision and risk assessment.
Performed basic wound care, suturing, minor casting and splinting, incision and drainage, and biopsy.
Prevented health exams, medication evaluation, patient education on optimal treatment options.
Nurse Practitioner
State of Arizona Department of Corrections, Phoenix, AZ| June 2005 – Dec. 2008
Provided general and specialized medical care and treatment for patients in a small rural health clinic.
Responsible for a unique, diverse, and multicultural underserved population across the age span.
Performed physical examinations and preventive health measures within prescribed guidelines and instructions of the facility.
Ordered, interpreted and evaluated diagnostic tests to identify and assess patient's physical and mental health problems and health needs.
Implemented a comprehensive pain management program to reduce the risk of medication diversion and potential abuse while maintaining optimal pain control.
Due to the needs of the local population, lack of mobility and no available transportation, at times health visits to patient's homes were done to give patients care and advice as to best treatment options.
Submitted health care plans and goals of individual patients for periodic review and evaluation by a physician.

Average Salary for Nurse Practitioner Job
Nurse Practitioner
Salaries
National Average
| | | |
| --- | --- | --- |
| Base Salary | $82k – $126k | |
| Bonus | $993 – $13k | |
| Profit Sharing | $970 – $10k | |
| Commission | $0 – $30k | |
| Total Pay | $84k – $134k | |
***Data are taken from payscale.com
Good Skills to Include on Nurse Practitioner Resume
A lot of experience viewing patient's medical history conduct a physical exam, consults.
Skilled in conduct evaluations and develop care plans.
Proficient in administering, monitor medication as instructed.
Able to update patient records and check the accuracy of content each visit.
Able to assess data and establish a plan of care for acute and chronic conditions, treatment options, follow-up needs.
Able to work independently and in collaboration with physician medical supervisor, and as part of the treatment team.
Proficient in conduct diagnostic test, and screening evaluations.
Resume Action Words for Nurse Practitioner Resume
Nursed
Documented
Restricted
Listened
Counseled
Supported
Qualified
Consoled
Volunteered
Influenced
Provided
Assigned
Helped
Proceeded
Assisted
Common Certificates for Nurse Practitioner Resume
ACLS
ATLS – Advanced Trauma Life Support
AANP
DEA
BLS for Healthcare Providers
ANCC
Registered Nurse (RN)
Nurse's License
PALS – Pediatric Advanced Life Saving
Family Nurse Practitioner
TNCC – Trauma Nurse Critical Care
ALS – Advanced Life Saving
Nurse BLS – Basic Life Saving
Check out Nurse Practitioner Cover Letter Example to be 100% prepared for getting a new job
How useful was this post?
Click on a star to rate it!
Average rating / 5. Vote count:
Other Samples from this Industry: