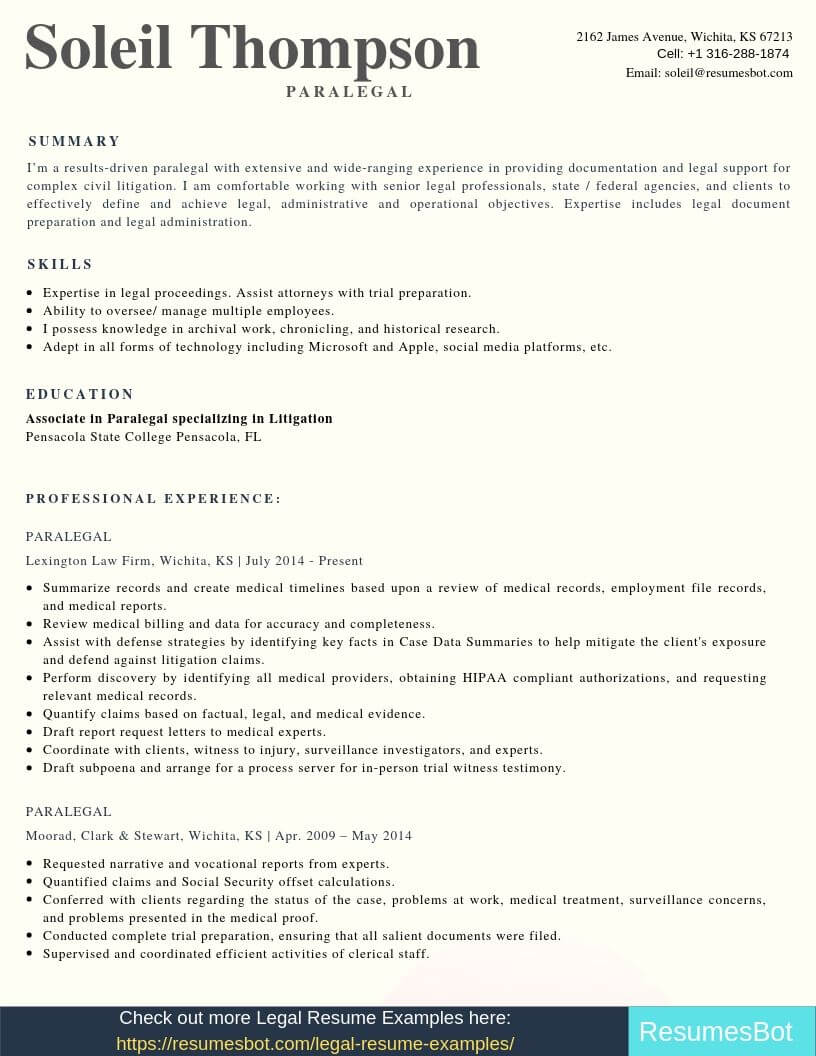 PARALEGAL RESUME TEMPLATE (TEXT FORMAT)
SUMMARY
I'm a results-driven paralegal with extensive and wide-ranging experience in providing documentation and legal support for complex civil litigation. I am comfortable working with senior legal professionals, state / federal agencies, and clients to effectively define and achieve legal, administrative and operational objectives. Expertise includes legal document preparation and legal administration.
EDUCATION
Associate in Paralegal specializing in Litigation
Pensacola State College Pensacola, FL
SKILLS
Expertise in legal proceedings. Assist attorneys with trial preparation.
Ability to oversee/ manage multiple employees.
I possess knowledge in archival work, chronicling, and historical research.
Adept in all forms of technology including Microsoft and Apple, social media platforms, etc.
PROFESSIONAL EXPERIENCE
PARALEGAL
Lexington Law Firm, Wichita, KS
July 2014 – Present
Summarize records and create medical timelines based upon a review of medical records, employment file records, and medical reports.
Review medical billing and data for accuracy and completeness.
Assist with defense strategies by identifying key facts in Case Data Summaries to help mitigate the client's exposure and defend against litigation claims.
Perform discovery by identifying all medical providers, obtaining HIPAA compliant authorizations, and requesting relevant medical records.
Quantify claims based on factual, legal, and medical evidence.
Draft report request letters to medical experts.
Coordinate with clients, witness to injury, surveillance investigators, and experts.
Draft subpoena and arrange for a process server for in-person trial witness testimony.
PARALEGAL
Moorad, Clark & Stewart, Wichita, KS
Apr. 2009 – May 2014
Requested narrative and vocational reports from experts.
Quantified claims and Social Security offset calculations.
Conferred with clients regarding the status of the case, problems at work, medical treatment, surveillance concerns, and problems presented in the medical proof.
Conducted complete trial preparation, ensuring that all salient documents were filed.
Supervised and coordinated efficient activities of clerical staff.
Average Salary for Paralegal Job
Paralegal
Salaries
National Average
| | | |
| --- | --- | --- |
| Salary | $33k – $70k | |
| Bonus | $289 – $5k | |
| Profit Sharing | $832 – $7k | |
| Commission | $832 – $7k | |
| Total Pay | $30k – 68k | |
***Data are taken from payscale.com
Good Skills to Include on Paralegal Resume
Experienced in reparation, obtaining, assembling and dissemination documents.
Able to organize and accurately maintain physical and electronic documents and files in a timely manner.
Capable to take ownership of and track projects through the entire life cycle.
Resume Action Words for Paralegal
Advised
Helped
Served
Represented
Managed
Selected
Performed
Drafted
Interviewed
Assisted
Instructed
Negotiated
Initiated
Litigated
Reviewed
Common Certificates for Paralegal Resume
Notary Public
Paralegal
Real Estate License
CPR
AED
First Aid
Driver's License
Certified Nursing Assistant (CNA)
Food Handler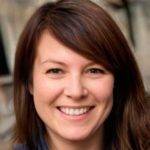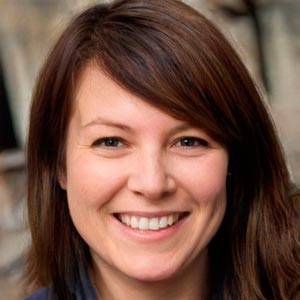 Elise (JobDiva)
Elise is a highly-skilled career writer with over 15 years of experience in resume writing and creating a story-telling cover letter. Her approach in creating compelling cv for each job seeker demonstrated 100% success as an invitation for an interview.
How useful was this post?
Click on a star to rate it!
Average rating / 5. Vote count:
Other Samples from this Industry: