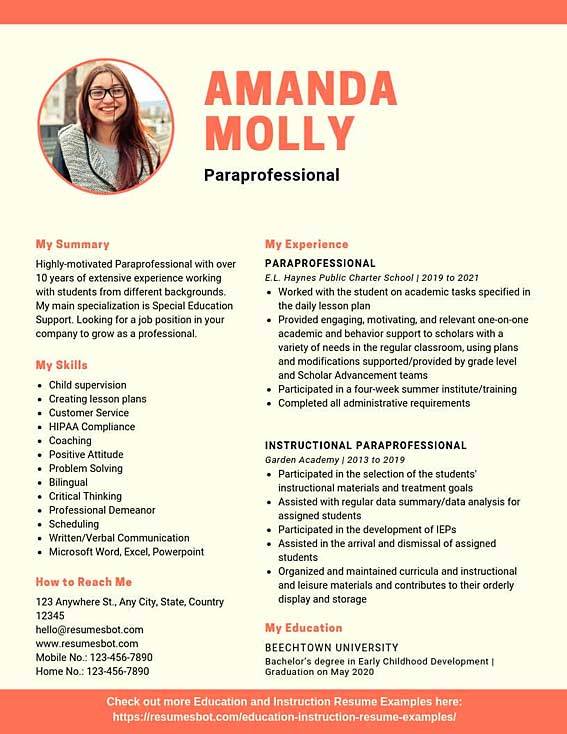 PARAPROFESSIONAL RESUME TEMPLATE (TEXT FORMAT)
MY SUMMARY
Highly-motivated Paraprofessional with over 10 years of extensive experience working with students from different backgrounds. My main specialization is Special Education Support. Looking for a job position in your company to grow as a professional.
MY EDUCATION
BEECHTOWN UNIVERSITY
Bachelor's degree in Early Childhood Development | Graduation in May 2020
MY SKILLS
Child supervision
Creating lesson plans
Customer Service
HIPAA Compliance
Coaching
Positive Attitude
Problem Solving
Bilingual
Microsoft Word, Excel, Powerpoint
Critical Thinking
Professional Demeanor
Scheduling
Written/Verbal Communication
MY EXPERIENCE
PARAPROFESSIONAL
E.L. Haynes Public Charter School | 2019 to 2021
Worked with the student on academic tasks specified in the daily lesson plan
Provided engaging, motivating, and relevant one-on-one academic and behavior support to scholars with a variety of needs in the regular classroom, using plans and modifications supported/provided by grade level and Scholar Advancement teams
Participated in a four-week summer institute/training
Completed all administrative requirements
INSTRUCTIONAL PARAPROFESSIONAL
Garden Academy | 2013 to 2019
Participated in the selection of the students' instructional materials and treatment goals
Assisted with regular data summary/data analysis for assigned students
Participated in the development of IEPs
Assisted in the arrival and dismissal of assigned students
Organized and maintained curricula and instructional and leisure materials and contributes to their orderly display and storage
Average Salary for Paraprofessional Job
Paraprofessional
Salaries
National Average
| | | |
| --- | --- | --- |
| Base Salary | $14k – $35k | |
| Bonus | $99 – $2k | |
| Total Pay | $17k – $36k | |
***Data are taken from payscale.com
Good Skills to Include on Paraprofessional Resume
Emphasize Education
Love for ALL children
Flexibility
Resume Action Words for Paraprofessional Resume
Trained
Presented
Collaborated
Conveyed
Instructed
Performed
Advised
Endorsed
Integrated
Reduced
Solved
Fostered
Expedited
Gained
Participated
Common Certificates for Paraprofessional Resume
Level III Teaching Assistant Certificate
Pre-Professional Teaching Assistant Certificate
Continuing Certificate as a Teaching Assistant
To be 100% prepared for getting a new job check our Paraprofessional Cover Letter Example
How useful was this post?
Click on a star to rate it!
Average rating / 5. Vote count:
Other Samples from this Industry: