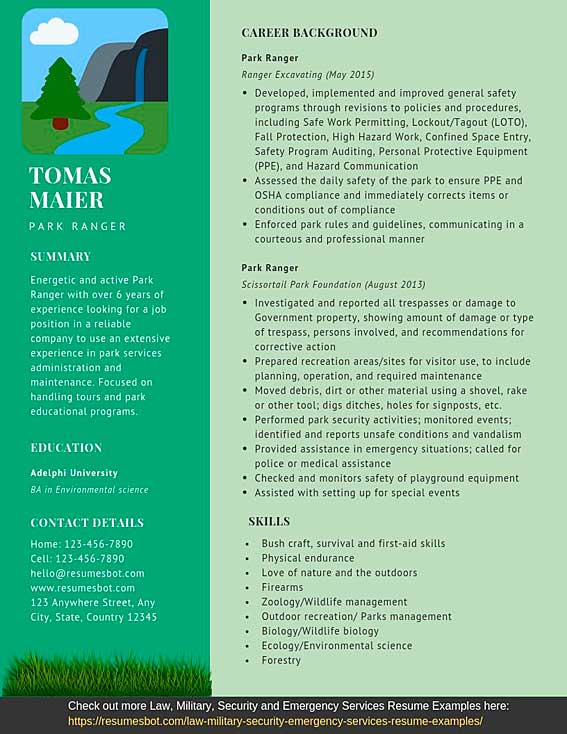 PARK RANGER RESUME TEMPLATE (TEXT FORMAT)
SUMMARY
Energetic and active Park Ranger with over 6 years of experience looking for a job position in a reliable company to use extensive experience in park services administration and maintenance. Focused on handling tours and park educational programs.
EDUCATION
Adelphi University
BA in Environmental science
SKILLS
Bushcraft, survival and first-aid skills
Physical endurance
Love of nature and the outdoors
Firearms
Zoology/Wildlife management
Outdoor recreation/ Parks management
Biology/Wildlife biology
Ecology/Environmental science
Forestry
EXPERIENCE
Park Ranger
Ranger Excavating (May 2015)
Developed, implemented and improved general safety programs through revisions to policies and procedures, including Safe Work Permitting, Lockout/Tagout (LOTO),
Fall Protection, High Hazard Work, Confined Space Entry,
Safety Program Auditing, Personal Protective Equipment (PPE), and Hazard Communication
Assessed the daily safety of the park to ensure PPE and OSHA compliance and immediately corrects items or conditions out of compliance
Enforced park rules and guidelines, communicating in a courteous and professional manner
Park Ranger
Scissortail Park Foundation (August 2013)
Investigated and reported all trespasses or damage to Government property, showing the amount of damage or type of trespass, persons involved, and recommendations for corrective action
Prepared recreation areas/sites for visitor use, to include planning, operation, and required maintenance
Moving debris, dirt or other material using a shovel, rake or another tool; digs ditches, holes for signposts, etc.
Performed park security activities; monitored events; identified and reports unsafe conditions and vandalism
Provided assistance in emergency situations; called for police or medical assistance
Checked and monitors the safety of playground equipment
Assisted with setting up for special events
Average Salary for Park Ranger Job
Park Ranger
Salaries
National Average
| | | |
| --- | --- | --- |
| Base Salary | $25k – $60k | |
| Bonus | $1 – $6k | |
| Total Pay | $23k – $59k | |
***Data are taken from payscale.com
6 Tips for Writing an Effective Park Ranger Resume
Park rangers protect national parks, the natural resources, ecosystems, and wildlife within them and the people who visit them.
The United States has 61 protected areas known as national parks. The total area protected by national parks is approximately 52.2 million acres (211,000 km2).
Here are 6 tips for perfect Park Ranger's Resume writing:
Park Ranger's Professional Specializations.
Should you Include Summary in Your Park Ranger Resume?
Park Ranger Education Needed to Get the Job.
What should include Park Ranger Resume Experience?
Good Skills to Provide in Park Ranger Resume.
Resume Action Words for Park Ranger.

Park Ranger's Professional Specializations
The profession of park ranger often involves the specialization of a discipline:
National Park Ranger – Permanent
National Park Ranger – Temporary or Seasonal
State Park Ranger
County Park Ranger
Park Ranger Working in U.S. Territories
Should you Include Summary in Your Park Ranger Resume?
Summary it's the most important part of your resume. We selected some good and bad examples of summary writing.
Examples of a Park Ranger Resume Summary:
Good Junior Park Ranger Summary I participated in school's track and cross-country team with the goal of winning tournaments. Developed strong leadership, team building, and communication skills. Practiced self-discipline to achieve goals. Very experienced at being cooperative, staying on the task due too the involvement of my high schools mocks trial team. Moreover, staying on task is a trait that has stuck with me throughout my middle school years.
Good Middle Park Ranger Summary I'm professional and career-driven individual possessing a certificate earned following 300 hours of training in Processing and Manufacturing Technology. Biotech and Chemical manufacturing techniques, OSHA 10 Certification as well as training in Good Manufacturing Practices (cGMP). Articulate and concise communication and writing skills.
Bad Middle Park Ranger Summary Highly focused and dependable with excellent customer service and cash management record. Able to work well independently with little to no supervision as well as a great team player. Able to handle customer requests and concerns with professionalism and courtesy.
If you want to work in a specific place, you can indicate this as a separate item.
Example of a Summary with a specific place to work Looking for employment in the following areas: Corvallis, OR; Salem, OR; Albany, OR; Eugene, OR; Benton County, OR; Linn County, OR. I will consider other areas within a 50-mile radius of Corvallis.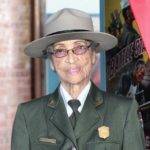 Did you know, that Betty Reid Soskin is the oldest park ranger in the USA? She is 97 years old and she's still working at a National Park Service.
Park Ranger Education Needed to Get the Job
Individuals interested in pursuing a career as a park ranger should attend a 4-year university and earn a bachelor's degree in a related field such as biology, environmental sciences or forestry. Holding a master's degree can also help one advance. Working at a park or completing a field session might be a requirement in order to graduate from either an undergraduate or graduate program. You also can become a park ranger if you have experience in a law enforcement (also referred to as "protection").
Park rangers generally have a Bachelor of Science degree in:
Park and Recreation Management
Conservation
Botany
Geology
Wildlife Management
Forestry
Prospective park rangers must be US citizens, possess a valid US driver's license, and be at least 21 years of age.
What should include Park Ranger Resume Experience?
We have asked several current Park Rangers, it is hard to get a job nowadays? Here is what they answered:
"It's getting pretty hard to get hired in the park service now. You almost need to start with volunteering or an internship or something to get your foot in the door."
"There is so much competition for every single position within the agency. One of my coworkers applied to 90 different jobs before getting on with us."
If you have no experience yet in a Park Ranger work, you can indicate volunteering or any other activity in the field of environmental protection, geology, botany, scientific activity or other related fields. If you already have work experience, try to focus on the duties you have performed.
Samples of a Park Ranger Resume Experience:
Good
I was Responsible for direct public contact work by providing information, direction, and assistance. I also Protected the public property by interpreting and enforcing rules and regulations and County/City ordinances.
Performed semi-skilled work in the maintenance of County parks, trails and facilities. Performed grounds keeping, carpentry, painting, masonry and general maintenance work as assigned. I also sprayed herbicide at aquatic, right of ways Natural Area and turf and ornamentals sites.
Bad
Enforced State laws and park rules on park property.
Interacting with and educating guests that visited the bridge/ park about outdoors plants, animals, survival, forestry rules and regulations, etc.
The park received many letters from guests that had visited the park complimenting my interaction with their children; my knowledge of the outdoors and my customer service.
Good Skills to Provide in Park Ranger Resume
Knowledge of the forest wildlife.
Forest management.
A love of nature and the outdoors.
Motivation and independence.
Good observation and communication skills.
Physical endurance.
Be capable to enjoy working alone.
Bushcraft, survival and first-aid skills.

Resume Action Words for Park Ranger
Developed
Operated
Trained
Conducted
Offered
Provided
Researched
Increased
Enforced
Advertised
Manned
Provided
Performed
Assisted
Guarded
How useful was this post?
Click on a star to rate it!
Average rating / 5. Vote count:
Other Samples from this Industry: