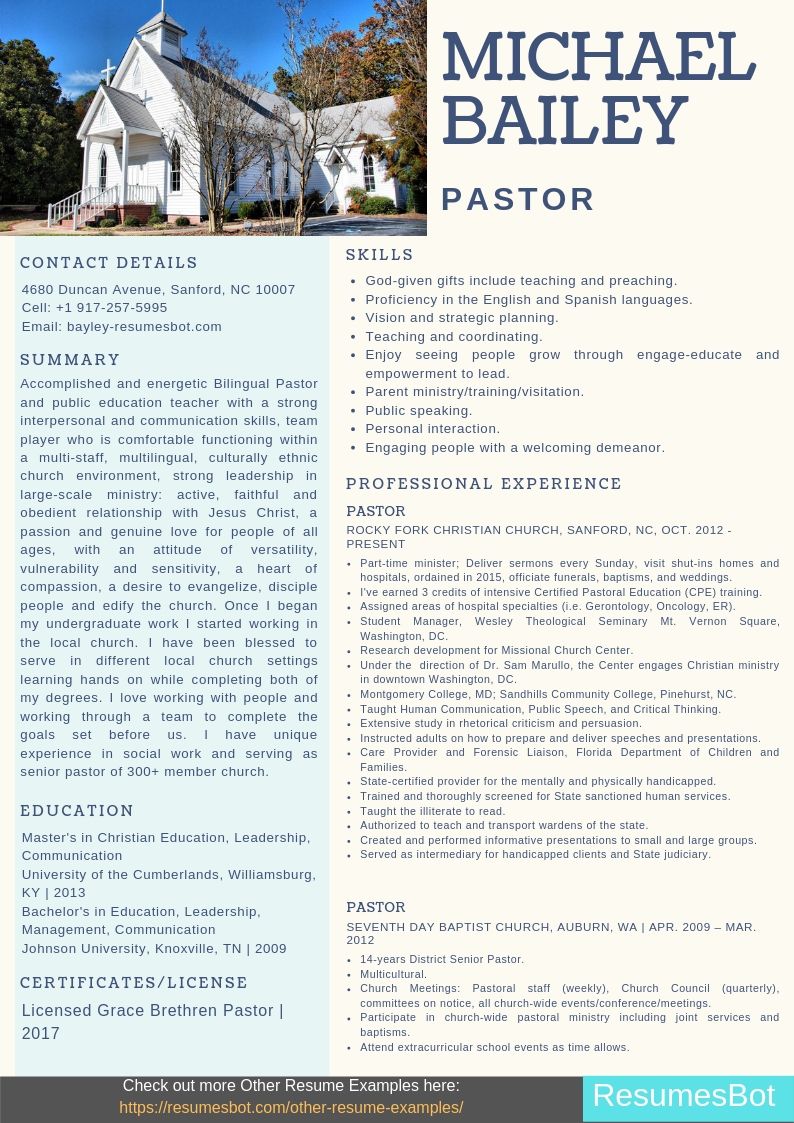 PASTOR RESUME TEMPLATE (TEXT FORMAT)
SUMMARY
Accomplished and energetic Bilingual Pastor and public education teacher with a strong interpersonal and communication skills, team player who is comfortable functioning within a multi-staff, multilingual, culturally ethnic church environment, strong leadership in large-scale ministry: active, faithful and obedient relationship with Jesus Christ, a passion and genuine love for people of all ages, with an attitude of versatility, vulnerability and sensitivity, a heart of compassion, a desire to evangelize, disciple people and edify the church. Once I began my undergraduate work I started working in the local church. I have been blessed to serve in different local church settings learning hands on while completing both of my degrees. I love working with people and working through a team to complete the goals set before us. I have unique experience in social work and serving as senior pastor of 300+ member church.
EDUCATION
Master's in Christian Education, Leadership, Communication
University of the Cumberlands, Williamsburg, KY | 2013
Bachelor's in Education, Leadership, Management, Communication
Johnson University, Knoxville, TN | 2009
SKILLS
God-given gifts include teaching and preaching.
Proficiency in the English and Spanish languages.
Vision and strategic planning.
Teaching and coordinating.
Enjoy seeing people grow through engage-educate and empowerment to lead.
Parent ministry/training/visitation.
Publicspeaking.
Personalinteraction.
Engagingpeoplewithawelcomingdemeanor.
WORK EXPERIENCE
PASTOR
Rocky Fork Christian Church, Sanford, NC | Oct. 2012 – Present
Part-time minister; Deliver sermons every Sunday, visit shut-ins homes and hospitals, ordained in 2015, officiate funerals, baptisms, and weddings.
I've earned 3 credits of intensive Certified Pastoral Education (CPE) training.
Assigned areas of hospital specialties (i.e. Gerontology, Oncology, ER).
Student Manager, Wesley Theological Seminary Mt. Vernon Square, Washington, DC.
Research development for Missional Church Center.
Under the direction of Dr. Sam Marullo, the Center engages Christian ministry in downtown Washington, DC.
Montgomery College, MD; Sandhills Community College, Pinehurst, NC. Taught Human Communication, Public Speech, and Critical Thinking.
Extensive study in rhetorical criticism and persuasion.
Instructed adults on how to prepare and deliver speeches and presentations.
Care Provider and Forensic Liaison, Florida Department of Children and Families.
State-certified provider for the mentally and physically handicapped.
Trained and thoroughly screened for State sanctioned human services.
Taught the illiterate to read.
Authorized to teach and transport wardens of the state.
Created and performed informative presentations to small and large groups.
Served as intermediary for handicapped clients and State judiciary.
PASTOR
Seventh Day Baptist Church, Auburn, WA Apr. 2009 – Mar. 2012
14-years District Senior Pastor.
Multicultural.
Church Meetings: Pastoral staff (weekly), Church Council (quarterly), committees on notice, all church-wide events/conference/meetings.
Participate in church-wide pastoral ministry including joint services and baptisms.
Attend extracurricular school events as time allows.
Average Salary for Pastor Job
Pastor
Salaries
National Average
| | | |
| --- | --- | --- |
| Base Salary | $26k – $79k | |
| Bonus | $490 – $15k | |
| Profit Sharing | $498 – $17k | |
| Commission | $0 – $1k | |
| Total Pay | $26k – $80k | |
***Data are taken from payscale.com
Good Skills to Include on Pastor Resume
Strong leader, quickly analyzing opportunities for improvement and developing plans for growth.
Highly developed sense of emotional and social intelligence which promote effective coaching, mentoring and training to ensure employees thrive in their roles.
Experience relating to people of varied backgrounds, cultures, and persuasions.
Significant experience building and coaching teams on short and long term projects.
Resume Action Words for Pastor Resume
Lead
Accelerated
Developed
Managed
Finished
Performed
Inspired
Stimulated
Explained
Teached
Solved
Listened
Educated
Demonstrated
Earned
Common Certificates for Pastor Resume
Certified Pastoral Counselor
Grace Brethren Pastor License
Clinical Pastoral
License Assemblies of God Minister
Ordained

Pastor

Pastor

/ Counselor
How useful was this post?
Click on a star to rate it!
Average rating / 5. Vote count:
Other Samples from this Industry: