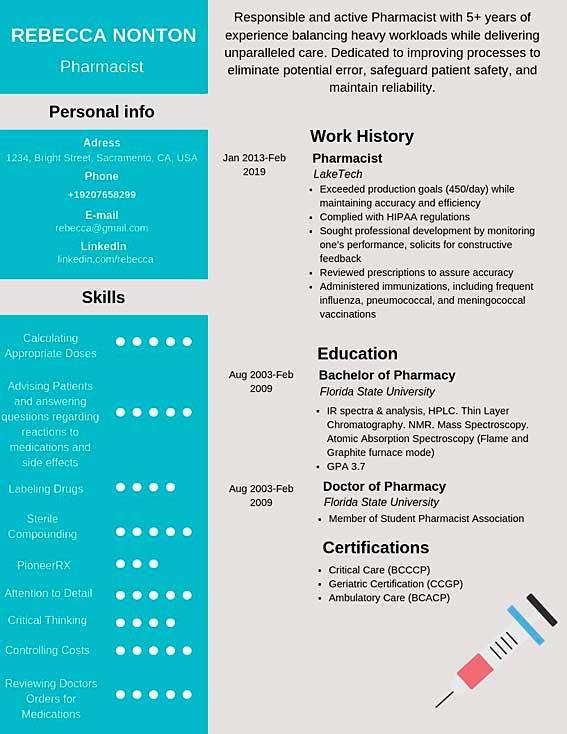 Pharmacist Resume Template (Text Format)
PERSONAL SUMMARY
Responsible and active Pharmacist with 5+ years of experience balancing heavy workloads while delivering unparalleled care. Dedicated to improving processes to eliminate potential error, safeguard patient safety, and maintain reliability.
EDUCATION
Bachelor of Pharmacy
Florida State University
Aug 2003-Feb 2009
IR spectra & analysis, HPLC. Thin Layer Chromatography. NMR. Mass Spectroscopy. Atomic Absorption Spectroscopy (Flame and Graphite furnace mode)
GPA 3.7
Doctor of Pharmacy
Florida State University
Member of Student Pharmacist Association
PROFESSIONAL SKILLS
Calculating Appropriate Doses
Advising Patients and answering questions regarding reactions to medications and side effects
Labeling Drugs
Sterile Compounding
PioneerRX
Attention to Detail
Critical Thinking
Controlling Costs
Reviewing Doctors Orders for Medications
CAREER HISTORY
Pharmacist
LakeTech, Jan 2013-Feb 2019
Exceeded production goals (450/day) while maintaining accuracy and efficiency
Complied with HIPAA regulations
Sought professional development by monitoring one's performance, solicits for constructive feedback
Reviewed prescriptions to assure accuracy
Administered immunizations, including frequent influenza, pneumococcal, and meningococcal vaccinations
Certifications
Critical Care (BCCCP)
Geriatric Certification (CCGP)
Ambulatory Care (BCACP)
Average Salary for Pharmacist Job
Pharmacist
Salaries
National Average
| | | |
| --- | --- | --- |
| Base Salary | $84k – $139k | |
| Bonus | $499 – $10k | |
| Profit Sharing | $986 – $9k | |
| Commission | $0 – $5k | |
| Total Pay | $94k – $141k | |
***Data are taken from payscale.com
Soft Skills to Include on a Pharmacist Resume
Organizational skills
Medication Therapy Management (MTM)
Patient Counseling
Strong Communication Skills
Retail Pharmacy Operations
Problem Solving
Knowledge of Medicare and Medicaid
Pharmacy Marketing and Promotions
MS Office Suite
Resume Action Words for Pharmacist
Organized
Developed
Negotiated
Supervised
Improved
Created
Computed
Administered
Trained
Entered
Handled
Protected
Consulted
Coordinated
Cared
Common Certificates for Pharmacist Resume
Geriatric Certification (CCGP)
Nuclear Certification (BCNP)
Nutrition Support Certification (BCNSP)
Oncology Certification (BCOP)
How useful was this post?
Click on a star to rate it!
Average rating / 5. Vote count:
Other Samples from this Industry: