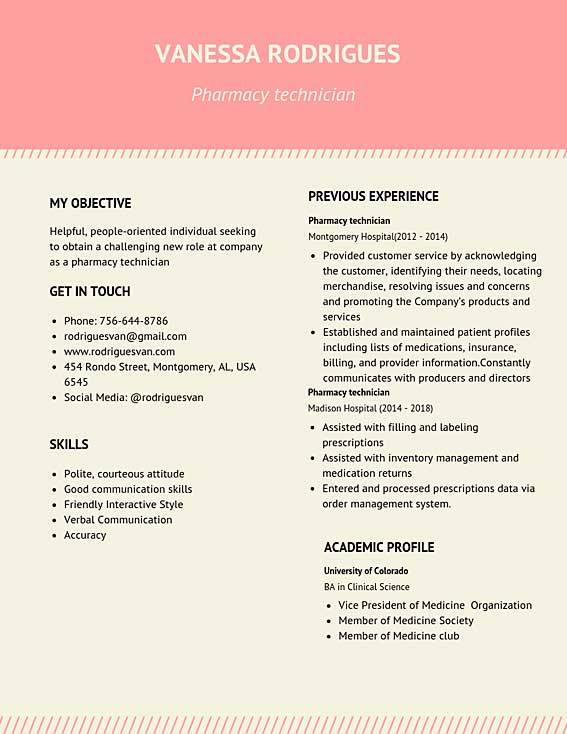 Pharmacy Technician Resume Template (Text Format)
MY OBJECTIVE
Helpful, people-oriented individual seeking to obtain a challenging new role at the company as a pharmacy technician
EDUCATION
University of Colorado
BA in Clinical Science
Vice President of Medicine Organization
Member of Medicine Society
Member of Medicine club
SKILLS
Polite, courteous attitude
Good communication skills
Friendly Interactive Style
Verbal Communication
Accuracy
CAREER HISTORY
Montgomery Hospital, Pharmacy technician
(2012 – 2014)
Provided customer service by acknowledging the customer, identifying their needs, locating merchandise, resolving issues and concerns and promoting the Company's products and services
Established and maintained patient profiles including lists of medications, insurance, billing, and provider information. Constantly communicates with producers and directors
Madison Hospital, Pharmacy technician
(2014 – 2018)
Assisted with filling and labeling prescriptions
Assisted with inventory management and medication returns
Entered and processed prescriptions data via the order management system.
Average Salary for Pharmacy Technician Job
Pharmacy Technician
Salaries
National Average
| | | |
| --- | --- | --- |
| Base Salary | $25k – $52k | |
| Bonus | $97 – $2k | |
| Profit Sharing | $103 – $2k | |
| Commission | $150 – $1k | |
| Total Pay | $23k – $43k | |
***Data are taken from payscale.com
How to Create a Top-Notch Resume for a Pharmacy Technician
At the first glance, this pharmacy tech resume sample doesn't differ much from any other. Its reverse-chronological format, which enhances strengths, clear fonts, and eye-friendly regular white space, interlaced with headings, are typical for major professional resumes. But if you want to get a top-notch resume for a pharmacy technician, you should know some special aspects of writing to arouse the hiring manager's interest and to land a job faster.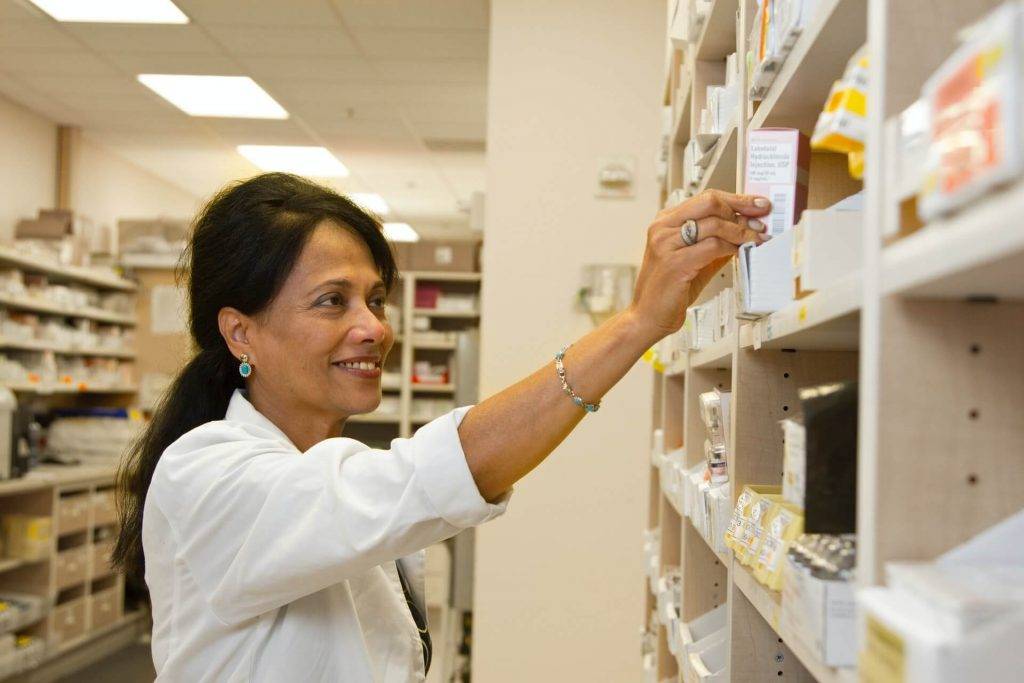 Appealing Pharmacy Technician Resume Objectives
This section is the first a hiring manager looks at. Make it catching to grab the reader's attention and sustain the interest to read up the rest of it.
Display a Pharmacy Technician Certification in your summary statement or objectives near the top of your resume. If you live in a state where certification isn't mandatory, earning it provides a wider scope of job possibilities with an increased salary.
For grads without experience, it's better to use an objective for pharmacy technician resume that emphasizes the main relevant skills attention to detail for safe pharmaceutical practice, accuracy, and customer mindset.
The compelling pharmacy tech resume objective shows the goals and explains why a candidate is a superb fit for a vacancy:
Adaptable, acknowledged of billing procedures, drug brand or trade names, and routine drug regimens, Certified Pharmacy Technician seeking for the vacancy in ABC medical center. Hope to apply the vast knowledge of pharmacy laws, practice standards, medical terminology, pharmacy maths, drug preparation, and dosage forms, obtained through the pharmacy technology training program. Developed relevant skills through the internship to effectively support the pharmacist, assisting in drugs preparation and distribution to patients
Pharmacy technician resume summary statement will be the best for generating the potential value of your solid experience and communication of your qualifications to the employer:
Energetic and point-device Certified Pharmacy Tech with 9+ years of experience in a large NY drug chain. Providing efficient, cost-effective, courteous, and safe pharmacotherapy services, ensuring patient safety by eliminating errors. Highly competent at Unit Dose packaging, Pyxis Report, IV admixture, and aseptic technique. Got 95% positive customer feedback, increased clients satisfaction by 30%, decreased packaging waste by 18%. NPTA active member since 2015.
Pharmacy Technician Duties for Resume to Demonstrate
The fast-growing pharmaceutical market is in constant need of Pharmacy Techs who can professionally perform the duties, managing a hundred functions alongside day-to-day stresses. Employers would prefer to choose those who know the root cause of data management inefficiencies and how to innovate effective solutions.
Highlight that important role you play in organizing the pharmacy business to run smoothly through the Professional Experience section with the help of the pharmacy technician duties resume contains.
Read carefully the job ad with the required duties and the area of expertise to understand which pharmacy technician responsibilities resume should include.
Bring on board as many action words for your daily and specialized activities as possible to influence the hiring manager's attitude towards you. You'll find below their detailed listing.
Resume Action Words for Pharmacy Technician
Improved
Directed
Prepared
Cared
Evaluated
Met
Protected
Disciplined
Helped
Assigned
Facilitated
Entered
Initiated
Saved
Drove
Possible Pharmacy Technician Resume Responsibilities
Here are the most common responsibilities and day-to-day activities to use in writing your work history for a pharmacy tech resume:
Greeted customers and took in customer calls, answering their queries;
Got in touch with customers who had special needs in terms of their medication;
Filled orders for inpatients and outpatients,updated patients' records;
Verified patient insurance data and processed claims;
Investigated patient billing and insurance concerns to resolve;
Streamlined data management routine, maintaining records and files;
Managed and maintained pharmacy inventory;
Organized courier deliveries of drugs to patient's homes;
Forecast demands for medications;
Counted, measured, and compound prescriptions;
Received, placed, and labeled supplies of medication;
Prepared, mixed, organized medications for Pharmacists to dispense;
Performed clerical paperwork and billing procedures;
Prepared necessary reports;
Maintained a safe and clean environment for the pharmacy.
Key Pharmacy Technician Skills for Resume to Emphasize
There are several key pharmacy tech resume skills and competencies to bring into employer's focus in your resume:
Organization & Attention to Detail

to flawlessly count pills and package medications with all preciseness.

Excellent Customer Service

for positive impressions of the clients to increase the sales of medications.

Competence in Insurance & Billing Procedures

to show your employer you need minimal training and can get on a great deal of administrative work.
Pharmacy Tech's Soft Skills & Competencies
Attention-to-detail;
Good communication;
Strong leadership skills;
Multitasking;
Problem-solving;
Time-management;
Being able to outwork;
Being able to work with constant interruptions without splitting attention;
Willing to assist supervisor or managers in non-pharmacy-related activities;
Remaining concentrated and self-disciplined in a stressful situation;
Producing customer-focused service;
Being able to educate, direct, and motivate teammates.
Pharmacy Tech's Hard Skills & Competencies
Strong Math And Science skills;

Computer skills;

Consulting patients of side effects of their medication and mixtures;

Filling prescriptions precisely according to pharmacist's specifications;

Checking prescriptions and orders for accuracy;

Expending and interpreting medical abbreviation;

Maintaining confidential patient reports;

Contacting insurance organizations;

Ordering medication supplies;

Preparing labels for prescriptions;

The Health Insurance Portability and Accountability (HIPAA) Compliance;

Explaining costs and payment options to customers;

Payment processing;

Working with TCG packaging machine;

Selecting correct packaging materials;

Maintaining pharmacy equipment.
Common Certificates for Pharmacy Technician Resume
Pharmacy Technician Certification Board (PTCB)
National Healthcareer Association (NHA)
How useful was this post?
Click on a star to rate it!
Average rating / 5. Vote count:
Other Samples from this Industry: