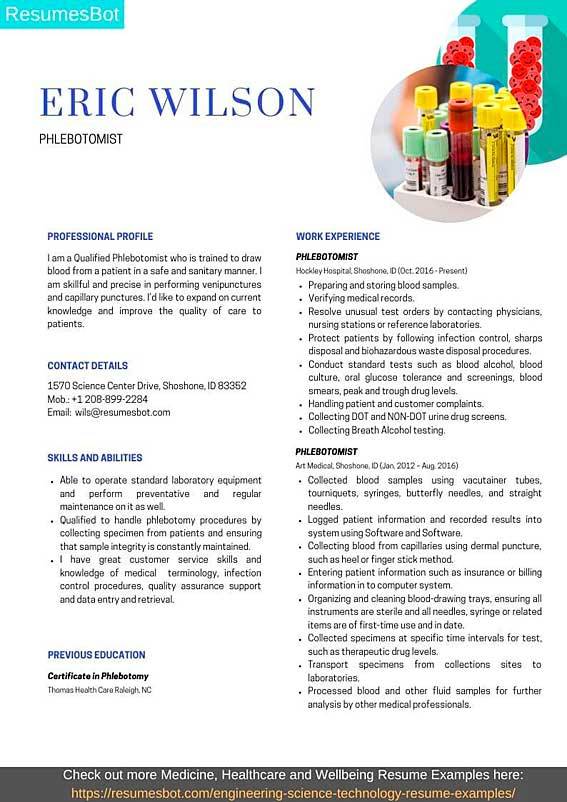 PHLEBOTOMIST RESUME TEMPLATE (TEXT FORMAT)
PROFESSIONAL PROFILE
I am a Qualified Phlebotomist who is trained to draw blood from a patient in a safe and sanitary manner. I am skillful and precise in performing venipunctures and capillary punctures. I'd like to expand on current knowledge and improve the quality of care to patients.
PREVIOUS EDUCATION

Certificate in Phlebotomy
Thomas Health Care Raleigh, NC
SKILLS AND ABILITIES
Able to operate standard laboratory equipment and perform preventative and regular maintenance on it as well.
Qualified to handle phlebotomy procedures by collecting specimen from patients and ensuring that sample integrity is constantly maintained.
I have great customer service skills and knowledge of medical terminology, infection control procedures, quality assurance support and data entry and retrieval.
WORK EXPERIENCE
PHLEBOTOMIST
Hockley Hospital, Shoshone, ID
Oct. 2016 – Present
Preparing and storing blood samples.
Verifying medical records.
Resolve unusual test orders by contacting physicians, nursing stations or reference laboratories.
Protect patients by following infection control, sharps disposal and biohazardous waste disposal procedures.
Conduct standard tests such as blood alcohol, blood culture, oral glucose tolerance and screenings, blood smears, peak and trough drug levels.
Handling patient and customer complaints.
Collecting DOT and NON-DOT urine drug screens.
Collecting Breath Alcohol testing.
PHLEBOTOMIST
Art Medical, Shoshone, ID
Jan. 2012 – Aug. 2016
Collected blood samples using vacutainer tubes, tourniquets, syringes, butterfly needles, and straight needles.
Logged patient information and recorded results into system using Software.
Collecting blood from capillaries using dermal puncture, such as heel or finger stick method.
Entering patient information such as insurance or billing information in to computer system.
Organizing and cleaning blood-drawing trays, ensuring all instruments are sterile and all needles, syringe or related items are of first-time use and in date.
Collected specimens at specific time intervals for test, such as therapeutic drug levels.
Transport specimens from collections sites to laboratories.
Processed blood and other fluid samples for further analysis by other medical professionals.
Average Salary for Phlebotomist Job
Phlebotomist
Salaries
National Average
| | | |
| --- | --- | --- |
| Base Salary | $25k – $48k | |
| Bonus | $100 – $2k | |
| Profit Sharing | $193 – $1k | |
| Total Pay | $25k – $43k | |
***Data are taken from payscale.com
We have prepared some important tips about Education, Certification, Skills, etc. that can help you improve your Phlebotomist Resume.
Phlebotomist Definition and Meaning
Phlebotomist is a person who works in a medical institution and specialize in drawing and preparing blood for donation or medical testing. Phlebotomists typically work in hospitals, clinics, outpatient care facilities, diagnostic laboratories and blood donation centers.
What is the Abbreviation for Phlebotomist Job?
Abbreviation for Phlebotomist in accordance with their professional specializations are the next:
NHA Certified Phlebotomy Technician – CPT(NHA).
Phlebotomy Techncician, PBT (ASCP).
AMT Registered Phlebotomy Technician, RPT.
NCCT National Certified Phlebotomy Technician (NCPT).
ACA Certified Phlebotomy Technician (ACA CPT).
Phlebotomist Education and Certification
Phlebotomists typically has a postsecondary degree or phlebotomy program education. Programs for phlebotomy are available from community colleges, vocational schools, or technical schools. The American Red Cross Phlebotomy Training is the most popular because it is available nationwide. These programs usually take less than 1 year, about 4 to 8 months to complete and lead to a certificate or diploma. Usually, a phlebotomy program education consists of 160 contact hours of instruction and 200 hours of practical experience.
Phlebotomist Classes includes Human anatomy, Medical terminology, How to collect and process blood, Systems of the body Physiology, etc.
Some phlebotomists may enter the occupation with a high school diploma and are trained on the job.
How to Receive Phlebotomist Certification?
Not all states require phlebotomists to get licensed or certified. Certification is voluntary but some employers may prefer to hire applicants who've passed national certification exams.
You'll have the right to take the certification exam if you have education or a year of experience and are currently on a phlebotomy position.
You can receive certification from several organizations:
American Medical Technologists (AMT).
American Society for Clinical Pathology (ASCP).
National Healthcareer Association (NHA).
You must have a score of 70% to pass an exam.
10 Best Phlebotomist Schools
University of Alaska, Anchorage, AL
Baker College, Cadillac, MI
Madison Area Technical College, Madison, WI
Goodwin College, East Hartford, CT
Ferris State University, Big Rapids, MI
Columbia Basin College, Pasco, WA
Dixie State College of Utah, St. George, UT
Bellevue College, Bellevue, WA
National Career Education, Citrus Heights, CA
Ultimate Medical Academy, Tampa, FL
Phlebotomist Job Description for Resume
To completely particularize phlebotomist job description, resume should include the duties and responsibilities that you faced by your previous jobs.
Phlebotomist job duties for resume depends on the field of the job. You might work on a blood transfusion station, in a mobile laboratory, at the hospital. Duties may vary depending on the workplace. Here is a universal list of phlebotomist job duties for resume.
Phlebotomist Job Duties
Draw blood from patients and blood donors
Conduct standards tests, such as blood alcohol, blood culture, oral glucose tolerance, glucose screening, blood smears, or peak and trough drug levels tests.
Provide sample analysis results to physicians to assist diagnosis.
Talk with patients and donors so they are less nervous about having their blood drawn
Process blood or other fluid samples for further analysis by other medical professionals.
Label the drawn blood for testing or processing
Assemble and maintain medical instruments such as needles, test tubes, and blood vials
Enter patient, specimen, insurance, or billing information into computer.
practice proper patient identification, especially when working on hospital floors
decipher the best method for drawing blood depending on the specific patient
Dispose of contaminated sharps, in accordance with applicable laws, standards, and policies.
Collect fluid or tissue samples, using appropriate collection procedures.
Calibrate or maintain machines, such as those used for plasma collection.
How to Write a Phlebotomist Resume Objective?
The better way to write a phlebotomist resume objective is to write it for each open position. Check out the job requirements and qualifications in companies that are of interest to you. Try to reword requirements and include them in your objective. It allows you to catch HR's attention.
Emphasize your strengths in a succinct form. Including your Phlebotomy Certification or license maximizes your chances of the favorable consideration of your resume.
Phlebotomist Resume Objective Examples:
A Phlebotomist seeking a position in a healthcare facility that utilizes both the clinical training and education to further grow in the healthcare field while perfecting my skills and caring for your patients.
To obtain a phlebotomy position in a friendly environment where I can continue to excel in my career and care for the patients.
To obtain a position as a phlebotomist in a progressive health care setting.
The Most Common Phlebotomist Resume Skills
The work of the phlebotomist involves unenjoyable for patients collecting blood procedures.
An experienced qualified phlebotomist can minimize discomfort and perform the procedure quickly, accurately and painlessly. In this regard skills for phlebotomist resume consist of two clusters: soft skills and hard (technical) skills.
We have gathered the most complete list of communication and technical phlebotomist resume skills that you can use to write your resume:
High level of accuracy and attention to detail.
Skillful and precise in performing venipunctures and capillary puncture.
Demonstrate knowledge of medical terminology, infection control procedures, quality assurance support, data entry & retrieval.
Experience with purchasing inventory for main lab.
Capable of drawing blood with minimal pain.
Experience using needles, syringes, and other medical equipment.
Follow state and federal laws regarding patient confidentiality.
Experience with drug screen specimen collection and basic specimen selection, handling, and storage activities.
Experience with prepares specimens for testing, storage or export according to procedures including resolution of any specimen and/or order discrepancies.
Professional in collection of Urine samples, stool samples, throat and nasopharyngeal swabs for culture testing and blood cultures.
Have ability to handle clients based on the maturity level at which they function.
Can properly identifying the patient, explaining and performing the procedure.
Personal phlebotomist skills for resume:
Possess excellent patient-relations skills – known for having a gentle touch and the ability to alleviate patient anxieties.
Attention to Detail.
Demonstrate professional customer service skills while registering patient and performing blood and urine collections according to procedures including following age specific guidelines for collection.
Good Motor Skills.
Empathy.
Action Words for Phlebotomist Resume
Cared
Helped
Assisted
Documented
Managed
Coordinated
Performed
Diagnosed
Handled
Assisted
Ensured
Secured
Initiated
Sterilized
Reported
Common Certificates for Phlebotomist Resume
APTA
CAPTE
CCVT
CFMT
CPR and First Aid
ECS
FSBTE
MPTE
PTA
Entry Level Phlebotomist Resume Sample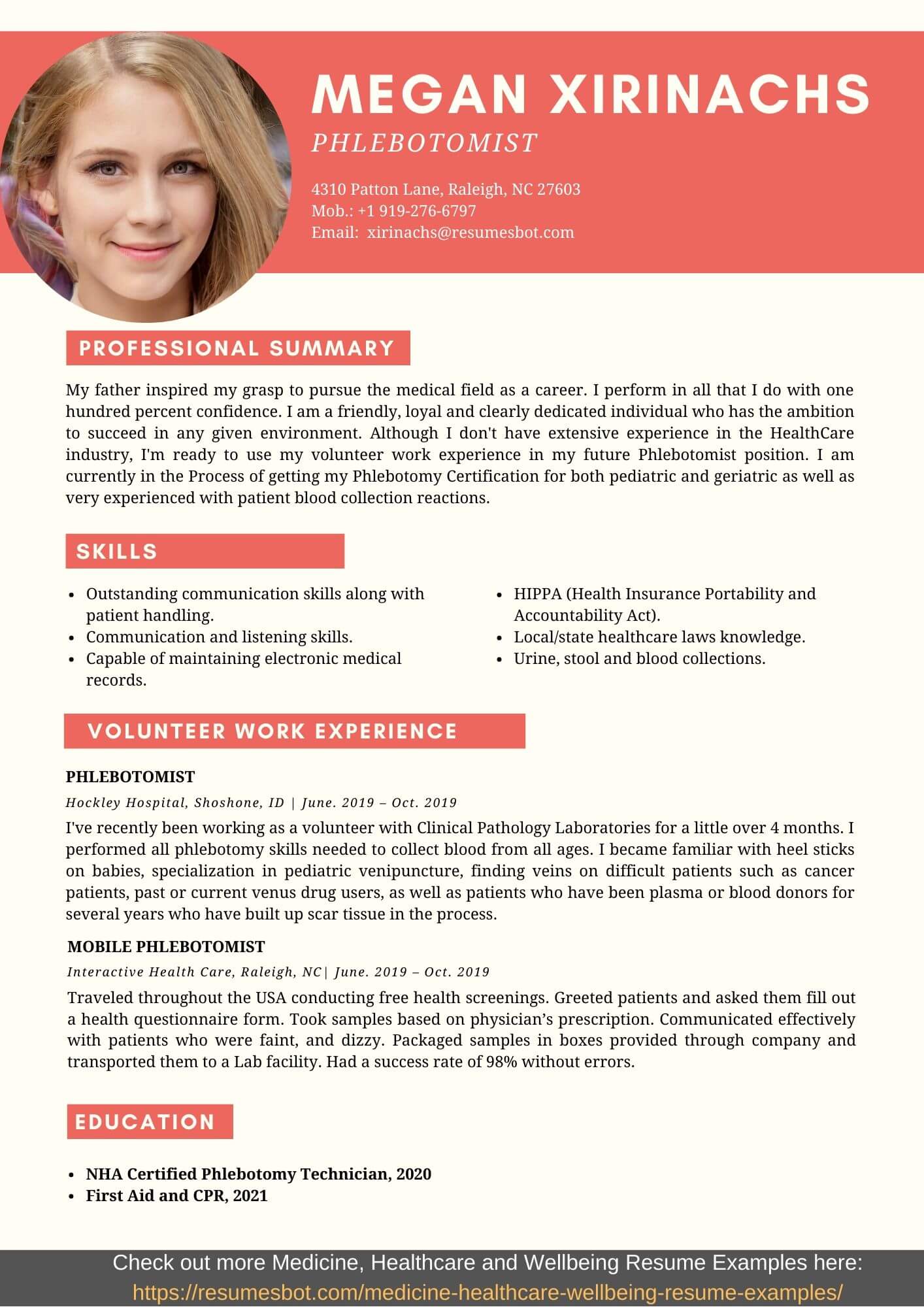 How useful was this post?
Click on a star to rate it!
Average rating / 5. Vote count:
Other Samples from this Industry: