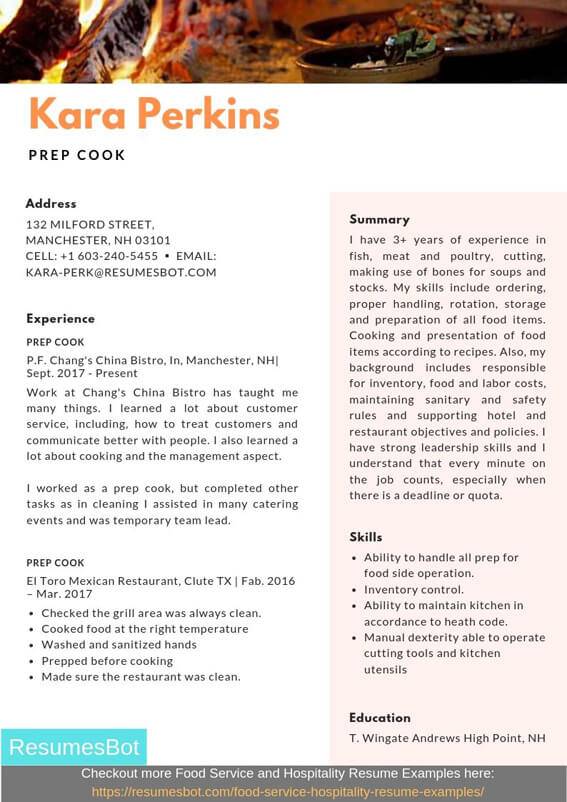 PREP COOK RESUME TEMPLATE (TEXT FORMAT)
SUMMARY
I have 3+ years of experience in fish, meat and poultry, cutting, making use of bones for soups and stocks. My skills include ordering, proper handling, rotation, storage and preparation of all food items. Cooking and presentation of food items according to recipes. Also, my background includes responsible for inventory, food and labor costs, maintaining sanitary and safety rules and supporting hotel and restaurant objectives and policies. I have strong leadership skills and I understand that every minute on the job counts, especially when there is a deadline or quota.
EDUCATION
T. Wingate Andrews High Point, NH
SKILLS
Ability to handle all prep for food side operation.
Inventory control.
Ability to maintain kitchen in accordance to heath code.
Manual dexterity able to operate cutting tools and kitchen utensils.
EXPERIENCE
PREP COOK
P.F. Chang's China Bistro, In, Manchester, NH
Sept. 2017 – Present
Working at Chang's China Bistro has taught me many things. I learned a lot about customer service, including, how to treat customers and communicate better with people. I also learned a lot about cooking and the management aspect.
I worked as a prep cook, but completed other tasks as in cleaning I assisted in many catering events and was temporary team lead.
PREP COOK
El Toro Mexican Restaurant, Clute TX
Fab. 2016 – Mar. 2017
Checked the grill area was always clean.
Cooked food at the right temperature.
Washed and sanitized hands.
Prepped before cooking.
Made sure the restaurant was clean.
Average Salary for Prep Cook Job
Prep Cook
Salaries
National Average
| | | |
| --- | --- | --- |
| Base Salary | $20k – $41k | |
| Bonus | $3 – $1k | |
| Profit Sharing | $1 – $5k | |
| Total Pay | $19k – $32k | |
***Data are taken from payscale.com
Good Skills to Include on Prep Cook Resume
Responsible for all aspects of kitchen and catering operations, food and labor costs
Assist with resolving guest questions and concerns maintaining professionalism and a hospitable attitude
Facilitate with closing duties including storing, all reusable goods, cleaning all equipment and areas, returning all items to its proper locations
Continually participate in quality control
Resume Action Words for Prep Cook
Prepared
Elevated
Developed
Coordinated
Accomplished
Cleaned
Operated
Communicated
Converted
Investigated
Perceived
Originated
Experimented
Requested
Calculated
Common Certificates for Prep Cook Resume
Prep Cook Technical Certificate
Kitchen Cook Certification
How useful was this post?
Click on a star to rate it!
Average rating / 5. Vote count:
Other Samples from this Industry: