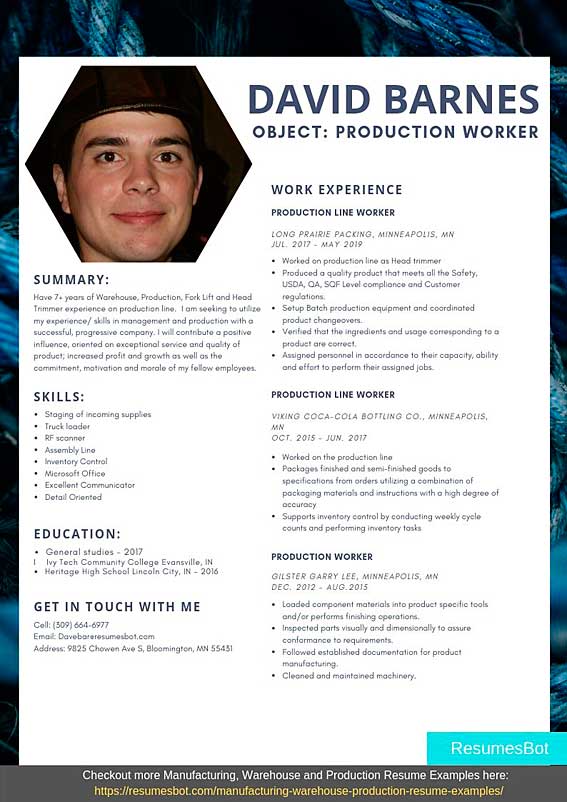 Production Worker Resume Template (Text Format)
OBJECT
PRODUCTION WORKER
SUMMARY
Have 7+ years of Warehouse, Production, Fork Lift and Head Trimmer experience on the production line. I am seeking to utilize my experience/ skills in management and production with a successful, progressive company. I will contribute a positive influence, oriented on exceptional service and quality of a product; increased profit and growth as well as the commitment, motivation, and morale of my fellow employees.
EDUCATION
General studies – Ivy Tech Community College Evansville, IN – 2017
Heritage High School Lincoln City, IN – 2016
SKILLS
Staging of incoming supplies
Truck loader
RF scanner
Assembly Line
Inventory Control
Microsoft Office
Excellent Communicator
Detail Oriented
WORK EXPERIENCE:
PRODUCTION LINE WORKER
Long Prairie Packing, Minneapolis, MN
Jul. 2017 – May 2019
Worked on a production line as Head trimmer
Produced a quality product that meets all the Safety, USDA, QA, SQF Level compliance and Customer regulations.
Setup Batch production equipment and coordinated product changeovers.
Verified that the ingredients and usage corresponding to a product are correct.
Assigned personnel in accordance with their capacity, ability, and effort to perform their assigned jobs.
PRODUCTION LINE WORKER
Viking Coca-Cola Bottling Co., Minneapolis, MN
Oct. 2015 – Jun. 2017
Worked on the production line
Packages finished and semi-finished goods to specifications from orders utilizing a combination of packaging materials and instructions with a high degree of accuracy
Supports inventory control by conducting weekly cycle counts and performing inventory tasks
PRODUCTION WORKER
Gilster Garry Lee, Minneapolis, MN
Dec. 2012 – Aug.2015
Loaded component materials into product-specific tools and/or performs finishing operations.
Inspected parts visually and dimensionally to assure conformance to requirements.
Followed established documentation for product manufacturing.
Cleaned and maintained machinery.
Average Salary for Production Worker Job
Production Worker
Salaries
National Average
| | | |
| --- | --- | --- |
| Base Salary | $24k – $70k | |
| Bonus | $100 – $5k | |
| Profit Sharing | $195 – $10k | |
| Commission | $0 – $1k | |
| Total Pay | $21k – $43k | |
***Data are taken from payscale.com
Good Skills to Include on Production Worker Resume
Basic computer skills
Ability to work independently and as a team player.
Able to work in a fast-paced environment
High attention to details
Organization
Resume Action Words for Production Worker
Competent
Integrated
Debugged
Aided
Assembled
Programmed
Checked
Elevated
Fabricated
Reviewed
Concentrated
Provided
Calculated
Conceptualized
Ensured
Common Certificates for Production Worker Resume
Certified Production Technician (CPT)
Certified Automation Professional®
Quality Engineer Certification
How useful was this post?
Click on a star to rate it!
Average rating / 5. Vote count:
Other Samples from this Industry: