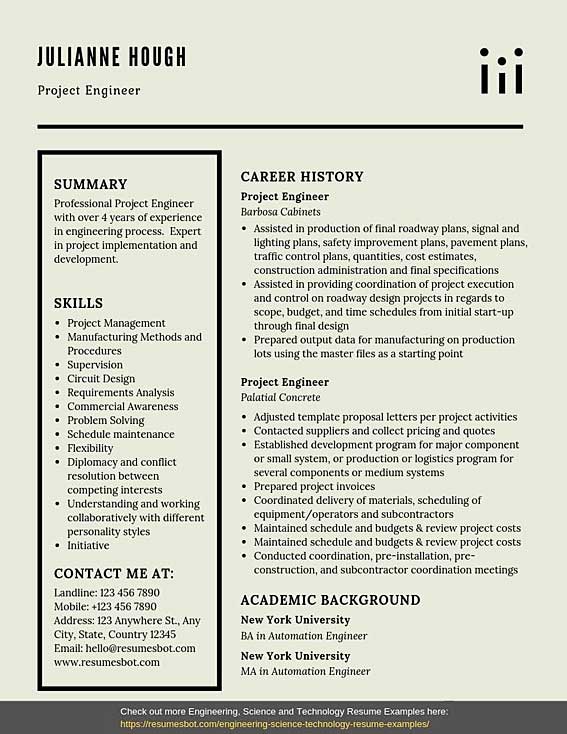 PROJECT ENGINEER RESUME TEMPLATE (TEXT FORMAT)
SUMMARY
Professional Project Engineer with over 4 years of experience in the engineering process. Expert in project implementation and development.
EDUCATION
New York University
BA in Automation Engineer
New York University
MA in Automation Engineer
SKILLS
Project Management
Manufacturing Methods and Procedures
Supervision
Circuit Design
Requirements Analysis
Commercial Awareness
Problem Solving
Schedule maintenance
Flexibility
Diplomacy and conflict resolution between competing interests
Understanding and working collaboratively with different personality styles
Initiative
EXPERIENCE
Project Engineer
Barbosa Cabinets
Assisted in production of final roadway plans, signal and lighting plans, safety improvement plans, pavement plans, traffic control plans, quantities, cost estimates, construction administration and final specifications
Assisted in providing coordination of project execution and control on roadway design projects in regards to scope, budget, and time schedules from initial start-up through final design
Prepared output data for manufacturing on production lots using the master files as a starting point
Project Engineer
Palatial Concrete
Adjusted template proposal letters per project activities
Contacted suppliers and collect pricing and quotes
Established development program for major component or small system, or production or logistics program for several components or medium systems
Prepared project invoices
Coordinated delivery of materials, scheduling of equipment/operators and subcontractors
Maintained schedule and budgets & review project costs
Maintained schedule and budgets & review project costs
Conducted coordination, pre-installation, preconstruction, and subcontractor coordination meetings
Average Salary for Project Engineer Job
Project Engineer
Salaries
National Average
| | | |
| --- | --- | --- |
| Base Salary | $54k – $99k | |
| Bonus | $987 – $10k | |
| Profit Sharing | $964 – $10k | |
| Commission | $970 – $26k | |
| Total Pay | $53k – $102k | |
***Data are taken from payscale.com
Good Skills to Include on a Project Engineer Resume
Preparation professional engineering drawings using AutoCAD
Preparation designs using AutoCAD (layout of plans, facilities for fabrication, piping design, etc.)
Creation business plans and proposals and prioritized projects delivering highest and immediate cost savings
Resume Action Words for Project Engineer
Prepared
Performed
Supervised
Supported
Conducted
Developed
Maintained
Managed
Issued
Collaborated
Executed
Presented
Attended
Coordinated
Calculated
Common Certificates for Project Engineer Resume
PMP: Project Management Professional
CPMP: Certified Project Management Practitioner
CompTIA Project + certification
How useful was this post?
Click on a star to rate it!
Average rating / 5. Vote count:
Other Samples from this Industry: