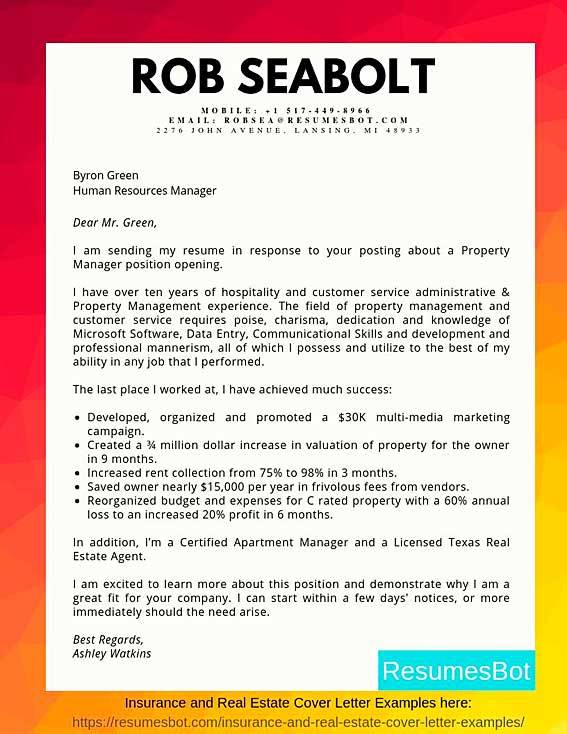 Design similar cover letter template in minutes
It's Okay to be different
PROPERTY MANAGER COVER LETTER TEMPLATE (TEXT FORMAT)
Rob Seabolt
Mobile: +1 517-449-8966
2276 John Avenue, Lansing, MI 48933
---
Byron Green
Human Resources Manager
Dear Mr. Green,
I am sending my resume in response to your posting about a Property Manager position opening.
I have over ten years of hospitality and customer service administrative & Property Management experience. The field of property management and customer service requires poise, charisma, dedication and knowledge of Microsoft Software, Data Entry, Communicational Skills and development and professional mannerism, all of which I possess and utilize to the best of my ability in any job that I performed.
The last place I worked at, I have achieved much success:
Developed, organized and promoted a $30K multi-media marketing campaign.
Created a ¾ million dollar increase in valuation of property for the owner in 9 months.
Increased rent collection from 75% to 98% in 3 months.
Saved owner nearly $15,000 per year in frivolous fees from vendors.
Reorganized budget and expenses for C rated property with a 60% annual loss to an increased 20% profit in 6 months.
In addition, I'm a Certified Apartment Manager and a Licensed Texas Real Estate Agent.
I am excited to learn more about this position and demonstrate why I am a great fit for your company. I can start within a few days' notices, or more immediately should the need arise.
Sincerely,
Rob Seabolt
To be 100% prepared for getting a new job check our Property Manager Resume Example
How useful was this post?
Click on a star to rate it!
Average rating / 5. Vote count:
Other Samples from this Industry: