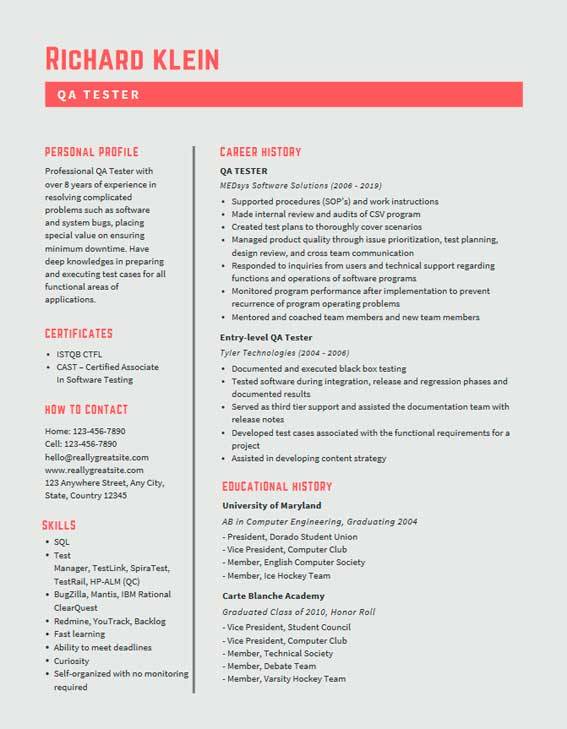 QA Tester Resume Template (Text Format)
PERSONAL PROFILE
Professional QA Tester with over 8 years of experience in resolving complicated problems such as software and system bugs, placing special value on ensuring minimum downtime. Have deep knowledge in preparing and executing test cases for all functional areas of applications.
EDUCATIONAL HISTORY
University of Maryland
AB in Computer Engineering, Graduating 2004
President, Dorado Student Union
Vice President, Computer Club
Member, English Computer Society
Member, Ice Hockey Team
Carte Blanche Academy
Graduated Class of 2010, Honor Roll
Vice President, Student Council
Vice President, Computer Club
Member, Technical Society
Member, Debate Team
Member, Varsity Hockey Team
SKILLS
SQL
Test Manager, TestLink, SpiraTest, TestRail, HP-ALM (QC)
BugZilla, Mantis, IBM Rational ClearQuest
Redmine, YouTrack, Backlog
Fast learning
Ability to meet deadlines
Curiosity
Self-organized with no monitoring required
CAREER HISTORY
QA TESTER
MEDsys Software Solutions (2006 – 2019)
Supported procedures (SOP's) and work instructions
Made internal review and audits of CSV program
Created test plans to thoroughly cover scenarios
Managed product quality through issue prioritization, test planning, design review, and cross-team communication
Responded to inquiries from users and technical support regarding functions and operations of software programs
Monitored program performance after implementation to prevent recurrence of program operating problems
Mentored and coached team members and new team members
Entry-level QA Tester
Tyler Technologies (2004 – 2006)
Documented and executed black box testing
Tested software during integration, release and regression phases and documented results
Served as third-tier support and assisted the documentation team with release notes
Developed test cases associated with the functional requirements for a project
Assisted in developing a content strategy
CERTIFICATES
ISTQB CTFL
CAST – Certified Associate In Software Testing
Average Salary for QA Tester Job
QA Tester
Salaries
National Average
| | | |
| --- | --- | --- |
| Base Salary | $38k – $83k | |
| Bonus | $296 – $10k | |
| Profit Sharing | $0 – $4k | |
| Total Pay | $33k – $82k | |
***Data are taken from payscale.com
Good Skills to Include on QA Tester Resume
Clear and accurate written and verbal communication
Strong business and analytical skills
Time management skills
Self-organized with no monitoring required
Knowledge of Software Testing processes
Knowledge of various software testing methodologies and best practices
Knowledge of XML
Practical Knowledge of Microsoft SQL Server
Resume Action Words for QA Tester
Tested
Documented
Developed
Inspected
Performed
Reviewed
Implemented
Identified
Analyzed
Maintained
Communicated
Weighed
Verified
Installed
Validated
Common Certificates for QA Tester Resume
AST – Certified Associate In Software Testing
CSTE – (Certified Software Test Engineer)
ISTQB
To be 100% prepared for getting a new job check our QA Tester Cover Letter Example
How useful was this post?
Click on a star to rate it!
Average rating / 5. Vote count:
Other Samples from this Industry: