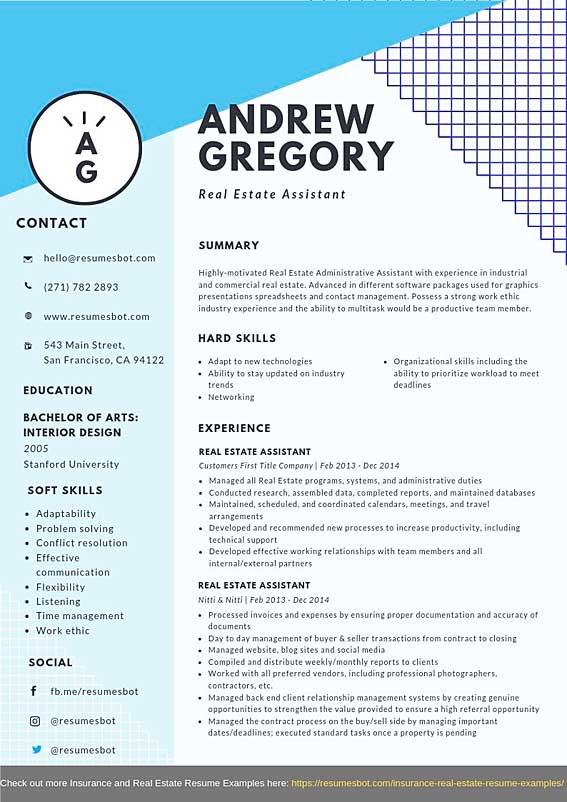 REAL ESTATE ASSISTANT RESUME TEMPLATE (TEXT FORMAT)
SUMMARY
Highly-motivated Real Estate Administrative Assistant with experience in industrial and commercial real estate. Advanced in different software packages used for graphics presentations spreadsheets and contact management. Possess a strong work ethic industry experience and the ability to multitask would be a productive team member.
EDUCATION
BACHELOR OF ARTS: INTERIOR DESIGN
2005
Stanford University
SOFT SKILLS
Adaptability
Problem-solving
Conflict resolution
Effective
communication
Flexibility
Listening
Time management
Work ethic
HARD SKILLS
Adapt to new technologies
Ability to stay updated on industry trends
Networking
Organizational skills including the ability to prioritize workload to meet deadlines
EXPERIENCE
REAL ESTATE ASSISTANT
Customers First Title Company | Feb 2013 – Dec 2014
Managed all Real Estate programs, systems, and administrative duties
Conducted research, assembled data, completed reports and maintained databases
Maintained, scheduled, and coordinated calendars, meetings, and travel arrangements
Developed and recommended new processes to increase productivity, including technical support
Developed effective working relationships with team members and all internal/external partners
REAL ESTATE ASSISTANT
Nitti & Nitti | Feb 2013 – Dec 2014
Processed invoices and expenses by ensuring proper documentation and accuracy of documents
Day to day management of buyer & seller transactions from contract to closing
Managed website, blog sites and social media
Compiled and distribute weekly/monthly reports to clients
Worked with all preferred vendors, including professional photographers, contractors, etc.
Managed back end client relationship management systems by creating genuine opportunities to strengthen the value provided to ensure a high referral opportunity
Managed the contract process on the buy/sell side by managing important dates/deadlines; executed standard tasks once a property is pending
Average Salary for Real Estate Assistant Job
Real Estate Assistant
Salaries
National Average
| | | |
| --- | --- | --- |
| Base Salary | $26k – $57k | |
| Bonus | $361 – $10k | |
| Profit Sharing | $0 – $4k | |
| Commission | $201 – $18k | |
| Total Pay | $24k – $52k | |
***Data are taken from payscale.com
Good Skills to Include on Real Estate Assistant Resume
Strong knowledge of the real estate industry
Advanced graphic designing skills and ability to work using property management software
Able to work independently and handle multiple tasks
Resume Action Words for Real Estate Assistant
Assisted
Researched
Managed
Converted
Monitored
Scheduled
Designed
Monitored
Сollected
Maintained
Prepared
Served
Organized
Implemented
Categorized
Common Certificates for Real Estate Assistant Resume
CAREA | Certified Advanced Real Estate Assistant Certification
Global Real Estate Licenc
How useful was this post?
Click on a star to rate it!
Average rating / 5. Vote count:
Other Samples from this Industry: