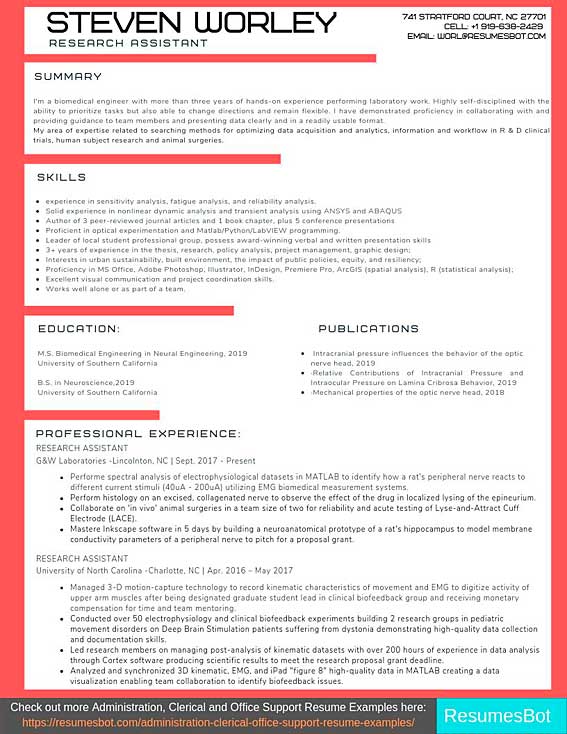 RESEARCH ASSISTANT RESUME TEMPLATE (TEXT FORMAT)
SUMMARY
I'm a biomedical engineer with more than three years of hands-on experience performing laboratory work. Highly self-disciplined with the ability to prioritize tasks but also able to change directions and remain flexible. I have demonstrated proficiency in collaborating with and providing guidance to team members and presenting data clearly and in a readily usable format.
My area of expertise related to searching methods for optimizing data acquisition and analytics, information and workflow in R & D clinical trials, human subject research and animal surgeries.
EDUCATION
M.S. Biomedical Engineering in Neural Engineering, 2019
University of Southern California
B.S. in Neuroscience,2019
University of Southern California
SKILLS
Strong experience in sensitivity analysis, fatigue analysis, and reliability analysis.
Solid experience in nonlinear dynamic analysis and transient analysis using ANSYS and ABAQUS
Author of 3 peer-reviewed journal articles and 1 book chapter, plus 5 conference presentations.
Proficient in optical experimentation and Matlab/Python/LabVIEW programming.
Leader of local student professional group, possess award-winning verbal and written presentation skills.
3+ years of experience in the thesis, research, policy analysis, project management, graphic design;
Interests in urban sustainability, built environment, the impact of public policies, equity, and resiliency;
Proficiency in MS Office, Adobe Photoshop, Illustrator, InDesign, Premiere Pro, ArcGIS (spatial analysis), R (statistical analysis);
Excellent visual communication and project coordination skills.
Works well alone or as part of a team.
PUBLICATIONS:
Intracranial pressure influences the behavior of the optic nerve head, 2019
Relative Contributions of Intracranial Pressure and Intraocular Pressure on Lamina Cribrosa Behavior, 2019
Mechanical properties of the optic nerve head, 2018
PROFESSIONAL EXPERIENCE
Research Assistant
G&W Laboratories -Lincolnton, NC \ Sept. 2017 – Present
Perform spectral analysis of electrophysiological datasets in MATLAB to identify how a rat's peripheral nerve reacts to different current stimuli (40uA – 200uA) utilizing EMG biomedical measurement systems.
Perform histology on an excised, collagenated nerve to observe the effect of the drug in localized lysing of the epineurium.
Collaborate on 'in vivo' animal surgeries in a team size of two for reliability and acute testing of Lyse-and-Attract Cuff Electrode (LACE).
Master Inkscape software in 5 days by building a neuroanatomical prototype of a rat's hippocampus to model membrane conductivity parameters of a peripheral nerve to pitch for a proposal grant.
Research Assistant
University of North Carolina -Charlotte, NC \ Apr. 2016 – May 2017
Managed 3-D motion-capture technology to record kinematic characteristics of movement and EMG to digitize activity of upper arm muscles after being designated graduate student lead in clinical biofeedback group and receiving monetary compensation for time and team mentoring.
Conducted over 50 electrophysiology and clinical biofeedback experiments building 2 research groups in pediatric movement disorders on Deep Brain Stimulation patients suffering from dystonia demonstrating high-quality data collection and documentation skills.
Led research members on managing post-analysis of kinematic datasets with over 200 hours of experience in data analysis through Cortex software producing scientific results to meet the research proposal grant deadline.
Analyzed and synchronized 3D kinematic, EMG, and iPad "figure 8" high-quality data in MATLAB creating a data visualization enabling team collaboration to identify biofeedback issues.
Average Salary for Research Assistant Job
Research Assistant
Salaries
National Average
| | | |
| --- | --- | --- |
| Base Salary | $30k – $55k | |
| Bonus | $244 – $5k | |
| Profit Sharing | $0 – $2k | |
| Total Pay | $29k – $54k | |
***Data are taken from payscale.com
Good Skills to Include on Research Assistant Resume
Maintain controlled documents in compliance with regulations
Participated in researches
Performed various lab support duties, including autoclaving, data entry, and reagent preparation
Resume Action Words for Research Assistant
Coordinated
Critiqued
Extracted
Summarized
Researched
Diagnosed
Identified
Surveyed
Clarified
Evaluated
Examined
Investigated
Awarded
Reviewed
Systemized
Common Certificates for Research Assistant Resume
ACRP-CP
Clinical Research Associate (CRA) Certification
HIPAA
Animal Care and Use (ACU)
Clinical Research Coordinator (CRC) Certification
Phlebotomy Certification (CPT)
Certified Clinical Research Professional
Engineer In Training (EIT)
How useful was this post?
Click on a star to rate it!
Average rating / 5. Vote count:
Other Samples from this Industry: