Do you want to get a scholarship at the university/college of your dreams? Then you will 100% need to add a convincing scholarship resume to your application letter.
To achieve the goal, in the form of a scholarship at the prestigious educational institute, you will have to go through several qualifying stages.
The first is the formal candidates' selection, which based on the submitted documents. Foreign language certifications, excellent grades, and recommendations are just a base and not enough to receive financial support from the school commission. So, the winning element of your application will be a well-written college scholarship resume.
The main task of the scholarship resume is to briefly describe the key achievements of the applicant according to his/her chosen field.
This document is not a summary biography, but rather the personal development stages, which now present you as a welcome member in the particular university program. In other words, your paper should show you as the ideal candidate. And also, it has to scream – "I deserve this scholarship."
But how to write a resume for a scholarship and make it just perfect? You will find out in this article.
How to Write a Scholarship Resume
Before moving on to the resume writing topic, let's answer one crucial question – "Which information should be included in a scholarship application?"
Scholarship application form. Most likely, you already have this form, but if you still don't, download it from your university's website.
Copy of your ID or pass.
Copies of all diplomas. Attach the transcript of records from the high-school, Bachelor's, or Master's. You have to collect all photocopied pages of all your achieved grades and credits for every course.
Letter of motivation.
Letter of recommendation. The letter has to come only from one teacher or employer, and include info about your skills, intellectual capacity, qualities, and motivation.
Standardized test scores.
Scholarship resume.
So, how to write a scholarship resume? How to start and what kind of format to use? What is the best template, and how should the ideal scholarship objective look like? We have ALL the answers! Read on.
Scholarship Resume Format
There are 3 main formats for different types of resumes:
Combination resume format.
Functional resume format.
Chronological resume format.
The student election commission should make minimal efforts to understand your paper. That is why education and work history listed in reverse chronological order will be the most winning solution.
So, the chronological format is 100% the best choice for the scholarship resume. It is the most widely used cv type because it is easy to read and easy to write.
College Scholarship Resume Template
The first thing to write in your academic resume is your name.
Don't write "CV" or "Resume" because the structure of the document already speaks about it.
All resumes for scholarships usually don't indicate traditional job-seekers resume information like age, gender, nationality, etc. Because in the world of science, academic achievements are always of paramount importance.
Also, the emphasis on personal data can only emphasize the applicant's conservativeness, while the academic world's motto is the desire for diversity and equality.
---
Education is one of the most critical sections, just like "work experience" in the ordinary resume. You should write all the education data in reverse chronological sequence. 
If the applicant has already completed a master's degree, it would be necessary to indicate the initials of the supervisor and the topic of the dissertation. Also, you can demonstrate the diploma Grade Point Average (GPA), and make a note about Cum Laude (in case you have it). 
In the education section, you can include information about received certificates, specific courses, favorite fields of study, and key achievements. But all given information should stay relevant to the applicant university program. 
Members of the selection committee highly appreciate various awards – scholarships and study grants. In this section, you should list all received academic honors.
Also, you can include the honors from other areas, for example, sports competitions awards, participation in charity projects, literary prizes, and others.
Read more about "How to list awards on resume". 
---
As a rule, most scholarship commissions are more likely to accept candidates with professional work experience that has been practiced outside the college.
When the applicant has the non-professional experience, it is better to describe it briefly, without going into details.
The emphasis must be placed on positions that were required technical or managerial skills, and all valuable abilities for the chosen direction.
For example analysis of data, multiple technologies, understanding of business and outcomes, stress resistance, and more. 
Basic College Scholarship Resume Outline:
Resume Objective.
Education.
Work Experience.
If you have already graduated from college and intend to continue studying, then your resume should have some more sections. These are only additional sections but can significantly increase the chances of receiving financial support. 
All headings should be in bold and slightly larger than the rest text. Use one of the standard fonts: Calibri, Cambria, Georgia, Garamond, or Book Antiqua.
---
Any research experience should be mentioned in the scholarship resume. It always gives a great advantage for the applicant who is going to enter Masters or Doctoral Studies.
Work as an assistant in the study department, a personal teacher assistant, or a practitioner in the laboratory is considered an invaluable experience.
For each position, you should list the acquired skills: statistical analysis, working with specialized software, laboratory procedures, etc. 
Of course, this section only applies to candidates with a degree, and shouldn't appear in the high school scholarship resume.
---
Having official publications will also be a big plus. Indicate them just like footnotes: author, title, publication, and year of publication (in the same reverse chronological order). 
If there are no publications, the applicant may, as an alternative, mention speeches at scientific meetings or educational events. 
---
The extra-academic activity section will be especially relevant for aspirants entering humanitarian specialties, for example, the struggle for equality programs, activist organizations, volunteer programs, etc.
Particular attention should be paid to activities that contributed to the formation and development of qualities like leadership, organizational abilities, adherence to deadlines, and similar.
---
Fill up the skills section if only have at least 1 years of work experience or academic research. Essential to note only the unique skills that were gained during the professional or educational activities.
It shouldn't be the standard set of typical job-seekers resumes phrases (stress tolerance, sociability, knowledge of MS Office, etc.).
This section should demonstrate more complex, narrow academic skills. 
So, the postgraduate scholarship resume outline should look like this:
Contact Information.
Resume Objective.
Education.
Academic and Non-Academic Awards.
Work Experience.
Research Experience.
Publications.
Extra-Academic Activity.
Skills.
Scholarship Resume Objective
Many candidates don't write a resume objective for scholarship, because consider it unnecessary verbosity. But we strongly disagree with this kind of view!
The resume objective is one more opportunity to show your purpose and to draw the reader's attention. So, why not use this?
Here are a few essential tips for creating high-quality scholarship resume objectives:
Make it clear.

Do not write a big text. 3-4 well-written sentences should be enough to show your goal, future strategies, and academic summary. Do not use dubious phrases as "I would like to…" or "I hope to…", replace them with more confident: "I plan…", "I'm going to…"

Write the names.

Write the names of the college/university you studied, the companies you worked, start-ups, or projects you participated in. Be more specific.

Stand out.

Write briefly, concisely, and try to stand out. Every member of the commission read tents of letters of application for scholarships a day. Write short with precise phrases to show your purposeful mood.
In any case, you shouldn't worry. If you do not know how to write this section at all, it is better to skip it than write poorly.
Scholarships Resume Sample
Our professional team created the perfect college scholarship resume sample for you to inspire. Use it as a standard when creating your paper and simplify this task as possible.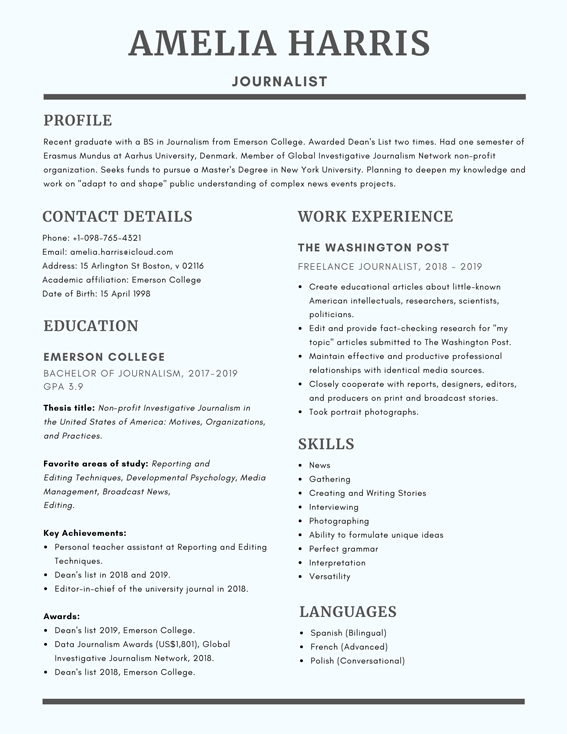 Most Common Mistakes in a Scholarship Resume
Overload with Information. To avoid this obvious mistake, look at our example again. All information is presented concisely and briefly, without unnecessary words and reflection. "The more to write, the better" – is never work with Scholarship resume.
Slang. There are always some individuals who manage to use slang in resume papers. Of course, it is unacceptable! Check every word in your document several times and make edition when necessary.
Wrong Resume Template. The Internet is full of unverified information, so better to use our article and template for your resume to avoid any mistakes.
False information. Some candidates like to improve their skills or even invent achievements on paper. When the commission sees you personally, everything will become apparent, so always write the truth.
Wrong format or font, or both. Reading this article, you probably understood which format is the most correct and which fonts are considered valid — no need to invent anything different.
We hope you have no more questions on "how to make a scholarship resume" because we try our best to describe all the vital aspects of this document.
The most important is to be confident in yourself, write according to our example, and follow all grammar rules.
And remember, some people do not receive a scholarship just because of the enormous competition. Never give up, and everything will turn out the best way!
How useful was this post?
Click on a star to rate it!
Average rating / 5. Vote count:
Other Samples from this Industry: