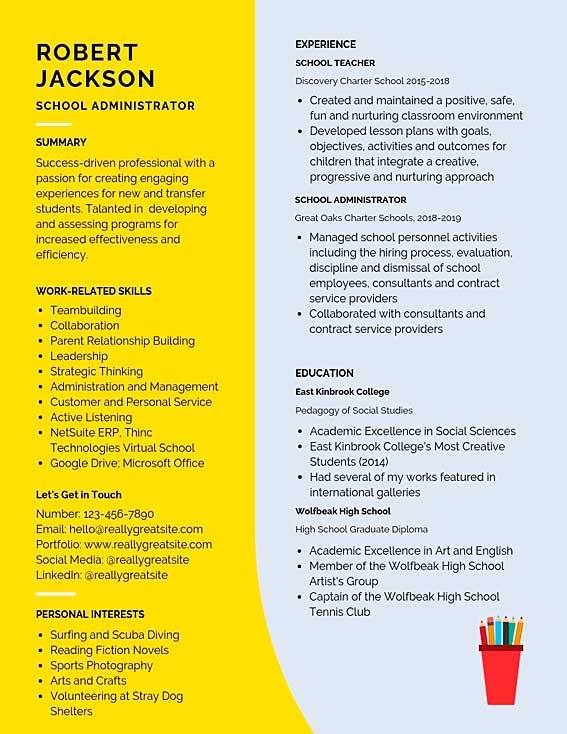 School Administrator Resume Template (Text Format)
SUMMARY
Success-driven professional with a passion for creating engaging experiences for new and transfer students. Talented in developing and assessing programs for increased effectiveness and efficiency.
EDUCATION
East Kinbrook College
Pedagogy of Social Studies
Academic Excellence in Social Sciences
East Kinbrook College's Most Creative Students (2014)
Had several of my works featured in international galleries
Wolfbeak High School
High School Graduate Diploma
Academic Excellence in Art and English
Member of the Wolfbeak High School Artist's Group
Captain of the Wolfbeak High School Tennis Club
WORK-RELATED SKILLS
Teambuilding
Collaboration
Parent Relationship Building
Leadership
Strategic Thinking
Administration and Management
Customer and Personal Service
Active Listening
NetSuite ERP, Thinc Technologies Virtual School
Google Drive; Microsoft Office
PERSONAL INTERESTS
Surfing and Scuba Diving
Reading Fiction Novels
Sports Photography
Arts and Crafts
Volunteering at Stray Dog Shelters
EXPERIENCE
SCHOOL TEACHER
Discovery Charter School 2015-2018
Created and maintained a positive, safe, fun and nurturing classroom environment
Developed lesson plans with goals, objectives, activities and outcomes for children that integrate a creative, progressive and nurturing approach
SCHOOL ADMINISTRATOR
Great Oaks Charter Schools, 2018-2019
Managed school personnel activities including the hiring process, evaluation, discipline and dismissal of school employees, consultants and contract service providers
Collaborated with consultants and contract service providers
Average Salary for School Administrator Job
School Administrator
Salaries
National Average
| | | |
| --- | --- | --- |
| Base Salary | $34k – $108k | |
| Bonus | $100 – $9k | |
| Total Pay | $35k – $107k | |
***Data are taken from payscale.com
Good Skills to Include on School Administrator Resume
Negotiation and communication skills
Time management
Excellent organizational skills
Interpersonal and problem-solving skills
Research best practices
Resume Action Words for School Administrator
Communicated
Scheduled
Illustrated
Defined
Counseled
Recommended
Responded
Assisted
Instructed
Managed
Mediated
Examined
Assessed
Collaborated
Negotiated
Common Certificates for School Administrator Resume
Principal/Administrative certification
How useful was this post?
Click on a star to rate it!
Average rating / 5. Vote count:
Other Samples from this Industry: