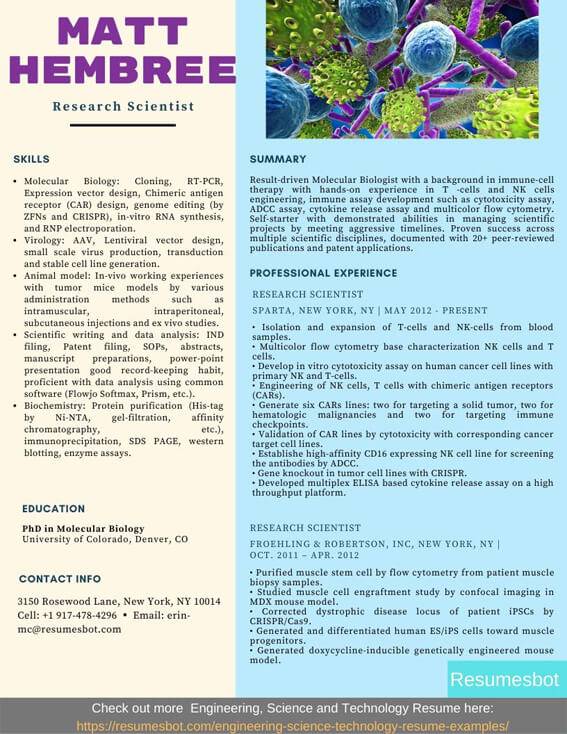 RESEARCH SCIENTIST RESUME TEMPLATE (TEXT FORMAT)
SUMMARY
Result-driven Molecular Biologist with a background in immune-cell therapy with hands-on experience in T -cells and NK cells engineering, immune assay development such as cytotoxicity assay, ADCC assay, cytokine release assay and multicolor flow cytometry. Self-starter with demonstrated abilities in managing scientific projects by meeting aggressive timelines. Proven success across multiple scientific disciplines, documented with 20+ peer-reviewed publications and patent applications.
EDUCATION
PhD in Molecular Biology
University of Colorado, Denver, CO
SKILLS
Molecular Biology: Cloning, RT-PCR, Expression vector design, Chimeric antigen receptor (CAR) design, genome editing (by ZFNs and CRISPR), in-vitro RNA synthesis, and RNP electroporation.
Virology: AAV, Lentiviral vector design, small scale virus production, transduction and stable cell line generation.
Animal model: In-vivo working experiences with tumor mice models by various administration methods such as intramuscular, intraperitoneal, subcutaneous injections and ex vivo studies.
Scientific writing and data analysis: IND filing, Patent filing, SOPs, abstracts, manuscript preparations, power-point presentation good record-keeping habit, proficient with data analysis using common software (Flowjo Softmax, Prism, etc.).
Biochemistry: Protein purification (His-tag by Ni-NTA, gel-filtration, affinity chromatography, etc.), immunoprecipitation, SDS PAGE, western blotting, enzyme assays.
PROFESSIONAL EXPERIENCE
RESEARCH SCIENTIST
Sparta, New York, NY
May 2012 – Present
Isolation and expansion of T-cells and NK-cells from blood samples.
Multicolor flow cytometry base characterization NK cells and T cells.
Develope in vitro cytotoxicity assay on human cancer cell lines with primary NK and T-cells.
Engineering of NK cells, T cells with chimeric antigen receptors (CARs).
Generate six CARs lines: two for targeting a solid tumor, two for hematologic malignancies and two for targeting immune checkpoints.
Validation of CAR lines by cytotoxicity with corresponding cancer target cell lines.
Establishe high-affinity CD16 expressing NK cell line for screening the antibodies by ADCC.
Gene knockout in tumor cell lines with CRISPR.
Developed multiplex ELISA based cytokine release assay on a high throughput platform.
RESEARCH SCIENTIST
Froehling & Robertson, Inc, New York, NY
Oct. 2011 – Apr. 2012
Purified muscle stem cell by flow cytometry from patient muscle biopsy samples.
Studied muscle cell engraftment study by confocal imaging in MDX mouse model.
Corrected dystrophic disease locus of patient iPSCs by CRISPR/Cas9.
Generated and differentiated human ES/iPS cells toward muscle progenitors.
Generated doxycycline-inducible genetically engineered mouse model.
Average Salary for Scientist Jobs
Scientist
Salaries
National Average
| | | |
| --- | --- | --- |
| Base Salary | $51k – $122k | |
| Bonus | $1k – $15k | |
| Profit Sharing | $964 – $16k | |
| Total Pay | $48k – $128k | |
***Data are taken from payscale.com
Good Skills to Include on Scientist Resume
Proficiency in the calibration and use of laboratory instruments.
Preparation of laboratory reagents and cell culture media.
Extensive knowledge of legal and professional office practices, procedures, business correspondence and file management.
Resume Action Words for Scientist Resume
Generated
Resulted
Awarded
Produced
Prepared
Increased
Experimented
Formulated
Calculated
Investigated
Extracted
Tested
Observed
Discovered
Summarized
Common Certificates for Scientist Resume
Notary Public.
Elementary Education.
Microsoft Office Specialist.
CPR
AED
First Aid.
Secondary Education.
Teaching Certificate.
TESOL
TEFL
How useful was this post?
Click on a star to rate it!
Average rating / 5. Vote count:
Other Samples from this Industry: