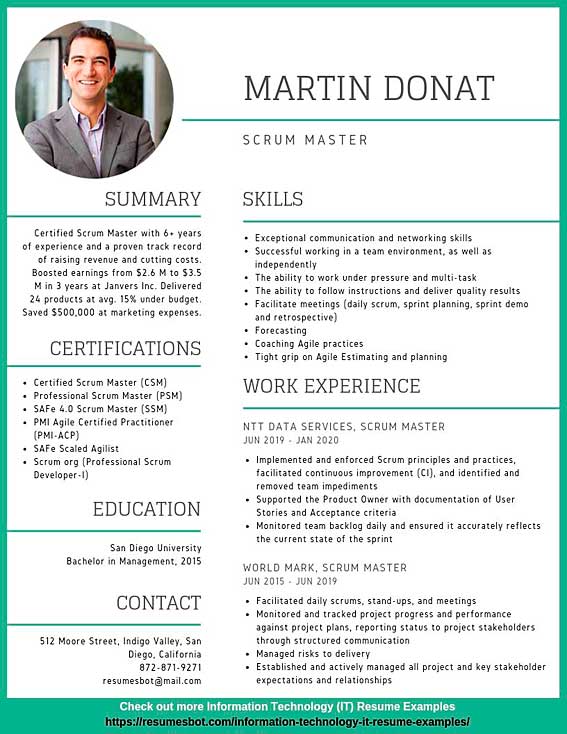 SCRUM MASTER RESUME TEMPLATE (TEXT FORMAT)
SUMMARY
Certified Scrum Master with 6+ years of experience and a proven track record of raising revenue and cutting costs. Boosted earnings from $2.6 M to $3.5 M in 3 years at Janvers Inc. Delivered 24 products at avg. 15% under budget. Saved $500,000 at marketing expenses.
EDUCATION
San Diego University
Bachelor in Management, 2015
SKILLS
Exceptional communication and networking skills
Successful working in a team environment, as well as independently
The ability to work under pressure and multi-task
The ability to follow instructions and deliver quality results
Facilitate meetings (daily scrum, sprint planning, sprint demo and retrospective)
Forecasting
Coaching Agile practices
A tight grip on Agile Estimating and planning
CERTIFICATES
Certified Scrum Master (CSM)
Professional Scrum Master (PSM)
SAFe 4.0 Scrum Master (SSM)
PMI Agile Certified Practitioner (PMI-ACP)
SAFe Scaled Agilist
Scrum org (Professional Scrum Developer-I)
EXPERIENCE
NTT DATA SERVICES, SCRUM MASTER
JUN 2019 – JAN 2020
Implemented and enforced Scrum principles and practices, facilitated continuous improvement (CI), and identified and removed team impediments
Supported the Product Owner with documentation of User
Stories and Acceptance criteria
Monitored team backlog daily and ensured it accurately reflects the current state of the sprint
WORLD MARK, SCRUM MASTER
JUN 2015 – JUN 2019
Facilitated daily scrums, stand-ups, and meetings
Monitored and tracked project progress and performance against project plans, reporting status to project stakeholders through structured communication
Managed risks to delivery
Established and actively managed all project and key stakeholder expectations and relationships
Use Our Information Technology Resume Writing Service to Get Hired!
Average Salary for Scrum Master Job
Scrum Master
Salaries
National Average
| | | |
| --- | --- | --- |
| Base Salary | $63k – $125k | |
| Bonus | $2k – $17k | |
| Profit Sharing | $502 – $10k | |
| Total Pay | $64k – $135k | |
***Data are taken from payscale.com
Good Skills to Include on Scrum Master Resume
Emotional Intelligence
Intrinsic Motivation
Negotiation
Performing with Flow
Rapid Decision Making
Resume Action Words for Scrum Master
Adapted
Assembled
Built
Calculated
Computed
Conserved
Constructed
Converted
Debugged
Designed
Determined
Developed
Engineered
Fabricated
Fortified
Common Certificates for Scrum Master Resume
Certified Scrum Trainer® (CST®)
Professional Scrum Master (PSM)
Agile Certified Practitioner (ACP)
How useful was this post?
Click on a star to rate it!
Average rating / 5. Vote count:
Other Samples from this Industry: