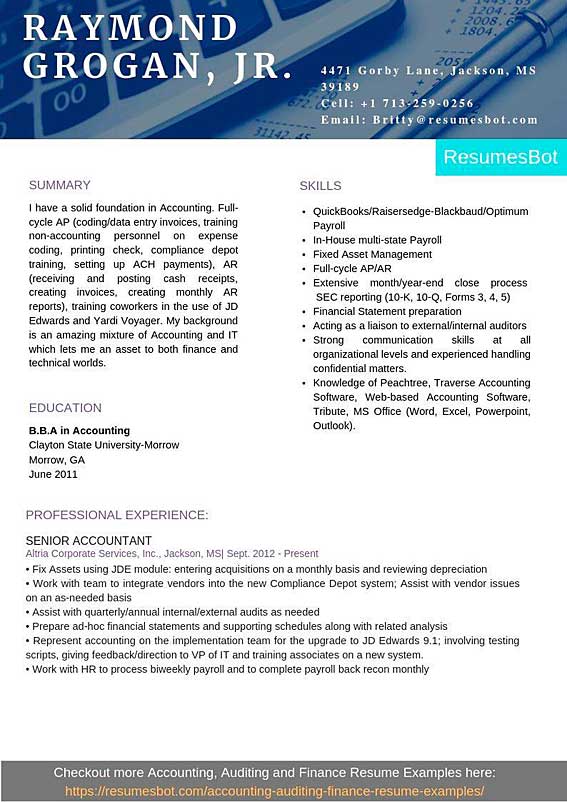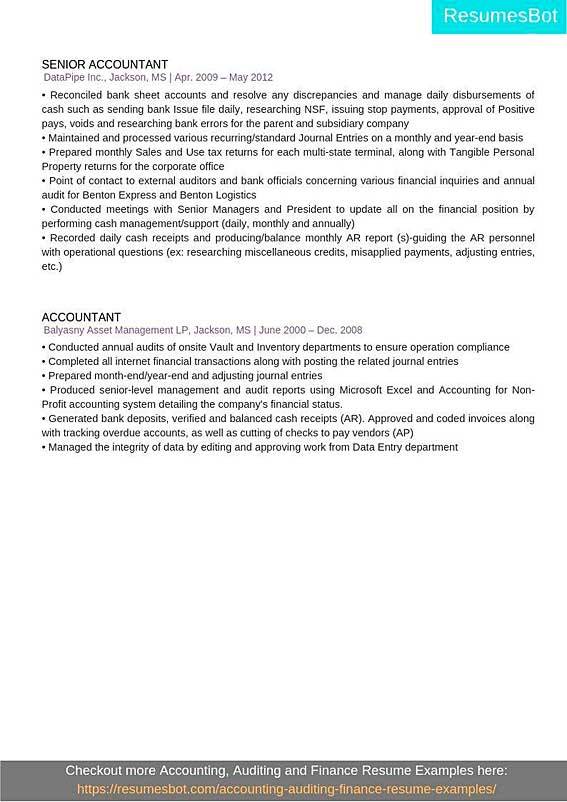 SENIOR ACCOUNTANT RESUME TEMPLATE (TEXT FORMAT)
SUMMARY
I have a solid foundation in Accounting. Full-cycle AP (coding/data entry invoices, training non-accounting personnel on expense coding, printing check, compliance depot training, setting up ACH payments), AR (receiving and posting cash receipts, creating invoices, creating monthly AR reports), training coworkers in the use of JD Edwards and Yardi Voyager. My background is an amazing mixture of Accounting and IT which lets me an asset to both finance and technical worlds.
EDUCATION
B.B.A in Accounting
Clayton State University-Morrow
Morrow, GA
SKILLS
QuickBooks/Raisersedge-Blackbaud/Optimum Payroll
In-House multi-state Payroll
Fixed Asset Management
Full-cycle AP/AR
Extensive month/year-end close process SEC reporting (10-K, 10-Q, Forms 3, 4, 5)
Financial Statement preparation
Acting as a liaison to external/internal auditors
Strong communication skills at all organizational levels and experienced handling confidential matters.
Knowledge of Peachtree, Traverse Accounting Software, Web-based Accounting Software, Tribute, MS Office (Word, Excel, Powerpoint, Outlook).
EXPERIENCE
SENIOR ACCOUNTANT
Altria Corporate Services, Inc., Jackson, MS
Sept. 2012 – Present
Implemented and enforced Scrum principles and practices, facilitated continuous improvement (CI), and identified and removed team impediments
Supported the Product Owner with documentation of User
Stories and Acceptance criteria
Monitored team backlog daily and ensured it accurately reflects the current state of the sprint
SENIOR ACCOUNTANT
DataPipe Inc., Jackson, MS
Apr. 2009 – May 2012
Reconciled bank sheet accounts and resolve any discrepancies and manage daily disbursements of cash such as sending bank Issue file daily, researching NSF, issuing stop payments, approval of Positive pays, voids and researching bank errors for the parent and subsidiary company.
Maintained and processed various recurring/standard Journal Entries on a monthly and year-end basis.
Prepared monthly Sales and Use tax returns for each multi-state terminal, along with Tangible Personal Property returns for the corporate office.
Point of contact to external auditors and bank officials concerning various financial inquiries and annual audit for Benton Express and Benton Logistics.
Conducted meetings with Senior Managers and President to update all on the financial position by performing cash management/support (daily, monthly and annually).
Recorded daily cash receipts and producing/balance monthly AR report (s)-guiding the AR personnel with operational questions (ex: researching miscellaneous credits, misapplied payments, adjusting entries, etc.).
ACCOUNTANT
Balyasny Asset Management LP, Jackson,
June 2000 – Dec. 2008
Conducted annual audits of onsite Vault and Inventory departments to ensure operation compliance.
Completed all internet financial transactions along with posting the related journal entries.
Prepared month-end/year-end and adjusting journal entries.
Produced senior-level management and audit reports using Microsoft Excel and Accounting for Non-Profit accounting system detailing the company's financial status.
Generated bank deposits, verified and balanced cash receipts (AR). Approved and coded invoices along with tracking overdue accounts, as well as cutting of checks to pay vendors (AP).
Managed the integrity of data by editing and approving work from Data Entry department.
Average Salary for Senior Accountant Job
Senior Accountant
Salaries
National Average
| | | |
| --- | --- | --- |
| Base Salary | $54k – $88k | |
| Bonus | $1k – $10k | |
| Profit Sharing | $957 – $7k | |
| Comission | $750 – $8k | |
| Total Pay | $54k – $91k | |
***Data are taken from payscale.com
Good Skills to Include on Senior Accountant Resume
Practice in managing accounts and clerical functions associated with accounting
Well equipped with relevant knowledge required to carry out accounting functions
Cash Accounting, Accrual Accounting, Monthly-end Closes and GL Reconciliation
Financial Modeling and Cost-Benefit Analysis
Bookkeeping
Budget Development and Management
Financial and Strategic Planning
Payroll Management
Resume Action Words for Senior Accountant
Augmented
Intensified
Increased
Calculated
Enlarged
Consolidated
Accumulated
Converted
Earned
Audited
Lowered
Rated
Financed
Dispensed
Counted
Common Certificates for Senior Accountant Resume
Certified Public Accountant
Certified Management Accountant
Certified Internal Auditor
To be 100% prepared for getting a new job check our Senior Accountant Cover Letter Example
How useful was this post?
Click on a star to rate it!
Average rating / 5. Vote count:
Other Samples from this Industry: