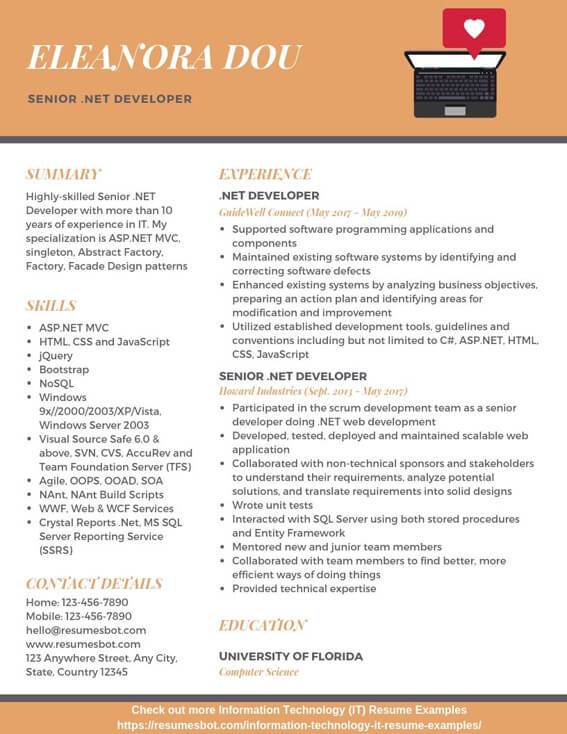 SENIOR .NET DEVELOPER RESUME TEMPLATE (TEXT FORMAT)
SUMMARY
Highly-skilled Senior .NET Developer with more than 10 years of experience in IT. My specialization is ASP.NET MVC, singleton, Abstract Factory, Factory, Facade Design patterns.
EDUCATION
UNIVERSITY OF FLORIDA
Computer Science
SKILLS
NET MVC
HTML, CSS and JavaScript
jQuery
Bootstrap
NoSQL
Windows 9x//2000/2003/XP/Vista, Windows Server 2003
Visual Source Safe 6.0 & above, SVN, CVS, AccuRev and Team Foundation Server (TFS)
Agile, OOPS, OOAD, SOA
NAnt, NAnt Build Scripts
WWF, Web & WCF Services
Crystal Reports .Net, MS SQL Server Reporting Service (SSRS)
EXPERIENCE
.NET DEVELOPER
GuideWell Connect (May 2017 – May 2019)
Supported software programming applications and components
Maintained existing software systems by identifying and correcting software defects
Enhanced existing systems by analyzing business objectives, preparing an action plan and identifying areas for modification and improvement
Utilized established development tools, guidelines and conventions including but not limited to C#, ASP.NET, HTML, CSS, JavaScript
SENIOR .NET DEVELOPER
Howard Industries (Sept. 2013 – May 2017)
Participated in the scrum development team as a senior developer doing .NET web development
Developed, tested, deployed and maintained scalable web application
Collaborated with non-technical sponsors and stakeholders to understand their requirements, analyze potential solutions, and translate requirements into solid designs
Wrote unit tests
Interacted with SQL Server using both stored procedures and Entity Framework
Mentored new and junior team members
Collaborated with team members to find better, more efficient ways of doing things
Provided technical expertise
Use Our IT Professional Resume Writing Service to Get Hired!
Average Salary for Senior .NET Developer Job
Senior .NET Developer
Salaries
National Average
| | | |
| --- | --- | --- |
| Base Salary | $77k – $126k | |
| Bonus | $2k – $12k | |
| Profit Sharing | $2k – $15k | |
| Total Pay | $78k – $135k | |
***Data are taken from payscale.com
Good Skills to Include on Senior .NET Developer Resume
Teamwork
Time Management
Responsibility
Adaptability
Resume Action Words for Senior .NET Developer Resume
Estimated
Evaluated
Forecasted
Verified
Formulated
Prioritized
Researched
Boosted
Suggested
Updated
Upgraded
Illustrated
Introduced
Innovated
Participated
Common Certificates for Senior .NET Developer Resume
Microsoft Certified Professional Developer (MCPD) Certification
How useful was this post?
Click on a star to rate it!
Average rating / 5. Vote count:
Other Samples from this Industry: