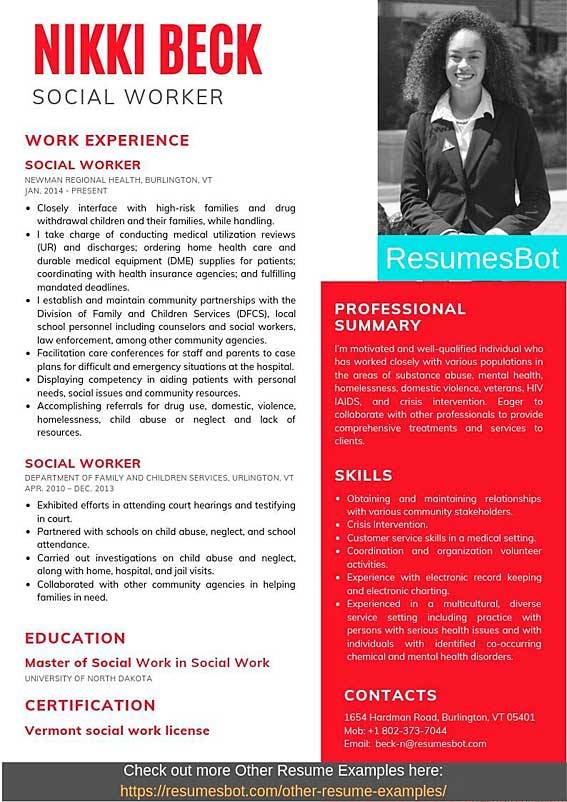 SOCIAL WORKER RESUME TEMPLATE (TEXT FORMAT)
SUMMARY
I'm motivated and well-qualified individual who has worked closely with various populations in the areas of substance abuse, mental health, homelessness, domestic violence, veterans, HIV IAIDS, and crisis intervention. Eager to collaborate with other professionals to provide comprehensive treatments and services to clients.
EDUCATION
Master of Social Work in Social Work
University of North Dakota
SKILLS
Obtaining and maintaining relationships with various community stakeholders.
Crisis Intervention.
Customer service skills in a medical setting.
Coordination and organization volunteer activities.
Experience with electronic record keeping and electronic charting.
Experienced in a multicultural, diverse service setting including practice with persons with serious health issues and with individuals with identified co-occurring chemical and mental health disorders.
PROFESSIONAL EXPERIENCE
SOCIAL WORKER
Newman Regional Health, Burlington, VT
Jan. 2014 – Present
Closely interface with high-risk families and drug withdrawal children and their families, while handling.
I take charge of conducting medical utilization reviews (UR) and discharges; ordering home health care and durable medical equipment (DME) supplies for patients; coordinating with health insurance agencies; and fulfilling mandated deadlines.
I establish and maintain community partnerships with the Division of Family and Children Services (DFCS), local school personnel including counselors and social workers, law enforcement, among other community agencies.
Facilitation care conferences for staff and parents to case plans for difficult and emergency situations at the hospital.
Displaying competency in aiding patients with personal needs, social issues and community resources.
Accomplishing referrals for drug use, domestic, violence, homelessness, child abuse or neglect and lack of resources.
SOCIAL WORKER
Department of Family and Children Services, Burlington, VT
Apr. 2010 – Dec. 2013
Exhibited efforts in attending court hearings and testifying in court.
Partnered with schools on child abuse, neglect, and school attendance.
Carried out investigations on child abuse and neglect, along with home, hospital, and jail visits.
Collaborated with other community agencies in helping families in need.
CERTIFICATION
Vermont social work license
Average Salary for Social Worker Job
Social Worker
Salaries
National Average
| | | |
| --- | --- | --- |
| Base Salary | $36k – $70k | |
| Bonus | $104 – $4k | |
| Profit Sharing | $5 – $4k | |
| Commission | $0 – $8k | |
| Total Pay | $33k – $71k | |
***Data are taken from payscale.com
Good Skills to Include on Social Worker Resume
Crisis prevention intervention.
Extensive knowledge of social work principles, techniques and practices and their application to complex casework, group work, and community issues.
Wide range of knowledge on behavior and psychosocial problems, diagnosis and treatment.
Experience in family and group dynamics, specifically dealing with the foster care system.
Knowledge of a range of intervention techniques, governmental and private organizations, resources in the community, laws and regulations, methods and principles of casework, and supervision and training.
Resume Action Words for Social Worker Resume
Advocated
Helped
Inspected
Demonstrated
Managed
Selected
Listened
Provided
Consultated
Assisted
Documented
Expanded
Initiated
Analyzed
Reported
Common Certificates for Social Worker Resume
Licensed Social Worker
BLS for Healthcare Providers
CCM
ACLS
LMSW
Registered Nurse (RN)
Nurse's License
CPR
First Aid
To be 100% prepared for getting a new job check our Social Worker Cover Letter Example
How useful was this post?
Click on a star to rate it!
Average rating / 5. Vote count:
Other Samples from this Industry: