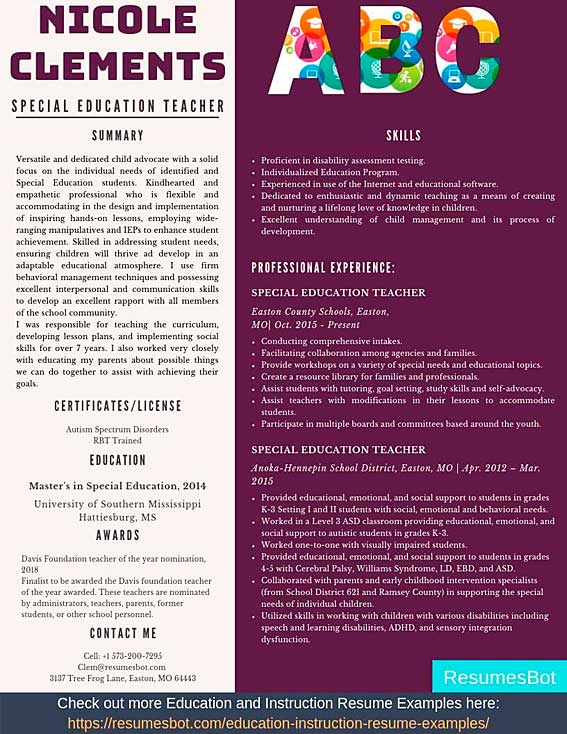 SPECIAL EDUCATION TEACHER RESUME TEMPLATE (TEXT FORMAT)
SUMMARY
Versatile and dedicated child advocate with a solid focus on the individual needs of identified and Special Education students. Kindhearted and empathetic professional who is flexible and accommodating in the design and implementation of inspiring hands-on lessons, employing wide-ranging manipulatives and IEPs to enhance student achievement. Skilled in addressing student needs, ensuring children will thrive ad develop in an adaptable educational atmosphere. I use firm behavioral management techniques and possessing excellent interpersonal and communication skills to develop an excellent rapport with all members of the school community. I was responsible for teaching the curriculum, developing lesson plans, and implementing social skills for over 7 years. I also worked very closely with educating my parents about possible things we can do together to assist with achieving their goals.
EDUCATION
Master's in Special Education, 2014
University of Southern Mississippi Hattiesburg, MS
SKILLS
Proficient in disability assessment testing.
Individualized Education Program.
Experienced in use of the Internet and educational software.
Dedicated to enthusiastic and dynamic teaching as a means of creating and nurturing a lifelong love of knowledge in children.
Excellent understanding of child management and its process of development.
CERTIFICATES/LICENSE
Autism Spectrum Disorders
RBT Trained
AWARDS
Davis Foundation teacher of the year nomination, 2018
Finalist to be awarded the Davis foundation teacher of the year awarded. These teachers are nominated by administrators, teachers, parents, former students, or other school personnel.
PROFESSIONAL EXPERIENCE
SPECIAL EDUCATION TEACHER
Easton County Schools, Easton, MO
Oct. 2015 – Present
Conducting comprehensive intakes.
Facilitating collaboration among agencies and families.
Provide workshops on a variety of special needs and educational topics.
Create a resource library for families and professionals.
Assist students with tutoring, goal setting, study skills and self-advocacy.
Assist teachers with modifications on their lessons to accommodate students.
Participate in multiple boards and committees based around the youth.

SPECIAL EDUCATION TEACHER
Anoka-Hennepin School District, Easton, MO
Apr. 2012 – Mar. 2015
Large Law Firm – 170 Employees – 70 Attorneys. Secretarial support to of Counsel Attorney and Paralegals in the Trust, Estate and Tax Planning Department
Provided educational, emotional, and social support to students in grades K-3 Setting I and II students with social, emotional and behavioral needs.
Worked in a Level 3 ASD classroom providing educational, emotional, and social support to autistic students in grades K-3.
Worked one-to-one with visually impaired students.
Provided educational, emotional, and social support to students in grades 4-5 with Cerebral Palsy, Williams Syndrome, LD, EBD, and ASD.
Collaborated with parents and early childhood intervention specialists (from School District 621 and Ramsey County) in supporting the special needs of individual children.
Utilized skills in working with children with various disabilities including speech and learning disabilities, ADHD, and sensory integration dysfunction.
Average Salary for Special Education Teacher Job
Special Education Teacher
Salaries
National Average
| | | |
| --- | --- | --- |
| Base Salary | $38k – $78k | |
| Bonus | $300 – $6k | |
| Profit Sharing | $0 – $500 | |
| Total Pay | $38k – $80k | |
***Data are taken from payscale.com
Good Skills to Include on Special Education Teacher Resume
Well-rounded in the field of Special Education and facilitation of IEP's.
Extensive knowledge and understanding for all learning disabilities and special education laws.
Facilitated Positive Behavior Intervention Support (PBIS) trainings.
Facilitated Professional Learning Community (PLC) trainings.
Resume Action Words for Special Education Teacher Resume
Advised
Aided
Appointed
Authorized
Prepared
Helped
Certified
Coached
Assisted
Consulted
Conducted
Discussed
Edited
Evaluated
Illustrated
Common Certificates for Special Education Teacher Resume
Elementary Education.
Microsoft Office Specialist.
Secondary Education.
CPR
AED
First Aid
Teaching Certificate
TEFL
TESOL
How useful was this post?
Click on a star to rate it!
Average rating / 5. Vote count:
Other Samples from this Industry: