Nowadays, every self-respecting company requires an impressive cover letter from every applicant.
Full-time, internship, temporary work, freelance, entry-level job, and even remote – all these positions expect to get a great cover letter document. And for some reason, such an assignment keeps confused many professionals.
Inability, laziness, or ignorance of this paper writing basics deprives worthy candidates of many attractive career opportunities.
Do you think this is fair? We don't! But it doesn't matter since we are unable to resolve this issue.
However, you can look at the situation on the other hand, and instead of countering it, learn how to make a cover letter. It will 100% help you to manage your life better and control career advancement.
We realize that this is a complicated and essential topic for many readers. Therefore, in this article, we set ourselves several tasks at once:
Tell what the prospecting cover letter is and what's its purpose.
List and describe types and formats of effective cover letter.
Provide the best cover letter template and unique cover letter examples.
Give mattering tips on how to write an interesting cover letter.
And as the primary goal – teach you how to use our templates and samples to write the best documents.
What is a Cover Letter?
Many people mistakenly confuse two concepts: resume and cover letter. When in reality, these are two completely different papers. A cover letter is a kind of an announcement of your resume. In this paper, you must show that you meet the vacancy requirements as much as possible.
Typically, a resume focuses on the past and present, when the cover letter is aimed at the future. It does not always imply a listing of your work experience or previous education, but rather speaks of plans and goals on a future position.
What is the Purpose of a Cover Letter?
The purpose of the resume is to provide basic information about the job search goals, the desirable work conditions, previous education, experience, and specialized skills. As we already said earlier, this document mostly reports your professional past and present.
The structure of the resume is usually regulated and does not provide an opportunity to show the identity of the person who makes it. So, the main task of the cover letter is to describe the candidate's motivation and add additional data that doesn't fit into the standard resume form.
A resume cover page is another one chance to stand out by emphasizing your interest in a job position. Many recruiters receiving hundreds of resumes a day complain that most candidates don't even read the vacancy description, and aren't interested in making any efforts to find a job.
Therefore, many professionals don't even go through the first stage of selection. The person who submitted the cover letter for resume demonstrates that he/she is capable of working hard to get this position.
A cover letter allows you to demonstrate your best qualities and key achievements.
A simple example: you were given the price of the cake. Would it be enough for you to want it to buy?
We guess that not.
But if you get a brochure with a list of products, name of a confectioner, details about cooking regulations, delivery options, and sales for regular customers?
Doesn't this information increase the desire to buy a cake? The successful cover letter works in the same way.
---
SEE RESUMES BOT GUIDE:
Easy Certifications to Add to Your Resume
Professional Summary for Resume
---
Should I Submit a Cover Letter?
The primary selection of resumes most often begins with a cover letter. Want your resume to be reviewed at the forefront? Then, don't neglect the prospecting letter. In job search process, it is a powerful and working tool.
There are some primary examples when you 100% need to submit a cover letter:
Top position. All response to a vacancy from the senior management category traditionally involves the presence of a formal cover letter. The manager must be able to present himself/herself.
Top positions applicants often write too detailed letters. But the excellent manager's letter should contain only useful information: list the completed projects, professional achievements in numbers.
Start of the career. You are not yet known as a professional and have so little to offer the employer. In such a situation, a networking letter will definitely increase the chances of finding a job.
Once the resume has no great achievements or well-known companies' names – in a cover letter, you can indicate motivation and interest in a specific professional field.
Change of profession industry. This situation is similar to the beginning of a career, but with the difference that you are not quite a "clean sheet." Your previous professional experience may be useful in the new industry. The main point is to perform it correctly.
Higher position. If you submit a resume to a more top position than you currently occupy, the motivation text will be critical. The central purpose of this accompanying letter is to convince the prospective employer that you have all the necessary qualities to move to a new level.
Creative professions. For creative applicants, a personal story and a beautiful portfolio are even more valuable than a resume. This cover letter allows you to demonstrate your style and creativity.
If the vacancy involves working with texts (journalist, PR manager, copywriter), an introduction letter is an excellent opportunity to show your professional abilities. Sometimes employers directly indicate that they are waiting for a free form letter about the candidate.
Competitive position. A lot of applicants submitting for America's most in-demand roles usually meet up with employment difficulties. With legions of candidates scrambling for lack of available jobs, landing one of the highly-desirable positions take a great fortune, talent, and a perfectly written cover letter.
When hundreds of people are applying for your desirable vacancy, you need to prove that you are the best candidate.
Cover Letter Format
Unlike a resume, the cover letter has no strict rules on writing. Of course, there is a vast difference between formal writing and creative, but all the documents can be written in free form. However, specific standards of professional etiquette still make it necessary to put some framework. After all, if you send documents to a severe company, your letter should correspond to this level.
Below, you will find some great examples of cover letters for resume to understand the format and instructions on how to do a cover letter. Here is a basic cover letter format, which will fit all different types:
The entire letter should be less than a single page. It is enough to write 3-4 small paragraphs.

Use the standard margins for a motivation letter – 1".

Writing a unique cover letter leave white spaces below your greeting, after your closing and between all paragraphs.

Align all the text to the left side.

Use the simple front, which is easy to read. Arial, Calibri, or Times New Roman 12-point font would be a perfect choice.

PDF is the most commonly accepted format for cover letters.

Follow a basic cover letter template that meets your resume type.
How to Start a Cover Letter?
The most challenging task is to get started. Does it always happen the same when you sit down to write something, even if it's a business letter?
You try to find inspiration, gather thoughts, but suddenly need to go outside, eat something, or clean the apartment.
Do you agree that each of us at least once had such a situation?
But this time, the task is way easier, because before to build a cover letter you can start just with the search of information.
---
RELATED:
What is a Chronological Resume
How to Write Phone Number on Resume
---
The person you are contacting
Most often, a cover letter is addressing to the person who is responsible for the personnel selection (recruiter, staff manager, HR director, etc.). And it is essential to know the name and surname of your recipient. A lot of vacancies include the recruiter initials, but if not, you will have to conduct a little research. You can find it out:
through Google
visiting the company website
asking a company employee (your friend or relative)
requesting the company secretary (call and ask).
Apply a basic cover letter format when you don't know who to address it to. Just use:
Dear Sir/Madam,
Dear Hiring Manager,
Dear Recruiter,
Dear Customer Service Team, etc.
The company you are submitting
You need to know more about the company you want to work for. Because due to the structure of a cover letter, you will need to uncover "why do you want to work here?" question. Without specific information, it will be impossible to give a complete answer. Also, this data will be useful in case you are invited to an interview. So, what kind of information could help you?
The culture, mission, and values of the organization.
Services, products, and clients. In other words – what they do.
The USP of the company.
Are they environmentally conscious?
Is it an ethical corporation?
Vacancy keywords
First of all, you should use the keywords that you find in the job description. Good cover letter examples always logically match the vacancy.
Sometimes companies use automatical applicant tracking systems (ATSs) to recognize distinct keywords and rank all samples of cover letters and resumes before they even reach the HR. This way, if your application cover letter lack needed keywords, it may be cut from consideration already on at the very first stage.
How to Structure a Cover Letter?
Have a question of what does a cover letter consists of? In fact, there is no standard cover letter structure, but we wrote about one, the most win-win option. And as we mentioned earlier, your document should not be longer than 3-4 paragraphs.
Applicant contact details
Recipient contact information
Greeting
Introduction
Main body
Finale
Applicant contact details
At the top of the sheet, write your name and contact details. Provide the receiver with multiple contact options by adding the email address, your home address, and phone number. If you send documents by email, you can also add links to social networks: Facebook, LinkedIn, Skype.
Recipient contact information
You don't have to include this section, but it always increases the formality of the application. Write the company name, address, the name and position of the person you are contacting.
Greeting
If you know your contact, you should address him/her by name. If your recipient has a title or several – use the highest one. In case you didn't find out the name of your contact, write "Dear Madam/Sir."
Introduction
It is the most critical part of your cover page for a resume because your success determines by the first 3-4 written sentences. Thus, from these first few sentences, you must catch the reader's attention. Here are a few options:
Start with motivation. Show interest in this vacancy as it suits you best because of previous work experience. Or, as we advised above, take advantage of the prepared information to answer the

"why do you want to work here?

" question. Write that you admire their environmentally-friendly policy or the organization's values (with concrete examples).

Start with the argument. It can be previous successes, professional experience, specific skills and knowledge, education.
Main body
It is the largest section in which you emphasize what makes you the right candidate for the company and this position. In other words, it is the main "selling yourself as a worker" part. It should consist of:
Hard skills. It's time to use the vacancy keywords. Write the most relevant and unique hard skills you possess. Don't make a list, but explain how you gained or used each of them, referring to previous education, internship, or work experience.
Soft skills. Crafting a cover letter, do not forget to mention a couple of outstanding soft skills. Many jobs involve specific skills such as problem-solving competence, stress resistance, the ability to work in a team, and so on. Once more, use the keywords that were written in the job description. Give them what they want! But always write the truth, and don't include too boring and useless soft skills.
Additional information relates to the position. A lot of professional examples of cover letters include "3 reasons why you should be employed."
In the introduction part you have described "why you want this work", when here, you have to answer "why they should take you" and "what can you give to this company?"
Finale
Do not spoil the last impression. However, if the recipient has read your letter to the end, it already means success. All that remains to do is to add some more persuasion and say goodbye. Signal your readiness to appear personally for a job interview, and point if you can start immediately.
What to Include in a Cover Letter?
To summarize the previous section, let's list what to put in an excellent cover letter examples and what is better to avoid.
What should cover letter include?
Vacancy keywords
Contact details
The company details
Greetings with the name of the recipient
Motivation
Hard skills
Soft skills
Work experience or education
Professional wins/accomplishments
Postscript
What's better not to include?
Grammar and spelling mistakes
Slang
Wrong company or recipient name
Too long paragraphs
Not proven information or false information
Exaggerations
Your photo
Salary expectations
Personal data (problems, diseases, etc.)
Negative feedback on the previous employer
What do you want or what you don't want (requirements).
General Cover Letter Sample
Is there a basic cover letter that can be sent in response to any vacancy? Definitely not!
You already know from our article that the essence of writing a cover letter for a job is to attach the recruiter's attention and stand out from the competitors.
It is necessary to show your knowledge about the company, understanding of vacancy, and proper motivation.
Can you create a universal sample cover letter for resume that will be suitable for all companies? We can't. But we made a tremendous general example of a cover letter that can be adapted for any type.
Cover Letter Sample for Job Application
Still don't understand how to write a good cover letter for a job? We are sure it is because you haven't seen an excellent sample cover letter for job application yet. Look at our sample, and feel free to use this template for your own paper.
Cover Letter Example for Experienced Professionals
If you are a qualified professional, most likely, you already have the cover letters for jobs writing experience. Sometimes, even professionals use the same application letter for several companies. You may even have been hired with such a paper before, and still think that it's a working strategy. Believe it or not, but this works extremely rarely. Therefore, don't be lazy to write separate texts for different organizations.
Another typical expert's mistake is to create a too long document. Of course, you have a lot of experience, a lot of hard skills and most likely a lot of achievements. But don't put this whole list in one personal statement.
View Accounting Clerk Cover Letter Example for experienced professionals to get how to make it short enough but the same time informative.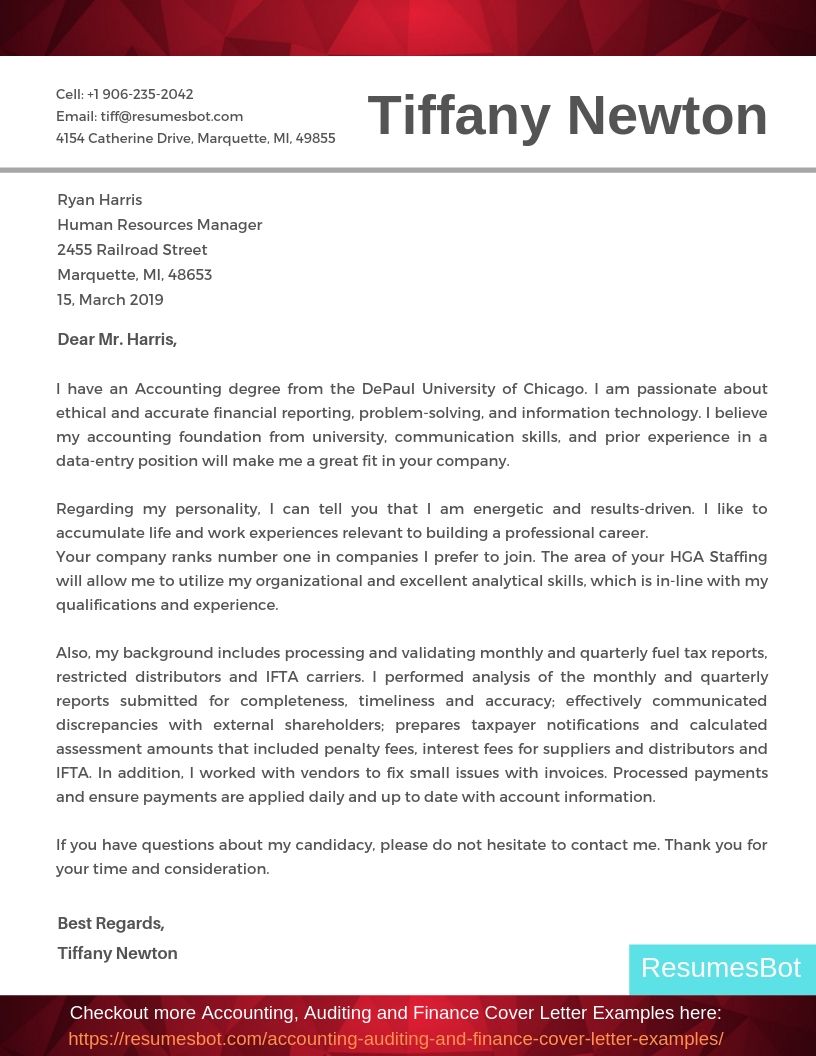 Example of Cover Letter for Entry Level
Beginners always have the hardest time. Now, without work experience, getting a stable position is almost unreal. But everything is possible if you can profitably promote yourself. And one of the most effective options is to create a high-quality resume and introductory letter.
You should use a simple cover letter template, and take your education background/study accomplishments as a basis for the application paper. Focus on your energy, easy-going manner, and great desire to learn and progress. Mention that entry level position is suits you well, and you are ready to start working right away.
Short Cover Letter Example
Consider a too short letter as a losing option? Look at this sample cover letter for job and make sure the text doesn't have to be long to be effective.
Tips for Writing a Cover Letter
Before to end, we decided to add some final tips on how to write an effective cover letter:
Starting to write a cover letter, don't forget that it is an additional paper for the resume. Therefore, the text body shouldn't repeat the resume information. Recruiters are highly experienced in reading resumes and cover letters, so it makes no sense to duplicate the same information. It can only irritate them.
Re-read the letter and delete any clichés or platitudes that don't carry meaningful and specific information about you. For example, don't write that you are "responsible, sociable, hardworking, honest, etc." Everyone writes this, so it's not even worth mentioning.
Leave the "stream of consciousness" technique for literary writings. The text structure is a base of competent thought presentation, which is critical for any business correspondence. Without it, you can confuse the HR manager and leave a negative impression.
The numbers draw attention. The results of advertising campaigns, the figure of attracted customers, participation in conferences, etc.
Don't use complex terminology
Many candidates believe that they need to use unusual terminology to impress. But it isn't the truth. A qualified specialist is one who knows how to explain complicated things in simple words. Always write clearly. You can impress with politeness and openness.
Use P. S. to attract attention
Some job seekers don't know about this technique, but the postscript usually draws attention and interest.
Re-read and double-check your text several times. There is nothing worse than ridiculous grammar mistakes and illiteracy. Proofread it again within the next day or let someone examine.
Writing a Great Cover Letter
We hope that after our explanation, writing a great cover letter will no longer seem to you something impossible and too complicated. Although we can understand that for some experts (especially of the technical area) writing any such papers is painful.
But, our examples, samples and templates should greatly facilitate this assignment.
In the end, it is enough to create a short and logically structured text about your past experience and future work plans.
We wish you the best luck with the cover letter creating and dream job position!
How useful was this post?
Click on a star to rate it!
Average rating / 5. Vote count:
Other Samples from this Industry: