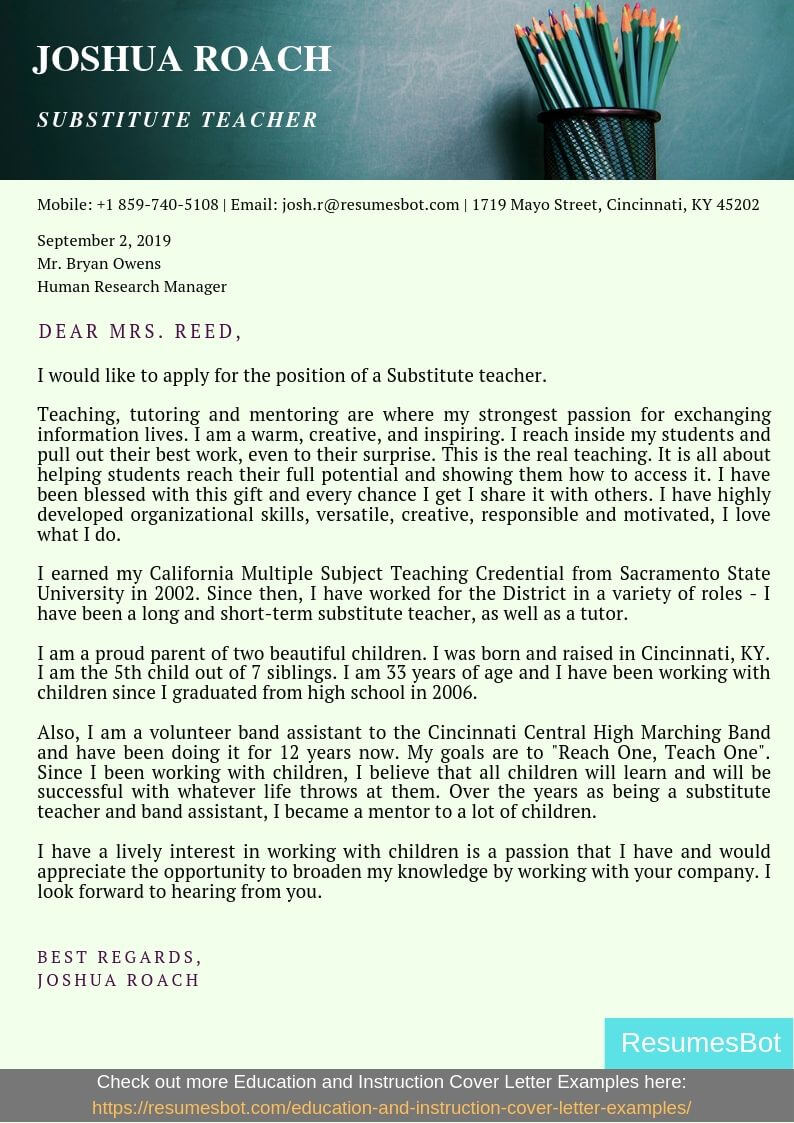 Design similar cover letter template in minutes
It's Okay to be different
SUBSTITUTE TEACHER COVER LETTER TEMPLATE (TEXT FORMAT)
Joshua Roach
Mobile: +1 859-740-5108
josh.r@resumesbot.com
1719 Mayo Street, Cincinnati, KY 45202
---
September 10, 2019
Human Resource Manager
Roxanne Reed
Dear Mrs. Reed,
I would like to apply for the position of a Substitute teacher.
Teaching, tutoring and mentoring are where my strongest passion for exchanging information lives. I am a warm, creative, and inspiring. I reach inside my students and pull out their best work, even to their surprise. This is the real teaching. It is all about helping students reach their full potential and showing them how to access it. I have been blessed with this gift and every chance I get I share it with others. I have highly developed organizational skills, versatile, creative, responsible and motivated, I love what I do.
I earned my California Multiple Subject Teaching Credential from Sacramento State University in 2002. Since then, I have worked for the District in a variety of roles – I have been a long and short-term substitute teacher, as well as a tutor.
I am a proud parent of two beautiful children. I was born and raised in Cincinnati, KY. I am the 5th child out of 7 siblings. I am 33 years of age and I have been working with children since I graduated from high school in 2006.
Also, I am a volunteer band assistant to the Cincinnati Central High Marching Band and have been doing it for 12 years now. My goals are to "Reach One, Teach One". Since I been working with children, I believe that all children will learn and will be successful with whatever life throws at them. Over the years as being a substitute teacher and band assistant, I became a mentor to a lot of children.
I have a lively interest in working with children is a passion that I have and would appreciate the opportunity to broaden my knowledge by working with your company. I look forward to hearing from you.
Best Regards,
Joshua Roach
To be 100% prepared for getting a new job check our Substitute Teacher Resume Example
How useful was this post?
Click on a star to rate it!
Average rating / 5. Vote count:
Other Samples from this Industry: