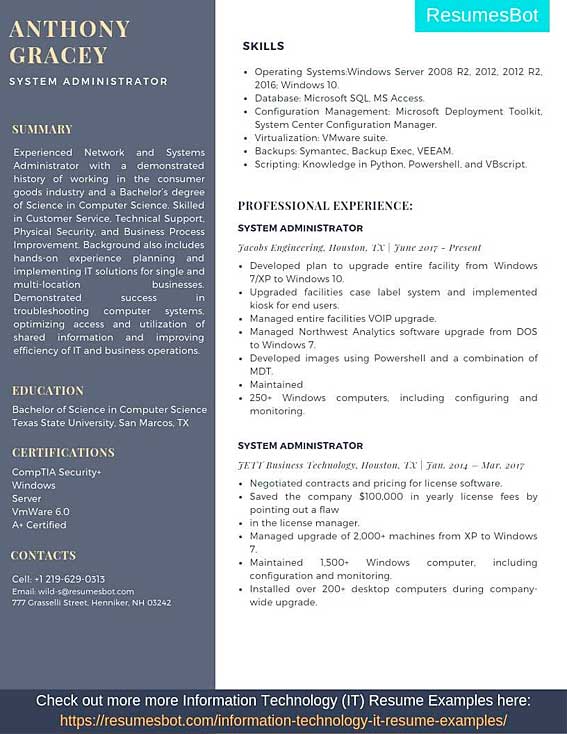 SYSADMIN RESUME TEMPLATE (TEXT FORMAT)
SUMMARY
Experienced Network and Systems Administrator with a demonstrated history of working in the consumer goods industry and a Bachelor's degree of Science in Computer Science. Skilled in Customer Service, Technical Support, Physical Security, and Business Process Improvement. Background also includes hands-on experience planning and implementing IT solutions for single and multi-location businesses. Demonstrated success in troubleshooting computer systems, optimizing access and utilization of shared information and improving efficiency of IT and business operations.
EDUCATION
Bachelor of Science in Computer Science
Texas State University, San Marcos, TX
CERTIFICATION
CompTIA Security+
Windows Server
VmWare 6.0
A+ Certified
SKILLS
Operating Systems: Windows Server 2008 R2, 2012, 2012 R2, 2016; Windows 10.
Database: Microsoft SQL, MS Access.
Configuration Management: Microsoft Deployment Toolkit, System Center Configuration Manager.
Virtualization: VMware suite.
Backups: Symantec Backup Exec, VEEAM.
Scripting: Knowledge in Python, Powershell, and VBscript.
PROFESSIONAL EXPERIENCE
SYSTEM ADMINISTRATOR
Jacobs Engineering, Houston, TX
June 2017 – Present
Developed plan to upgrade entire facility from Windows 7/XP to Windows 10.
Upgraded facilities case label system and implemented kiosk for end users.
Managed entire facilities VOIP upgrade.
Managed Northwest Analytics software upgrade from DOS to Windows 7.
Developed images using Powershell and a combination of MDT.
Maintained 250+ Windows computers, including configuring and monitoring.
SYSTEM ADMINISTRATOR
JETT Business Technology, Houston, TX
Jan. 2014 – Mar. 2017
Negotiated contracts and pricing for license software.
Saved the company $100,000 in yearly license fees by pointing out a flaw in the license manager.
Managed upgrade of 2,000+ machines from XP to Windows 7.
Maintained 1,500+ Windows computer, including configuration and monitoring.
Installed over 200+ desktop computers during company-wide upgrade.
Average Salary for Sysadmin Job
Sysadmin
Salaries
National Average
| | | |
| --- | --- | --- |
| Base Salary | $45k – $89k | |
| Bonus | $499 – $8k | |
| Profit Sharing | $407 – $7k | |
| Commission | $0 – $15k | |
| Total Pay | $42k – $89k | |
***Data are taken from payscale.com
Good Skills to Include on Sysadmin Resume
Linux/Unix Operating Systems.
Windows Desktop and Server Operating Systems.
Systems Installation, Configurations, Patching, and Upgrading.
Active Directory administration.
Strong technical background in Storage, Disk Management, Logical Volume Management (LVM) and logical partitioning.
Experience in using various network protocols like HTTP, UDP, POP, FTP, TCP/IP, and SMTP.
Resume Action Words for Sysadmin Resume
Accomplished
Achieved
Analyzed
Changed
Clarified
Converted
Demonstrated
Developed
Exceeded
Generated
Assisted
Improved
Installed
Monitored
Reported
Common Certificates for Sysadmin Resume
Certified Scrum Master (CSM).
Java SE 6 Programmer.
Oracle Certified Java Programmer.
Oracle Certified Professional.
PMP.
Project Management Professional (PMP).
Salesforce.com Certified Administrator.
SCJP.
Sun Certified Java Programmer.
Sun Certified Web Component Developer.
Sysadmin Resume Examples
Sysadmin Resume Sample 1
Sysadmin Resume Sample 2
To be 100% prepared for getting a new job check our Sysadmin Cover Letter Example
How useful was this post?
Click on a star to rate it!
Average rating / 5. Vote count:
Other Samples from this Industry: