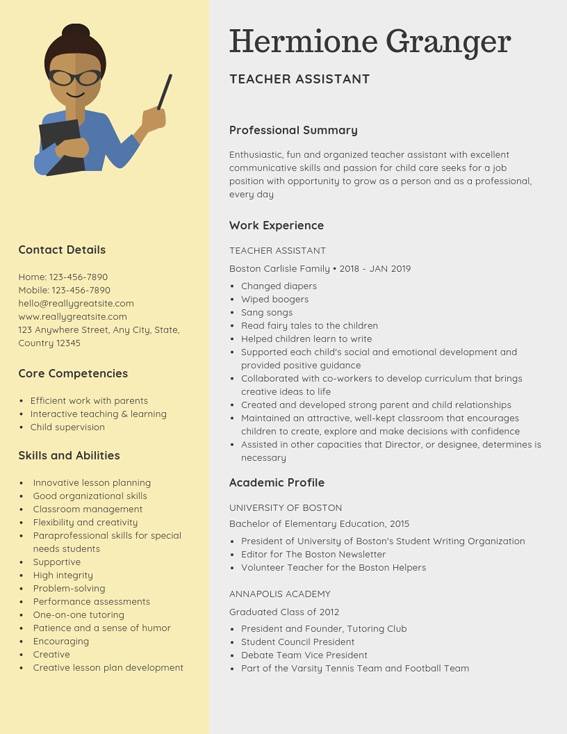 Teacher Assistant Resume Template (Text Format)
PERSONAL SUMMARY
Enthusiastic, fun and organized teacher assistant with excellent communicative skills and passion for childcare seek for a job position with the opportunity to grow as a person and as a professional, every day.
ACADEMIC PROFILE
UNIVERSITY OF BOSTON
Bachelor of Elementary Education, 2015
President of the University of Boston's Student Writing Organization
Editor for The Boston Newsletter
Volunteer Teacher for the Boston Helpers
ANNAPOLIS ACADEMY
Graduated Class of 2012
President and Founder, Tutoring Club
Student Council President
Debate Team Vice President
Part of the Varsity Tennis Team and Football Team
SKILLS AND ABILITIES
Innovative lesson planning
Good organizational skills
Classroom management
Flexibility and creativity
Paraprofessional skills for special needs students
Supportive
High integrity
Problem-solving
Performance assessments
One-on-one tutoring
Patience and a sense of humor
Encouraging
Creative
Creative lesson plan development
CORE COMPETENCIES
Efficient work with parents
Interactive teaching & learning
Child supervision
WORK EXPERIENCE
TEACHER ASSISTANT
Boston Carlisle Family • 2018 – JAN 2019
Changed diapers
Wiped boogers
Sang songs
Read fairy tales to the children
Helped children learn to write
Supported each child's social and emotional development and provided positive guidance
Collaborated with co-workers to develop a curriculum that brings creative ideas to life
Created and developed strong parent and child relationships
Maintained an attractive, well-kept classroom that encourages children to create, explore and make decisions with confidence
Assisted in other capacities that Director, or designee, determines is necessary
Average Salary for Teacher Assistant Job
Teacher Assistant
Salaries
National Average
| | | |
| --- | --- | --- |
| Base Salary | $15k – $36k | |
| Bonus | $24 – $2k | |
| Profit Sharing | $12 – $8k | |
| Total Pay | $19k – $34k | |
***Data are taken from payscale.com
Good Skills to Include on Teacher Assistant Resume
Excellent verbal, written and instructional communication skills
A methodological approach to resolve conflicts and solve problems
Early Childhood Education
Logical thinking and positive approach
Strong multitasking ability
Good organizational skills
Lesson Planning
Responsible and dependable
Trained in First Aid
Resume Action Words for Teacher Assistant
Shaped
Read
Informed
Illustrated
Wrote
Motivated
Submitted
Organized
Lectured
Helped
Created
Reviewed
Performed
Explained
Communicated
Common Certificates for Teacher Assistant Resume
Level I Teaching Assistant certificate
Level III Teaching Assistant
How useful was this post?
Click on a star to rate it!
Average rating / 5. Vote count:
Other Samples from this Industry: